We're proud to announce that Blue Badge pet insurance launched today, for all Australians to enjoy. Even better – it's discounted for those who have a disability parking permit and/or an Assistance Dog.
Why are we doing this? Because we understand how valuable the human-animal bond is and know that it can be even more important when you're living with disability.
Blue Badge Insurance is a team of disability insurance specialists and animal lovers, so launching insurance for animal companions just makes sense. We understand their health should be as well protected as the health of your mobility equipment, wheelchair accessible car and disability converted car.
We want your furriest of friends to live a happy, healthy life so you can enjoy the physical benefits of owning a pet for as long a time as possible. The same goes for enjoying that positive relationship between pets and mental health.
Crucially, we don't want you to have to decide between your bank account and your BFF.
The Blue Badge pet insurance plans
After years of research and preparation, we're launching with three simple yet effective pet insurance plans for domesticated dogs and cats. You can choose from:
Accident – $5,000 annual claims limit
Classic – $10,000 annual claims limit
Deluxe – $15,000 annual claims limit
Coverage ranges from accident-related bills and third party liability in the most basic plan (Accident) through to coverage for all kinds of tests, treatments, surgery, prescriptions and other medical costs for illnesses and accidents (Classic and Deluxe). Our Deluxe plan even includes dental.
All are month-to-month payment plans with no lock-in contracts or cancellation fees. Just like a Spotify or Netflix subscription. So, you can easily cancel at any time… Though you won't want to because the peace of mind is too powerful.
The discounts we'll provide you
We're happy to say you'll save 15%* on any of our pet insurance plans if you're a disability parking permit holder, disability converted vehicle owner or Blue Badge Insurance Preferred Partners Network member/customer.
Have an Assistance Dog? You'll receive 25% off insurance in a nod to our partnership with Assistance Dogs Australia. Every month, we pay a portion of each current policy we have to this wonderful charity that trains and places unique dogs with people in unique situations.
Plus, if you insure more than one pet you'll receive a further 5% discount.
Click here —> disability discounts <—- if you want to learn about more discounts from all kinds of Aussie businesses. But first, read on for more about our pet insurance offering.
Our promise
We understand affordable, superior quality insurance and we understand thoughtful claims resolution.
Plus, our underwriter Pacific International Insurance already underwrites a couple of other pet insurance brands. It's known for a fast and fair pet health cover claims service. In fact, it usually takes only two business days for claims resolution – much faster than other insurers.
With us you can make multiple health cover claims at once and as many times as you like. You can keep claiming all the way up to your 'annual defined benefits limit' (annual claims limit). Just send in your paid invoice to our claims team and they'll process your claim as soon as all necessary documentation is received.
As with any health insurance there are age limits, waiting periods for several claimable items and some items aren't claimable (see our PDS). This includes pre-existing conditions, which is a big reason why you should get in early with pet insurance!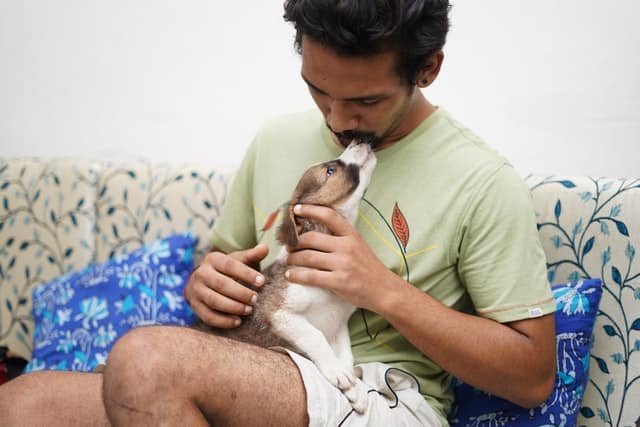 Why you should have Blue Badge pet insurance
In summary, here are some key reasons why you should take out Blue Badge pet insurance:
Our plans are simple, cost-effective and will safeguard you well
Depending on plan choice, you'll have financial protection for a wide range of accidents, illnesses and ailments
With any plan, this protection covers damage your animal companion causes to other people or their property (if your pet doesn't have a history of violence)
Pre-existing conditions aren't covered, so the earlier you take it up the more you'll likely be covered for
We provide you with fantastic discounts and a speedy claims service
You'll benefit from our second-to-none knowledge of insurance for, and the various living situations of, people with disability
You don't ever want to face the tough decision of finances vs your furry friend's wellbeing (or worse)
Want to know more? Visit Blue Badge Insurance's pet insurance page to find out more and take two minutes to get a quote.