A dad in Kaizer, Oregon, is fulfilling the wildest dreams of some children in wheelchairs, one epic Halloween costume at a time.
Ryan Weimer, founder of the nonprofit Magic Wheelchair, has been making the most elaborate costumes for his oldest son, Keaton, since 2008.
Keaton, now 10, is not the only one of Weimer's four children to be diagnosed with a form of muscular dystrophy called spinal muscular atrophy. Keaton's younger brother, Bryce, is also confined to a wheelchair because of the illness, and the Weimers have lost two other children to the disease.
"This diagnosis has forever changed our family and how we do things," Weimer wrote on Magic Wheelchair's website. "I could write you a long, sometimes difficult, but ultimately amazing story of our adventures with our children and SMA, but for now let's just say that we have to look at life through a different set of lenses than the average man or woman."
Using that mentality, Weimer has always approached Halloween with a different set of lenses also, striving to give his two sons the coolest costumes ever so they, too, can trick-or-treat in ultimate spooky style.
"Keaton has this wheelchair he cruises around in, and every pirate needs a ship, so let's just build one around his chair!" Weimer wrote about the first time he put his building techniques to the test, which turned out to be an absolute hit around the neighborhood.
What started as a modest family project in their garage to achieve Keaton's fantasy to be a pirate for Halloween has turned into a full-fledged nonprofit business for the Weimers, who are now getting submissions for costumes from all across the country.
"All together we've done eight this year," the Oregon dad said. "Six in the Portland local area and two in Georgia."
Central Gwinnett High School in Suwanee, Georgia, is helping Weimer build a Swan Princess ballerina costume and a Pokémon Charizard character.
"What we make is really epic stuff. We have a really talented staff," the proud father explained.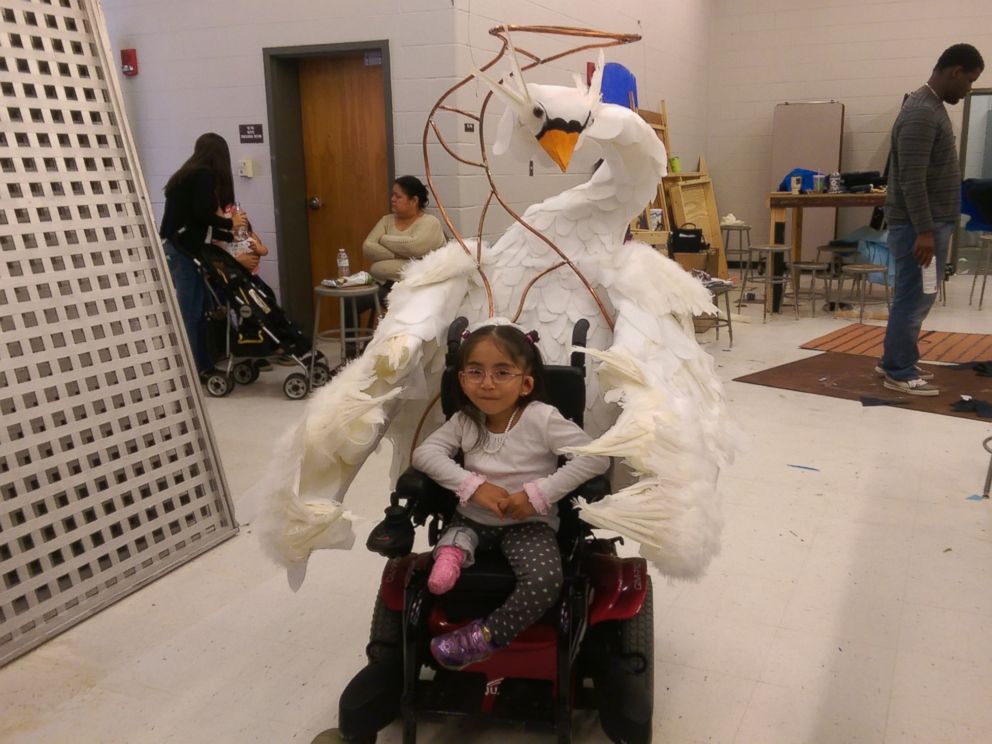 There are some big-time names on the nonprofit's board, too.
"The Stan Winston School of Character Arts; they're a world-renowned special effects school that's helping us out," Weimer said. "Matt Winston is the son of Stan Winston, who is the godfather of modern day special effects. His studio is behind 'Jurassic Park,' and 'Aliens' and 'Predator.' Matt and his brother-in-law, Erich Litoff, are on our board."
This year's costumes for the lucky recipients include the Indominus Rex from "Jurassic World," two Mario Bros. characters for twins, a "Teenage Mutant Ninja Turtles" shellraiser, the "Frozen" castle, a Quinjet from "The Avengers," The "SpongeBob" Boatmobile and the two the school is making.
But Weimer doesn't want his epic costume endeavors to only be used for Halloween.
"We want to build these year-round," he said. "Kids can roll in these all year round. It doesn't just have to be Halloween. We want them to go shopping with mom in a dragon."
Not all of the costumes have been revealed to the children for this year's festivities yet, but the ones that have were nothing short of magical.
"It was awesome. It was amazing," Weimer said of the moment he surprised the kids Sunday and Monday with the Quinjet, Mario Bros. characters and the "Teenage Mutant Ninja Turtles" shellraiser. "It's super, super humbling to be a part of that and see the kiddos' reactions. I get choked up every time."
As for how Weimer and his dedicated team of builders make these compelling wheelchairs come to life, spending between 100 to 200 hours on each design, his answer was simple: "I'm a nurse. I'm not an artistic dude at all. You just have a passion for doing it, and have some love, and make it happen."
---
This article was sourced from ABC News published on Wednesday, October 28, 2015 to view the original article please click here