Blue Badge Insurance understands that accessing and participating in the NDIS can be confusing at any point in the journey. That's why we engaged NDIS guru and plan manager Caroline Daley to write a series of articles answering all kinds of NDIS questions we've seen on our Facebook page and elsewhere. Caroline has not only helped develop some NDIS policies, she was the first person to self-manage an NDIS plan – for her daughter Siobhan.
When you are an NDIS participant (here are some steps to becoming one if you're not there yet), a crucial meeting you will have is the one that assesses your current plan in preparation for the next. If you make the most of this NDIS review meeting you will give yourself the very best chance to secure what you need for that following plan period.
Careful and considered preparation – along with making all the points you need to at the actual meeting – could make all the difference.
Do your best to be clear in providing what is required against each of your support needs. If you do, you could very well receive all the right funding to help you live your life to its greatest potential.
Preparing for this all-important review appointment (which for most NDIS participants occurs once a year) is a matter of thinking through all the areas the meeting will cover. If you are unsure about this ask your local area coordinator or other NDIS contact beforehand.
Then, make sure you have source all the information and documentary evidence you need to put forward.
This infographic from our NDIS guru Caroline provides many key points of preparation. Hopefully it helps you feel confident you can make the most of your NDIS meeting.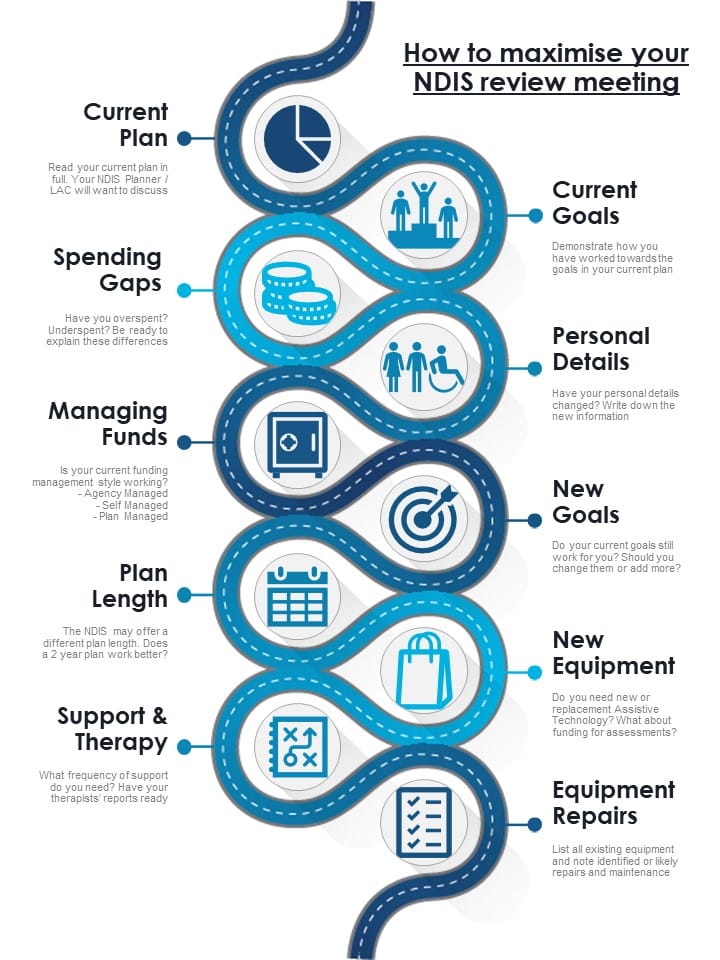 As with anything in life, the better you plan, the better chance you have at achieving your goal. Good luck!
About the creator
This infographic was written by Caroline Daley, a leading NDIS expert. She has held several roles assisting the NDIA, including writing the original NDIS documentation and fact sheets on self-management, becoming a qualified NDIS Assistive Technology mentor, and speaking at dozens of events. Caroline began planHELP upon realising thousands of Australians struggle to effectively create and action their NDIS plans.