Mobility scooter batteries, accessories and other mechanics are constantly being developed for furthering freedom of movement over a wide range of terrain. Happily, the accessibility know-how just keeps improving. For those who use a scooter, this means the technology behind the mobility equipment available to them today is the best to have ever been made.
Since mobility technology is ever-changing, are there any new mobility scooter batteries and gadgets we ought to know about? Yes, there are, and that's exactly what we'll look at in this article.
Mobility scooter batteries need-to-knows
When you buy your mobility scooter from a dealer, it will very likely come with a battery. At some point it will need to be replaced, there's no doubt about that. Just like a car battery, regularly taking care of yours and replacing it when needed is an essential part of scooter maintenance.
Lifespan: While mobility scooter batteries are designed to be recharged, over time they lose their ability to hold a charge. A good battery will last around 18 months to two years on average though some high quality, very well cared for batteries may last to three years.
Charging: While charging your mobility scooter battery is good practice (and obviously necessary) it's important to not overcharge it. Habitually overcharging it is a common reason for a battery to have a shorted lifespan. Your battery will probably be fully charged after around eight hours at a time – again, your manual will give you the right insight here.
Safeguarding: The battery is one of the main culprits that cause mobility scooters to stop working, and no one wants that to happen while they're away from home. Treat yours with care at all times and consider having a backup battery if you can afford one, so you're not left high and dry.
Car battery: If you've ever searched 'Can you use car batteries in mobility scooters?', like Google tells us many have, then you'll know the answer to this is a definite 'No'.
When it comes to buying a new (or spare) mobility scooter battery, here are some considerations…
Choosing a mobility scooter battery
There are two types of batteries you can use with a mobility scooter. Depending on how often you use your mobility scooter one type may be preferable over the other. Here's some info on both battery types to help you make your selection:
GEL batteries. Longer life cycle
Sealed Lead Acid (SLA) batteries. Shorter life cycle, and lower price
As you can see the main difference is longevity and cost. If you use your mobility scooter daily, then the best option may very well be the GEL battery (also sometimes called an Absorbed Glass Mat (AGM) battery). The lower priced, shorter life cycled SLA battery makes it a good option for occasional use.
Having said this, always make your selection according to your scooter buyer's manual. You should only use the same battery manufacturers or technologies your mobility scooter was designed for.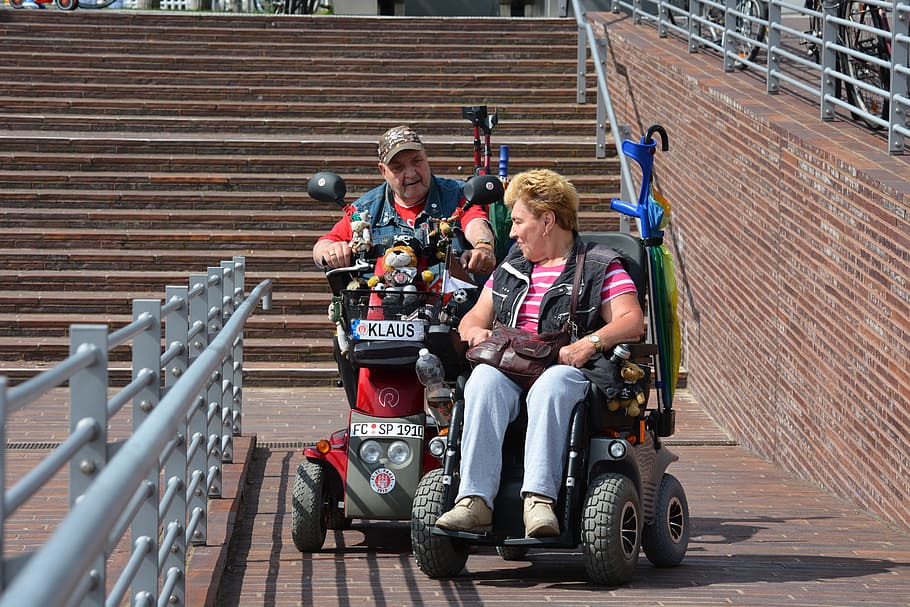 Mobility scooter accessories
There are many mobility scooter accessories to make using your scooter even more convenient. Here are some great ones that may make your driving experience that much more enjoyable:
Mobility scooter enclosure
An enclosure gives you more protection from the weather, which means you won't have to plan or restrict your activities around weather forecasts. However, when it comes to hail we still recommend taking shelter and staying clear of traffic.
Hard canopy
A hard canopy is another option if you want some, rather than a full enclosure. The canopy attaches to your scooter, covering you in front, behind and above. A windshield is a smaller option that helps block out the breeze from in front as you drive.
Dust and rain cover
A cover shields your scooter from weathering and damage so it lasts longer in better condition. If you park your scooter outdoors in the rain this can be a great way to shield it from rain or shine. At home, the cover will also provide added protection from pollution and dust damage, even when parked securely indoors.
Armrest bag
What could make life easier than having your stuff next to rather than behind you? Armrest bags are made from heavy-duty waterproof material to protect your belongings. Velcro attachments make these easy and transfer between a mobility scooter and wheelchair.
Rear bag
If you're shopping or carrying more luggage (although be aware of your scooter's weight capacity), a rear bag is a good option to give your more carry space.
Control panel cover
This cover for your all-important panel is a great buy to keep your controls safe from liquid spills and rain.
Cup holder
A cup holder allows you instant access to hydration. It fastens securely to the front of your mobility scooter so you can easily take hot and cold drinks along. No longer will you have to rummage through your bag when you need a sip of water (or coffee)!
Mobile phone holder
When you're out and about with your mobility scooter, an important must-have is easy access to your mobile phone. A phone holder means you can contact whoever you need to faster and without the hassle of unpacking your bags to find your phone. But remember – never handle your phone while driving.
Watch this video to see how the mobility scooter cup and phone holder can be used with some mobility equipment:
Other mobility scooter technology
The world of tech on scooters is so exciting to watch as it evolves. Here are some of the latest offerings on new mobility scooters:
Can you get insurance for a mobility scooter?
Yes, you most certainly can. Blue Badge Insurance offers affordable, reliable mobility scooter insurance. In addition to our fair and accessible pricing, our service is easy to use. And remember – we provide up to 25% discount on disability car insurance for disability parking permit holders.