Did you know there are Australian road rules for wheelchairs and mobility scooters? Mobility equipment offers a great way to get around for people with physical disabilities and mobility needs. They can also greatly improve quality of life.
Of course, they're also vehicles and even though they're not cars they still need to get you from A to B safely. That's why we've compiled an outline of road rules for wheelchairs and mobility scooters so you can feel safe and confident.
Growing usage of mobility equipment
Every year more and more people across Australia use mobility devices to stay mobile and independent. As a transport option, they're safe and easy to use for people of all ages.
They help provide a higher degree of independence because they provide access to work, community and social events. And they can be an affordable substitute for cars. Particularly when combined with accessible public transport options.
Wheelchairs and mobility scooter users can drive them almost anywhere so that's why it's important to be familiar with the road rules. This helps to ensure the safety of the you and everyone else you encounter along the way.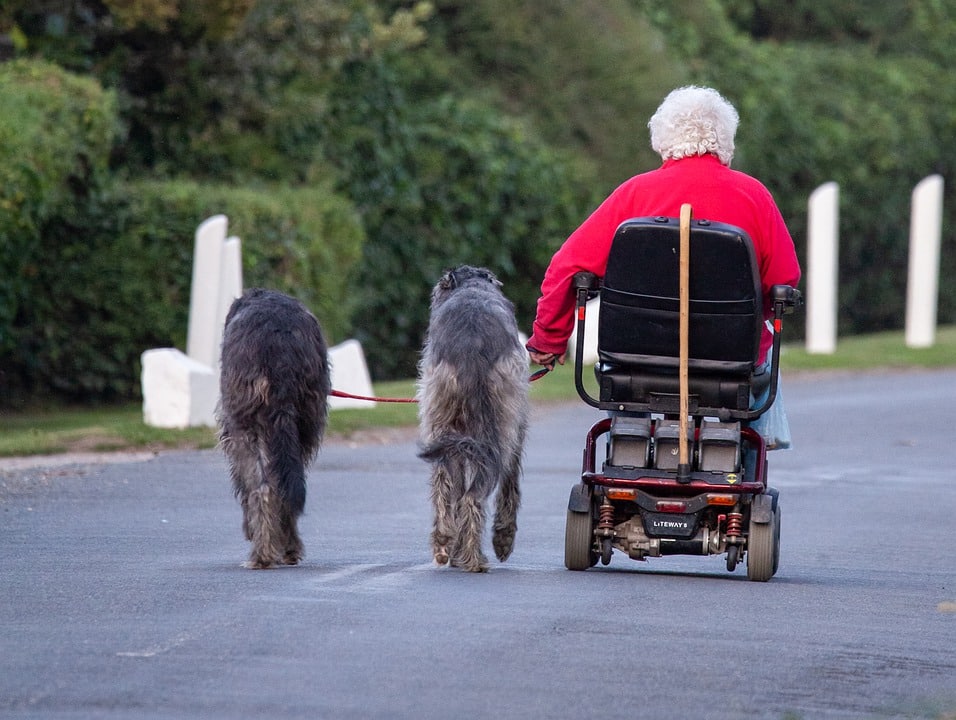 Australian road rules for mobility wheelchairs and mobility scooters
While each state and territory has its own rules and regulations, some basic rules apply right across the country.

Here are some common Australian road rules for mobility wheelchairs and mobility scooters:
| | |
| --- | --- |
| (1) | Only people who have a disability or experience difficulty walking should use mobility devices. |
| (2) | Wheelchairs and scooters should be speed limited to 10 km per hour on level ground. |
| (3) | People using mobility devices are classified as pedestrians and must follow the same road rules as other pedestrians. |
| (4) | Mobility equipment must not be driven on the road if there is a footpath or nature strip available. |
| (5) | It is illegal to ride a scooter or wheelchair when under the influence of drugs or alcohol. |
| (6) | Wheelchairs and scooters do not require registration unless you live in Queensland. |
Road rules for mobility scooters by state and territory
Find out which Australian road rules and regulations for mobility wheelchairs and mobility scooters specifically apply to where you live. Here's a list of quick links so you can easily check:
Being safe on the road
Before heading out with confidence, it's important you remember a few tips to keep you safe when on the go. Unlike cars, wheelchairs and mobility scooter users have extra precautions and considerations to make when travelling.
Such as, observing driveways, keeping all wheels balanced and monitoring narrow traffic on footpaths.
You can also get our FREE User's Guide to Mobility Equipment. It covers the latest info on how to safely use your wheelchair or mobility scooter and much more.
Protecting your wheelchair and mobility scooter where ever you go
Knowing the Australian road rules for mobility scooters and wheelchairs helps you feel safe so you can enjoy getting around. Protecting your mobility equipment where ever you go is also an important step. And an easy one when you have a wheelchair insurance or mobility scooter insurance plan.
Your plan helps you to pay for costs both great and small to keep your mobility equipment running smoothly. This includes breaks, but also theft, or damage from attempted theft. If your mobility equipment is stolen your plan will also give you a payout towards replacing it.
Click below to start today.