Have you wondered 'why are disability parking permits different between states and territories'? Bit strange, isn't it.
Do you ever get annoyed about the differences? Yes, we know… We have read your comments on our Facebook page and thought it was time we looked into the inconsistencies.
But we didn't realise how confusing it would really be…
What we do know
According to the many-years-old-now Australian Disability Parking Scheme video about the transition to a consistent disability parking permit, the intention was three variations of one format.
This consistent, clear presentation was to replace over 100 different permit types. It was to make life easier for permit holders when they were travelling interstate, among other reasons.
The format variation was supposed to be:
Hook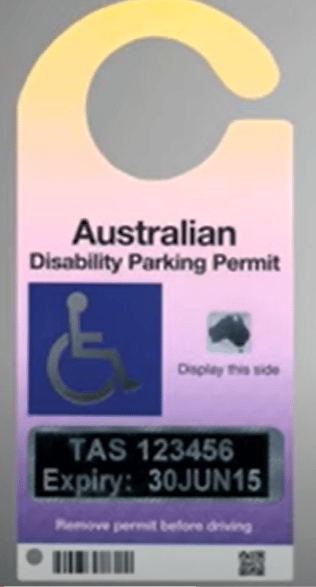 Shorter version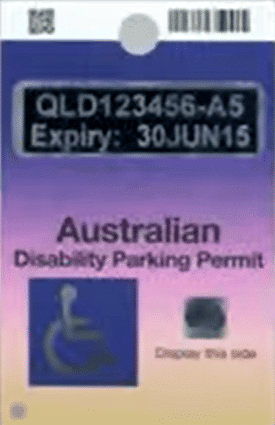 NSW/ACT version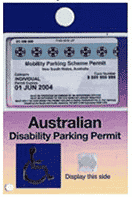 This has been implemented to some extent. Nowadays in NSW and the ACT (which adheres to this purple/pink look) the DPP has a plastic pocket. The user's mobility parking scheme permit must be slipped into this. It is void if this is not inserted. However, this rule does only apply to NSW and the ACT residents.
More confusion
To add to the disparities, some states and territories continue to have completely different looking permits than outlined in the official Australian Government video. There are also differences in the rules around how you must display your permit in your vehicle.
Further, in some states/territories (and to confuse things further, some local jurisdictions within those), different disability-related parking permits may be provided for different circumstances.
For example, when you apply for a disability parking permit in Victoria the permit format is nothing like the purple/pink permits in the video. And there are two categories of permit:
Category 1 (blue permit)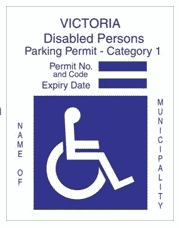 This is for people who have a 'significant ambulatory disability and they cannot access a vehicle in an ordinary parking bay, or they are required to use a complex walking aid that prevents access to a vehicle in an ordinary parking bay'. They're allowed to park in accessible parking areas. Plus, they can park in ordinary parking areas for twice as long a time as displayed on the sign.
Category 2 (green permit)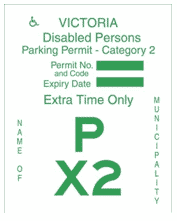 This is for people who have 'a significant ambulatory disability or severe illness which does not affect their ability to walk, however they require rest breaks when continuous walking is undertaken.' Their parking privileges involves only the ordinary parking bays. There, they can park for twice the amount of time on the sign.
Then there are temporary parking permits as well as permits for organisations who transport people with disability. The same applies in other jurisdictions.
The inconsistency is consistent in one way – that it differs across various regions of Australia.
We also know that in some states/territories you head to the state transit authority to apply for your permit, whereas in others your local council supplies them. The issuing authority is yet another difference.
It is no wonder so many of us are asking why are disability parking permits so different.
Different disabilities have different rules
But that is not the end of it – then we have the rule variations across Australia for different disabilities.
Queenslanders who are blind or vision impaired recently had a win, in that their disability was finally accepted as a valid reason for a disability parking permit. Whereas in other areas visually impaired people have benefited from a disability parking permit for some time now. Incredible that it took so long.
As Blind Citizens Australia said on the Queensland progress, "The journey to this victory was a long one, and as is often the case, involved a lot of hard work from a range of people and organisations."
The National Policy Council has encouraged consistency across Australia in eligibility and conditions of use. But we have not yet reached that point.
Photo or no photo?
Something we hear often is that in some states/territories the holder's photograph appears on the reverse, and in others there is no photo at all.
However, our research could not find official government information that demonstrated this. If you can enlighten us, we would love you to share your insights.
Payment or not?
Another difference with the schemes is that in some jurisdictions you have to pay for your permit, whereas in others you do not if you are a concession card holder. So, so confusing…
In summary – Why are disability parking permits different?
So, why are disability parking permits different across the country? Despite it being several years since Australia was to move to a national standard we are still in a period of transition. The disability parking permit programs are different in each state and territory.
The big reason why? because they are run by different entities that are at different stages in the journey.
What is important to know is that the rules of how to display a disability parking permit differ between states and territories. So if you have a WA disability parking permit, for example, and are heading interstate, you must check the rules before travelling. Look into how you need to display it. And what type of parking and timeframe it entitles you to wherever you are heading.
Disability parking permits can be used Australia-wide, you just need to be across the specifics so you tailor your usage to the parking location.
And, of course – in addition to there being no standard as yet – the rules are subject to change. (Yes we hear you groaning along with us). So do your research as close as possible to your travel date.