Today, people have a lot of choice when it comes to choosing a wheelchair. While this is a big positive, it can also be overwhelming. Choosing the right wheelchair is an important task, every time. Regardless of whether you have used a wheelchair for a while or are looking to buy for the first time.
There are numerous things to consider when choosing a wheelchair. Doing some research before visiting a store helps you to have a good idea of what you're looking for.
Choosing a wheelchair – how to research beforehand
Google will provide the pathway to a wealth of information. Some avenues to glean information from are wheelchair user forums and other social media sites, wheelchair provider websites and our wheelchair guide.
Your occupational therapist and physical therapist will also be valuable sources of information. So too face to face conversations with other wheelchair users. Your support workers, family and friends could also have good insights into what you need from a wheelchair so it suits your individual needs and lifestyle.
You might want to speak with your NDIS support coordinator too, if you have funding. Ask them: will the NDIS fund my wheelchair?
Being prepared can make the actual buying process go more smoothly. It also ensures you leave with a wheelchair you are happy with. Here are five things to think about when you are buying a wheelchair.
1. Fit and comfort
It is important that your wheelchair fits you well and is approved for your weight. The right wheelchair can last you many years, and choosing one which is comfortable will make a huge difference to your daily experience. A wheelchair that is well fitted is easier for you to maneuver (and/or others to push), is safer, and helps you to maintain better posture.
Choosing a wheelchair that fits you well is also crucial to helping to avoid painful pressure injuries. These can cause sores, and may even require bed rest or surgery.
When choosing a wheelchair, take into consideration the different seating and support components such as the headrest, seat, cushioning, leg rests, footplates and armrests. These are generally customised to fit your body and lifestyle so your comfort is maximised.
Qualified clinicians and therapists will help ensure you get the correct fit with all the elements of a customised wheelchair.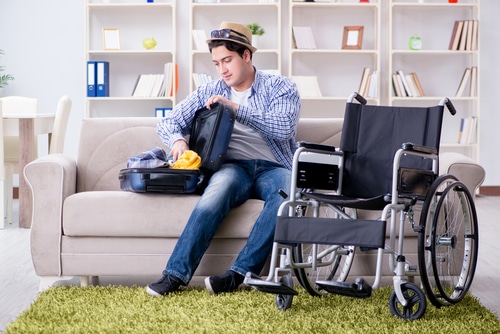 2. Appropriateness
Choosing a wheelchair that is right for you will involve lots of considerations specific to your life. Choosing a wheelchair which fits with your day-today is really important.
Your needs will vary according to a variety of factors, including:
Your vehicle or mode of transport
The area in which you live and travel frequently in (e.g. is it often wet? Are there lots of hills? What surfaces will the wheelchair usually travel on?)
How the right wheelchair will integrate into your home
How it will enable you to navigate your work environment
Of course, when choosing the right wheelchair your mobility requirements are the most important consideration. You must ensure you will be able to easily and comfortably use your wheelchair in a variety of everyday situations including doing your daily tasks and transferring into seats, beds, toilets, bathrooms and modes of transport.
3. Self-Propelled vs Electric
Broadly speaking, there are two types of wheelchairs: self-propel and power (or electric) wheelchairs. There are also a lot of power assist devices which can be fitted to manual wheelchairs to make a "hybrid" wheelchair of sorts (check out our article on powering your manual wheelchair). Generally, your disability or medical condition will influence the type of wheelchair that is needed.
When you are choosing a wheelchair, it is important to discuss the different options and your preferences with a clinician or therapist. They can help you to decide which type of wheelchair is right for your needs and can liaise with wheelchair suppliers to ensure that happens.
4. Lifestyle
Wheelchairs are intended to enable your mobility and provide independence. So, it is important to consider your lifestyle when making your choice.
This could include things like whether the wheelchair will be used outdoors a lot, if you will need a specialised wheelchair for sports, and your individual preferences and personality. Think about what activities you do over any given month and work from there.
Other lifestyle factors to consider might not be immediate needs, but needs for the short to mid-term future. If you are planning on starting a family or learning to drive, for instance, you will want to plan around this when choosing a wheelchair.
Another consideration is if you travel a lot. The right wheelchair would need to be transported often, and the ease of travelling with your wheelchair would be a key factor in determining which one to buy. In this instance, take into consideration the need for lightweight materials, battery type and backups, and/or accessories you select for your wheelchair.
5. When choosing a wheelchair, try before you buy
If at all possible, try out your wheelchair before you purchase it.
Because many wheelchairs need to be customised for the specific user, you might not get to try out the exact wheelchair you are looking to purchase. However, you should be able to test a similar one with some or all of the customisations you would be looking to add.
If you are working with a therapist or other medical professional, they can usually help to coordinate a trial. If not, ask any potential suppliers whether this is an option for you.
Buying a wheelchair can be a big investment. Technologies are constantly improving to improve comfort and usability, so take all the time you need to do your research. And speak to qualified experts to make sure you get the right wheelchair for your needs.
Protect your wheels after choosing a wheelchair
Once you've purchased the right wheelchair for your unique needs, getting comprehensive wheelchair insurance will give you peace of mind that you're covered. Your wheelchair is your main mode of transport, so if something happens to it you want to be back on your wheels in no time and not significantly out of pocket.