Manual wheelchair power assist add-ons have revolutionised accessibility, as many of us can attest to – including industry expert Malcolm Turnbull. We'd be hard pressed to find someone better to help us explain the power assist device, given his decades of industry experience and that he's been a wheelchair user for over 40 years.
For the past two years, Malcolm has been a freelance consultant in assistive technology. It's a role he's very much suited to, having worked with Permobil Australia for six years after it bought Seating Dynamics Pty Ltd, which he co-owned for almost 15 years prior.
"Over the past decade the number of options for power assist add-ons to manual wheelchairs has grown rapidly. One reason for this is that research has shown a high percentage of long term wheelchair users will experience upper extremity injuries. This includes shoulder pain, elbow pain and carpal tunnel syndrome. That aside, they can also open up opportunities for people with mobility issues to reach their goals and enjoy experiences that were impossible without them."

– Malcolm Turnbull
In this article we'll explore some of the power assist devices for manual wheelchairs and this includes Malcolm listing what he sees as the pros and cons of three of the most common options. Of course, other industry people and users may have differing opinions so always do your own research and seek input from other users if you're interested in investing in a power assist add-on.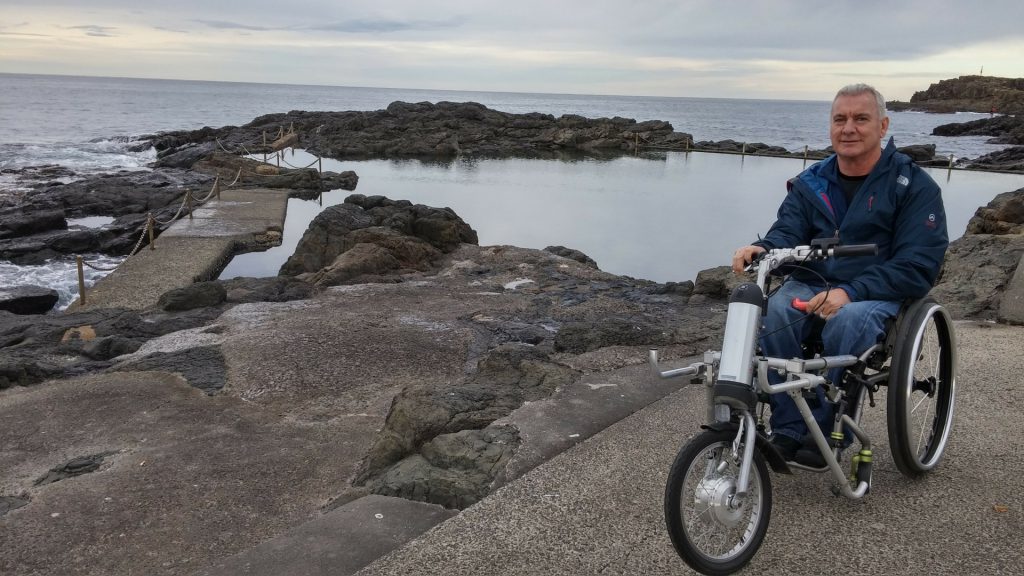 What is manual wheelchair power assist?
Power assist add-ons attach to your manual wheelchair, making it more agile and powerful. As someone who travels extensively, Malcolm says the benefits of manual wheelchair power assist devices are conducive to an active lifestyle. 
Power assist options help reduce the number of pushes and the force required to push. Whether for work or leisure, power assist options can open up opportunities to go further.
They allow you to more easily explore new places, giving you the mobility to go to locations that would otherwise be way too hard. This gives you the benefit of sharing experiences and opportunities with family and friends that might otherwise not be possible.
Not only do power assist options ease the physical labour of using a manual wheelchair but they also open up opportunities to explore places that would be not possible without them. When travelling nearby and in your neighbourhood, power assist devices can reduce the need for a car. This means fewer transfers and lifting into and out of the vehicle. It also means reducing the stress of finding accessible parking spaces. (Read our Invisible Disabilities Week article for firsthand accounts of DPP holders being unfairly hassled for using accessible parking)
So how do power assist devices work? Up next Malcolm takes us through three types and the pros and cons of each. Since the first type of power assist device is battery operated add-on wheels, here's a video to get started: 
Power assist wheels
Power assist wheels are wheelchair wheels with an electric motor. You're able to program them to your specific needs. Some offer an optional device to change programming and monitor battery level/fault detection remotely.
Power assist wheels fit onto most wheelchairs and some brands may require modification. The user still needs to push the chair but can program how much force is required. This means a greater distance per push is delivered, reducing stress on the upper limbs.
As well as being programmed to suit the individual's ability to push, this power assist device can assist braking on downhills too. Each wheel can be programmed individually, making it a major support for those who have strength differences on the left and right side.
Cons
The wheels tend to be heavy, with weights varying from 7.8kg per wheel (including the battery) and upwards
Can increase overall width of the wheelchair, sometimes by as much as 2-4cm
While power assist is on, the option to push without it isn't available. However most versions will allow the  programming to allow them to be customised to the individual's needs.
The adaptors for the power assist wheels don't allow for the "normal" wheels to be put on
Pros
Can be programmed to take away up to 80% of the force needed to propel the wheelchair
Programmable to the individual's needs, including for people with differing strength on left and right
Provides brake assist, especially useful when going downhills
An "anti-rollback" feature stops the wheelchair from rolling backward between pushes when going up hills
Option of remote programming and monitoring
The need to push may have advantages for some people, maintaining range of movement and body movement training
There are options that will use joysticks for controlling the the device
Some power assist wheels available in Australia include:
Keen to get your own electric motor wheels? Check out this video for more inspiration:
The SmartDrive™, Smoov™ power assist devices
The SmartDrive burst onto the market in 2012 and has progressed rapidly since then. The latest model is the MX2+, which has the option of using a Smart Watch for wireless control via BlueTooth or a wired speed control dial.  
"With the SmartDrive my wife and I have explored many places I would not have done without it, including in Sydney, Thailand, the mountains of Northern Italy, London and lots more."

– Malcolm Turnbull
The wristband allows you to control the SmartDrive, activating it through taps on the wheelchair push-rim. As well as functioning as the controller, the wristband gives you custom settings such as top speed. It also lets you keep track of how many pushes you do and how far the SmartDrive has powered the wheelchair.
There's also a PushTracker App for the firmware/Bluetooth firmware in the PushTracker and the SmartDrive to be updated wirelessly.
A more recent arrival in this category is the Smoov from Alber. The Smoov differs from the SmartDrive in a number of ways, including the size of the rear wheel and the way it turns. It is controlled by using a BlueTooth wireless speed dial that attaches onto the frame of the wheelchair.
Cons
Requires the user to have a fair level of wheelchair skills
Requires the user to have good cognitive skills
Does not provide brake assist when going down hills
Not good on gravel/sandy/muddy surfaces
Pros
Require zero pushes to get mobile!
Requires next to no hardware on rigid frame chairs; hardware is available for folding chairs
Extremely powerful, will get up really steep hills
At about 6kg it's very portable
Can be used domestically or internationally
Can be programmed to the individual's capability
While on the wheelchair the user can choose to use it or not use it
If the SmartDrive battery runs out you can push the chair until you can get to a charger
Does not increase the overall length of the wheelchair so can be used anywhere the wheelchair can go
Here's a video from Permobil showing the SmartDrive in action with the SpeedControl dial:
Power assist handbike wheelchair attachments
These devices have been popular in Europe for many years and are now extremely popular in Australia. A little over a decade ago you would've been hard pressed to source one here, now there are a dozen or more brands on the market.
If you're not aware of this type of product, imagine half an electric push bike with a hand throttle and brakes. This power assist device attaches to the front of a manual wheelchair (you can see Malcolm's in the picture at the top of this article).
"I have one of these in my garage. When I'm going anywhere within 5-10 km of my home, and the weather is good, I use this. It saves the wheelchair transfer into my car and the hassle of finding a car park. The version I am using now has heaps of power and allows me to enjoy off road terrains."

– Malcolm Turnbull
Once attached the handbike handles are elevated to lift the small front castors of the wheelchair off the ground, turning the wheelchair into a powered trike. Because they easily detach users can take it off while in a restaurant/café. Malcolm says he has fun watching people trying to work out what it is.
This is a category within a category, with varying power, weight, size and capabilities. If you're considering one of these it is recommended you do some research into the features of the different manufacturers and models.
Cons
Depending on which one you choose that can be difficualt to transport independently.
May not fit into cars for transport
If it doesn't have reverse it can be a challenge to manoeuvre
Most of these devices require some sort of hardware to be attached to the wheelchair that can add weight
They do increase the overall length of the wheelchair so can be challenging indoors
If you do get a flat battery you'd have to find a way to get it home, as pushing the wheelchair while it's attached wouldn't be possible
Lateral stability can be an issue
Pros
Zero pushes needed to get mobile!
Disc brakes for going downhill or when needing to slow down
With the front castors raised the risk of falling out frontwards is minimal
Easy on and off means it can be removed when going into shops or tighter areas
With some pre-planning it can be taken overseas or domestically
The larger front wheel goes over rougher terrain, however the front wheel can "slip" on steeper hills and slippery surfaces
Some of the manual wheelchair power assist handbike attachments available in Australia include: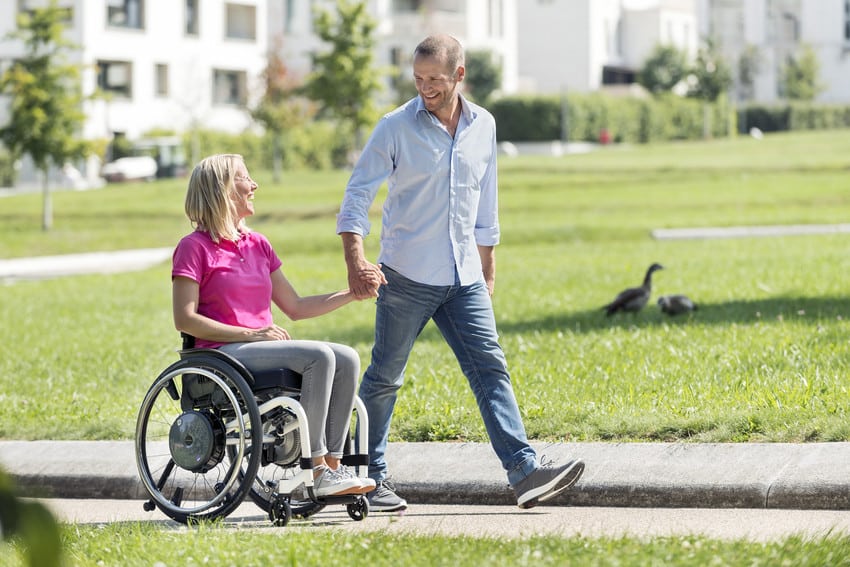 A power assist device can reduce upper limb stress
Any injury or physical condition to the body that requires added reliance on another part of the body can also add strain. Malcolm shares these recommendations on preserving upper limb function and power assist devices. 
The main cause of upper limb pain is repetitive strain injury – in other words over-use. Here are some recommendations from Malcolm to help prevent pain:
An ultra-lightweight wheelchair
Custom made wheelchair that fits your body
Having your wheelchair set up to the optimal configuration for your physical needs and lifestyle
Using the most efficient push technique
Using good transfer techniques
Doing strengthening and stretching exercises
Reducing the number of pushes in any given day
Considering transitioning to a power chair earlier instead of later
"If you're interested in learning more about these options, I would encourage you to do some online research. Then go and test the options that interest you so you can get a feel for the equipment."

– Malcolm Turnbull
Want more info on wheelchairs comfort and safety? Read Blue Badge Insurance tips on road rules for wheelchairs and mobility scooters and our article on how to make your wheelchair more comfortable. As a paraplegic, preserving the upper limb function is essential to comfort, health and mobility. 

Another mobility safeguard is having mobility equipment insurance for your wheelchair, scooter, car and add-ons for these. 
Mobility equipment insurance
Mobility equipment insurance helps keep your freedom of movement safeguarded. Then if disaster strikes and your wheelchair, mobility scooter or power assist devices are damaged, broken or stolen, your insurance policy contributes towards the costs of repair or replacement.
Having custom mobility equipment is costly and takes time to modify to your mobility needs and lifestyle. Protecting this valuable equipment with Blue Badge means you never have to be without it for longer than necessary. Get a quote to start your plan today. It's easy to get and easy to use when you need it.
Click below to find out more about our wheelchair insurance and mobility scooter insurance.
Special thanks to Malcolm Turnbull for contributing this article.