Accessibility advocate and wheelchair user Chad Ramage wants to live in a world where individuals with limited mobility can easily and conveniently access Australian communities. In his opinion, any town should cater equally to all its inhabitants and visitors.
Chad's own accessibility journey started in 2013 when he began using a wheelchair. While the wheels enabled him to pick up pace, he found the local public infrastructure and availability of accessibility information slowed him down.
So, he channelled his frustrations and passion to help others into developing web-based platform Accessibility in the City (AitC).
Blue Badge interviewed Chad to get a greater understanding of the project and how it will help make life easier for so many.
Why is it important for Australian cities and towns to be accessible?
Being able to easily navigate our hometowns and other places we visit is crucial to anyone's confidence in participating in work, leisure, entertainment and travel. It's crucial to our sense of social inclusion.
I know this through personal experience.
Soon after I began using a wheelchair I saw a need for a website that gives guidance on how people can travel safely and comfortably from point A to point B. Something that highlights what areas we can navigate easily and where we will find roadblocks.
What is Accessibility in the City?
AitC is an interactive mapping website that allows those of us with accessibility issues to safely initiate, plan, access and navigate urban environments.
Using councils' validated business and infrastructure data, it provides user-friendly maps developed and enhanced by high resolution aerial satellite and imagery.
The maps highlight accessible points of interest such as disabled toilets and parking spaces, importantly. They also highlight the locations, length and slope of inclines, stairs, kerbs and other features impacting wheelchair and pram accessibility as well as general access for people with disability or other mobility challenges. We highlight inaccessible infrastructure such as train stations, too.
AitC went live in October 2019 at https://accessibilityinthecity.com.au, and data will continue to be added as councils come on board.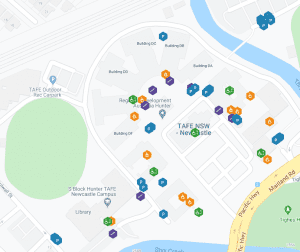 What led you to creating this business?
There was lots of disparate accessibility data floating around many different locations. I couldn't find one single source of truth providing the information we really needed to get out and about – or, if there, it was really outdated.
I realised why when I started talking to people in local government and beyond. I found a lot of confusion around who held responsibility for owning and maintaining their area's accessibility data.
If the right information isn't there for us to find, then people with limited mobility just have to roll the dice and turn up, hoping to have the access needed.
For example, you would go to websites such as the National Toilet Map or Transport for NSW to find access-friendly infrastructure. Or look up a particular venue's website. Or check Google Maps satellite view to see if there's an image of the car parking situation. Even then the car park would usually need to be empty for you to see if disabled parking existed. And the satellite view still doesn't have some of the new light rail showing, so it's pretty outdated.
It shouldn't be that difficult. Where's the one stop shop of accessibility information?
The website currently covers Newcastle and some surrounds. What expansion plans do you have?
There are two lines for expansion: publicly managed information and privately managed.
We have the one major council on board at the moment, the City of Newcastle. We're in conversation with many others and will continue approaching even more. We've also pulled some open data from other government data portals in NSW and will add it soon.
But our plans don't stop there – we will go national. AitC is already looking into accessing other states' and territories' open data.
We're hoping councils start to approach us as well, as they open their eyes to the benefit in making life easier for the hundreds of thousands of Australians who are mobility impaired.
Plus, we are getting to a place where businesses will be able to register and add their own accessibility data. They have a responsibility to our community too. Besides, it will only mean more trade for accessible businesses such as restaurants, retail outlets and so on if they make that information easily findable.
What about expanding into app land?
Right now we've kept it as a simple web-based map so it can be accessed across all devices and platforms. However, we will potentially implement an Apple and Android app to gain greater functionality and ease of use for people in those ecosystems.
AitC is always going to be a living, evolving beast.
What skills do you have that lend themselves to this endeavour?
I'm qualified in IT project and business management. I've worked in IT for 18 years, for the last two in agile platform development. That's the professional side of things.
On the personal side of things, I have a mobility disability myself. I have an undiagnosed medical condition consistent with spinal muscular atrophy type 3. I was very mobile as a youngster then my mobility started to be limited in my teens and I ended up in a wheelchair at 30 years old.
Originally I was happy to go up and down stairs if it was a shorter distance, then as time went on I found much greater mobility in a wheelchair. For me, it's so much easier to get around town on wheels. That is, as long as you know where the lifts, accessible inclines and so on are!
So, I have a very broad understanding of mobility difficulties.
Tell us your insights into the challenges of accessibility information ownership
Well, there's an accessible toilet map of Australia but it doesn't have accessible parking lot information around it. Basic data that should work together hand in hand.
And many councils don't know they're meant to be updating the national toilet map, whereas to my understanding that's their responsibility. Some councils I've been in discussion with don't know the website exists let alone it being their role to update it.
Also, a lot of council infrastructure, such as libraries, pools and museums, have accessible toilets but they don't have an overview of those resources because the management and maintenance are contracted out based on the physical building. So, they're sometimes unaware of what accessible spaces they actually have ownership of.
It is also fairly obvious that, unfortunately, most councils don't have a core budget for the auditing and management of accessibility information.
AitC would love to help.
What's one accessibility issue you've come across in your personal life that has frustrated you?
There are new apartments being constructed near where I live. The developers have removed eight accessible parking spots in just that one location and another five are going to be removed from the next block over.
I petitioned council for further information, who advised it was now managed by someone else, but that entity had contracted it to a secure parking company. They didn't want to listen. The end result? There will soon be only two accessible parking spots in that whole waterfront area and they're in front of a hotel. They'll obviously be used by the hotel.
This waterfront precinct is growing but the accessible parking is reducing. We originally had 15 spots and will soon only have two available.
As for the funniest parking situation, that was on a really steep street. The steepest angle I've ever seen for a disabled car park. Just trying to transfer in and out of the car was almost impossible. My wheelchair brakes aren't that great, so the chair was in motion before I'd gotten in! I just had to jump hard and hope I landed in it before it rolled away (I did).
How can we encourage councils to actively manage accessibility information?
Honestly, the more registered user accounts we have on Accessibility in the City, the more bargaining power we have. It proves how many people want to be heard in this respect – it shows how much we want it – and it enables me to work with more councils to make their area's accessibility information readily available.
If people are interested in the platform and want to keep updated on it, register a profile on our website. Strength in numbers will help our community get more councils on board.
20% of our 24 million Australians have a declared disability, and many of those have limited mobility. That's a lot of people thinking about where they'd prefer to take a lift to, where to park close to a business they need to visit, what train station they're able to access, whether they can go to the toilet any time soon…
The more that information is made easily accessible the simpler day-to-day life will be.
What can the Blue Badge community do to encourage their council?
I suggest visiting your council website to look for its disability inclusion access plan – 593 councils across Australia should have one, or be working on one.
If it exists, read through to see what council is doing to try to make your community more socially inclusive. Check they're marking accessible bathrooms and parking at the very least. The community really needs to show that if they had more information at hand they'd be able to attend more council events and locations, and better support them.
If you see a window of opportunity where information could be highlighted or displayed more easily, get in contact with your council to see when or if that information has been audited. Then strongly encourage them to do so.
Or, get in touch with us to see if we can assist: [email protected]
Also, ask your local businesses how they promote themselves as part of a socially inclusive community. Ask if they'd get onboard with an accessibility website/app. If their council is involved then the business can be involved too.
If a local business isn't accessible then let them know they can apply for infrastructure funding to have their building made accessible.
Opportunities arise by starting and continuing the conversation, by encouraging your community to get involved. We need a groundswell of community support to push public and private entities in the right direction.
What do you do in your downtime?
When I'm not trying to make the world a more participation-friendly place, I appear on [live streamed tech show] Lunaticks LIVE and help coordinate the largest annual awards for regional digital innovators and creatives – the annual NEWi Awards for Digital Creativity.
I also love spending time with my wife and playing video games with friends.