When you live with mobility issues, accessible parking spaces can be a godsend for accessing work, meetings, community and social events, appointments and other activities. The clearly marked spots are designed to enable disability parking permit (DPP) users to safely access buildings and their vehicles as easily as possible.
That's why these designated spaces appear in most large shopping centres, main streets of metro areas, outside high traffic locations like accommodation venues and healthcare buildings, as well as large workplaces and more.
Many of us would argue there are nowhere near enough. Especially when there is a rising number of Australians with mobility issues and a too-high number of drivers without DPPs who park in a disabled spot "just for 10min while I run in".
If this is you, please don't. Do others a big favour and drive a few extra metres to a parking space you are allowed to use.
That aside, for those who are wondering why disability parking spaces are designed the way they are, we thought we would break it down into the five main reasons. Let us know if the comments if we've missed anything!
Where are accessible parking spaces required by law?
All property developers must adhere to the Australian Standards around accessible parking. Also known as the 'Premises Standards', these outline required aspects such as the size, signage and ground surface situation of parking spots created for people with disability. You can find the full guidelines by searching for AS/NZS 2890.6-2009.
According to these standards, accessible carparking must be provided in:
1. a Class 7a building, i.e. a carpark, required to be accessible (unless it has a parking service available or direct access to any parking space is not provided to the public), and
2. a carparking area on the same allotment as a building required to be accessible
Information on the number of spots required per building type are provided in our blog article here. Now let's look at why these parking spots are the way they are…
1. Close proximity to building entrances
Accessible parking spaces are supposed to be located as close as possible to the main pedestrian entrance of the building they are designed to service. If in an underground parking lot, these spots will usually be located near the elevators and lifts.
At present, there isn't a maximum distance requirement between the parking spot and building entrance. Why is that? A review of the Disability (Access to Premises – Buildings) Standards 2010 in 2016 found that:
"Provision for a maximum distance was not included due to the difficultly of accommodating the wide range of building and entrance configurations. For example, there may be multiple accessible pedestrian entrances distributed around a building while parking areas may not be similarly distributed."
2. Room to manoeuvre
Accessible parking spots are required to be larger than other parking spaces. Anyone living with mobility disability understands how much extra space they need to safely enter and exit a vehicle. Especially if they are using mobility equipment.
It is so important to have enough space to side transfer via a wheelchair and/or to accommodate a scooter or other bulky mobility devices. Not to mention the need to have enough room for a wheelchair accessible vehicle (WAV) ramp and lifting equipment.
Some WAVs have ramps at the rear of the vehicle, but many wheelchair users exit the vehicle at the side. As do other DPP users. The Australian Standards recognise this.
That's why angled accessible parking spaces are required to be 2.4m wide x 5.4m long, while parallel parking spaces are not allowed to be less than 3.2m wide x 7.8m long.
Even people with painful joints need the extra space. They require enough room to open their car door fully to get out and in as comfortably as possible.
The extended sizing of accessible parking spaces not only assists the DPP holder. It removes the risk of tight manouvering and therefore the potential for damaging others' vehicles.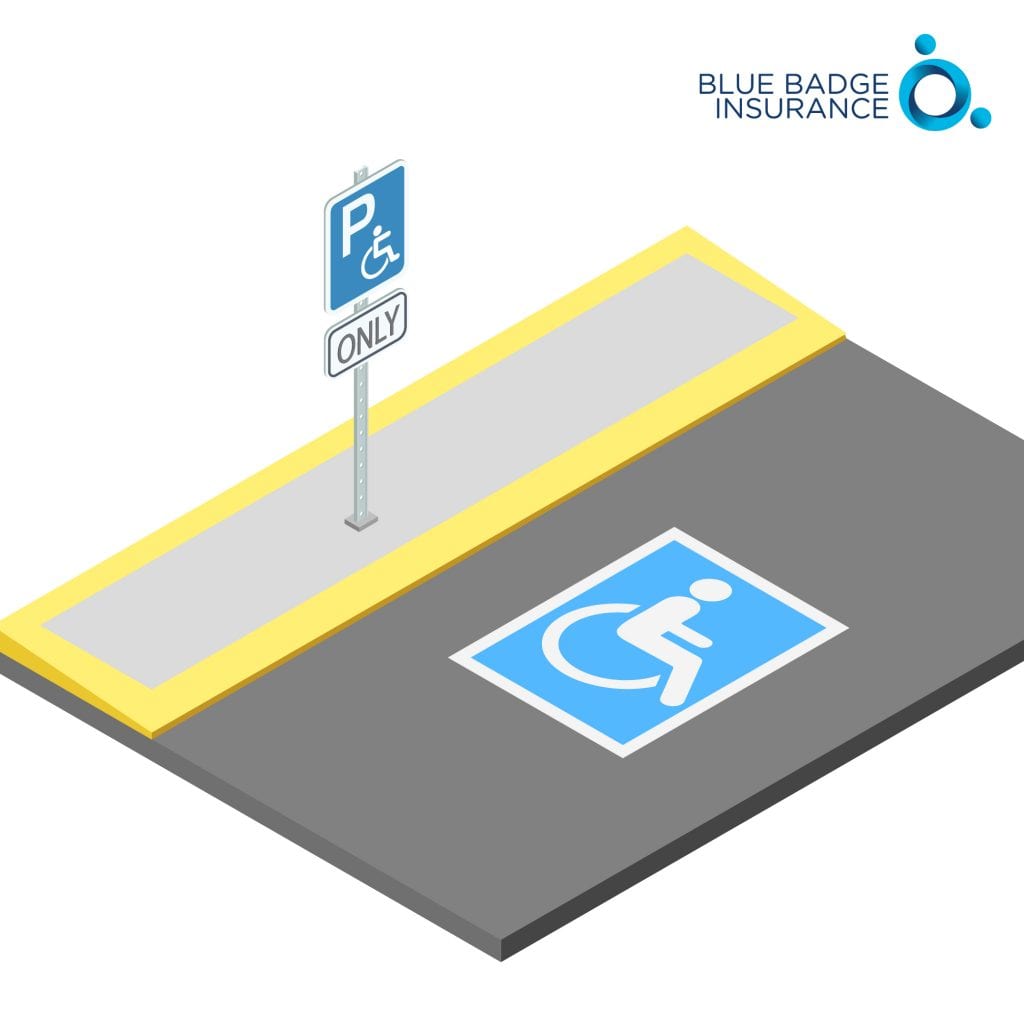 3. Shared common space
For every accessible parking space there needs to be a shared common (loading) space next to it. Again, this allows safer and easier vehicle access. These are made obvious with clearly marked, yellow, slip resistant diagonal lines striped across their width. Size-wise they must be "not less than 1600 mm wide by 7800 mm long".
When there is just one car parallel parking space, the shared area must be on the non-trafficked side. If there are two consecutive car spaces it must be in between these spaces.
If you are not a DPP user and find yourself next to a shared space like this it is crucial to not park your trolley or other gear over these lines. Park as far away from them as possible! It is not your loading area.
And every driver, including DPP holders, needs to know that it is illegal for anyone to park in these striped areas. They are loading spaces only.
4. Easily manoeuvrable surface
If you are already on shaky ground due to limited mobility, being able to access your vehicle is made infinitely harder if the ground is uneven.
That's why accessible parking spaces must "comprise a firm plane surface with a gradient not exceeding 1:40 in any direction (or 1:33 if a bituminous seal and area is outdoors)".
It is also important to provide a kerb ramp where required.
5. Symbol of access identification
Unsurprisingly, all accessible parking spots need to have signage and this must clearly show they are designed for DPP holders only. This needs to include the International Symbol of Access, which is recognisable for anyone living with disability.
Accessible parking spaces are fine-worthy
Anyone who parks in an accessible parking spot and doesn't have a DPP is risking a considerable fine – these are regulated parking spaces. And so they should be. They are often the only way a DPP holder can access a building.
Fines are increasingly hefty. For example, illegally using an accessible parking space in Queensland can see you cop a $5333 fine. This doubled only recently, indicating state/territory governments might be becoming more focused on the needs of their PWD constituents.
Speak your mind
Have a complaint to make about the accessible parking spaces in your area? If the parking area is privately owned then contact management, or if it is public contact local council.
You can also contact the Premises Standards Review Team of the Department of Industry and Science. The new review of the Premises Standards is due in 2021, so the timing is good to share your views. Email [email protected], send a letter to GPO Box 9839, Canberra ACT 2601 or call (02) 6102 9636.
Insure your mobility means
Many DPP holders don't realise they may be eligible for discounts of up to 25% on their car comprehensive car insurance. With Blue Badge Insurance, Australia's first disability insurance specialist, this is the case.
Our comprehensive insurance also covers carers, friends, family, carers and support workers. Plus, we provide up to $5k in cover for assistive technology while it is in their car.
We also offer top notch wheelchair insurance and mobility scooter insurance. Get a quote with us today.