Many Australians are wondering how to wear face masks properly to better protect themselves and others against COVID-19. Masks are getting an increasing amount of attention for a good reason – they help contain the spread of germs.
Unfortunately, some people can't wear masks for medical reasons. Thankfully, most of us can.
Here is our guide to choosing, wearing and taking care of your mask. And some reasons why some people simply can't wear a mask.
Why do I need a face mask?
With COVID-19 taking longer to disappear than many of us expected, and experiencing a resurgence in some regions, the use of face masks is becoming more important than ever.
Why are face masks important? They are a barrier that helps prevent us inhaling germs and transferring germs to our face, by covering our nose and mouth. They also help prevent sick people from expelling their germs into the air that other people breathe.
This pandemic is still running its course, so masks now look to be a part of 'normal' life for the foreseeable future. More and more, we are being told they are a requirement for visiting high traffic locations.Or at least strongly encouraged. Supermarkets, ride sharing services and hardware stores are all businesses that have publicly requested their customers wear masks, as their employees are.
Many people living with disability have been wearing masks for months due to medical reasons or personal preference. A large number are immune compromised in some way and therefore more susceptible to illness – and therefore more germ-conscious.
Whether this is you or not, we know you want to be as well protected as possible before heading out into your community. And you want other people entering your world (family, support workers, etc) to protect you as effectively as possible.
So, 'mask up' is the message we are now receiving loud and clear.
New face mask guidelines
As of 2 August 2020, everyone in Victoria must wear a face mask if they leave their home. Whether undertaking essential travel or not. This is because the state is experiencing a much higher rate of community transmission than elsewhere in Australia.
Any Victorian who doesn't should expect to be fined $200 if police discover this. As for the rest of us, we should be seriously considering wearing a mask 'in situations where physical distancing is not possible'.
If you are physically able to wear one of course.
Reasons why some people can't wear face masks
Overwhelmingly, expert sources report that the vast majority of people are able to wear a mask (even when exercising).
However, some people are unable to due to medical, behavioural or psychological reasons (some of which are invisible disabilities). These could include:
Severe breathing issues
Cerebral palsy
Parkinson's disease
Facial deformity
Severe skin condition
Claustrophobia
Autism
Post-traumatic stress disorder
Sensory processing disorder
Severe anxiety
You care for someone with a hearing impairment (who relies on lip reading)
And this list is in no way exhaustive.
So, if you see someone without a mask out in public please don't jump to conclusions. Don't judge. They legitimately may not be able to wear one.
Of course, those of us who can should be doing our best to protect ourselves and our community by wearing a mask. Here's how to effectively choose, wear and take care of one.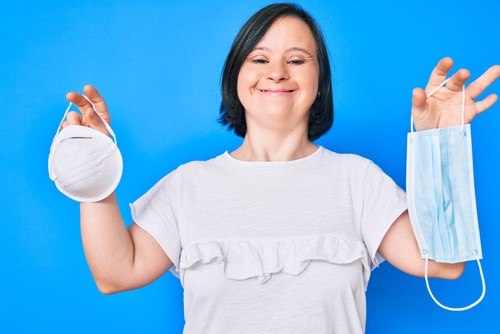 Types of face masks
The World Health Organisation says wearing a face mask should always be used in conjunction with other hygiene practices. By this we mean: physical distancing, regularly washing hands, disinfecting surfaces, avoiding touching your face, coughing and sneezing into your elbow/tissues, and staying home if possible.
There are two types of face masks: surgical and cloth. The World Health Organisation has this great video that outlines who should wear which type. To summarise it, surgical masks are medical grade, so they are for health workers, people with COVID symptoms and those taking care of COVID-infected people.
In areas where COVID is widespread and adequate physical distancing cannot be achieved, medical masks should be worn by people aged 60 and over and those with underlying health issues.
Fabric (non-medical) masks should be worn by everyone else if physical distancing may not be able to be achieved. The more crowded the location, the more reason to wear one.
Effective face mask use
Using your face mask correctly is important to limit increasing the risk of infection to yourself or others. The important steps in how to wear face masks effectively are:
Clean your hands before touching it
Ensure it is clean and undamaged
Touch it only from the ear straps when putting it in on over your mouth and nose
Make sure there are no gaps – it must fit snugly at the sides, over the bridge of your nose and under your chin
Don't ever bring it down to your chin to your neck or dangle from one ear, as the inside will then be contaminated
Only touch it again with thoroughly cleaned hands
Change it if it gets dirty or wet
Remove it completely if you need to for eating, drinking or any other reason
When taking it off remove it via the straps behind your ears, not from the front
Clean your hands again
Always wash your cloth face mask after use, handle it with totally clean hands, and store it in a sealable plastic bag. How do you wash it properly? In soap or detergent, preferably with hot water, after every use.
Having trouble wearing a mask?
If you can usually breathe well yet are finding wearing a mask a stressful experience, or finding it difficult to breathe, read up on reasons why it might be happening.
For example, it might be because you are unconsciously changing your breathing while wearing the mask. And/or, you might be a mouth breather.
Hopefully, a small tweak to your approach to breathing before and while wearing a mask is all you need to set out comfortably from this point on.