If you're considering a used mobility scooters instead of shopping for a brand new one, you're probably wondering how you can buy one safely. There's no denying that if you get it right, you can save a tidy sum. But getting it wrong could be a costly and frustrating exercise.
Before we get into used mobility scooters specifically, read our top tips on buying a mobility scooter for more general advice on the types of scooters available and how to choose a suitable one. If you're buying for someone else, we have some tips on buying a mobility scooter for a family member too.
Once you've done that, here's some guidance on shopping secondhand.
The benefits of a secondhand mobility scooter
Let's be honest, the biggest attraction when it comes to used mobility scooter is the possible savings. With the purse strings tightening across Australia due in part to the global pandemic, saving a few hundred or thousand dollars can really make a difference.
Just like cars, you can often pick up a bargain when you buy preloved. Are you on the search because your mobility scooter has been damaged or stolen and you need to replace it? Hopefully you had insurance …but more about that later.
The drawbacks of buying secondhand
Of course, used mobility scooters aren't risk-free. Otherwise nobody would ever buy new!
Some possible drawbacks to think about before you dive straight into buying secondhand are:
A lack of warranty, or a shorter warranty
Shorter battery life. Most batteries only last around two years. This isn't a deal breaker but you should research the price of batteries before purchasing a used mobility scooter.
The risk of buying a mobility scooter which is broken, or of being scammed.
If you decide to go ahead, how can you limit your risk? And what should you be looking for as you shop?
What to look for in a used mobility scooter
When you're buying a mobility scooter of any sort, you should always involve your occupational therapist. They can help you to find a scooter which suits your unique needs, fits you properly, and is safe and reliable.
Your scooter is a vital piece of equipment, so you don't want to compromise and settle for something that's a poor match for you. Regardless of the savings you may make from buying used.
Regardless of where you buy your mobility scooter, you should always check:
The battery life
The condition of the tyres
The bodywork, for any obvious scratches or dents (here's some tips on maintaining your scooter once you've got it)
The service history
The age of the mobility scooter
Remember that you can buy used mobility scooters through shops/dealerships as well as through private sellers. We'd advise that you shop with an open mind and try lots of different models to see what works for you. Ask about the previous owner too, to glean any additional insights on how the scooter has been used.
Finally, remember you should never buy a mobility scooter without test driving it first to check that you feel comfortable, and everything is working as it should.
Buying through shops and private sellers come with slightly different risks. Here's some advice on how to navigate each scenario.
Buying used mobility scooters from private seller
If you buy through a private seller you can often find great bargains. However, finding an honest seller and using your discretion is key during a private sale.
When you're shopping around, always ask the seller the following questions:
"Why are you selling?" If you're buying from a private seller, it's a good idea to ask their reason for putting their scooter up for sale. There are plenty of honest reasons: perhaps they traded in or upgraded, or it's no longer needed. It's good to know the reason behind the sale, to give you more insight into the scooter's history and usage.
"What's the service history?" If the person selling the mobility scooter has owned it for all or most of its lifespan, they should be able to give you an overview of the scooter's service history. It's also good to find out if the batteries, tyres, and charger has been refurbished or replaced lately. They can wear out quickly and replacing them puts a big dent into the savings you could make by buying a used mobility scooter.
"Have you ever had any issues with it?" Of course, there's no saying they'll definitely tell the truth. But this is a good time for the seller to mention that time they knocked it into the curb or how it always veers a little bit to the right. If so, you know it needs a good service at the very least.
Before you view, you should already know the price and year model of the scooter. But make sure to double check while you're there.
After all that, have a serious think about whether it's worth buying used mobility scooters over brand new ones that are working at their optimum level. Is the saving worth the potential for issues?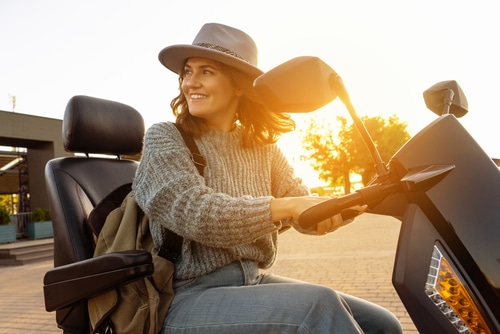 Buying used mobility scooters from shops
Just like cars, people trade in their old mobility scooters for new models and these trade ins are sold on. Often, shops will sell the older models at discounted prices.
It's best to ask your GP, occupational therapist, other scooter users you know, or other friends and family for recommendations of reliable stores in your area where you can purchase used mobility scooters. If you're buying from a reputable store, (unlike buying online) you're very unlikely to be scammed as they rely on a good reputation to stay in business.
Be sure to ask the shop about the warranty. Brand new mobility scooters usually have a warranty of one or two years. A shop selling used mobility scooters should be open to providing you a short warranty – say, at least three months – to safeguard against any major problems.
Additionally, most reputable dealers will provide an hour or more of training on how to use a scooter. If you buy a used mobility scooter as your first one and/or buy from a dealer who doesn't provide training this lack of know-how could potentially pose a problem for you.
You should also ask the store about the scooter's service history. They might not have all the answers, depending on who and where they got the scooter from, but they will often have had it serviced before putting it on the shop floor. If not, insist on a full service before purchasing.
Other things to keep in mind for a safe sale
Regardless of where you buy from, try to get a copy of the original paperwork, including the manual. This often contains important information like the warranty, as well as instructions to make sure you're operating your mobility scooter safely.
It's also important to make sure you're getting the right scooter for your needs. The danger in buying a secondhand scooter (especially if it isn't coming through a dealer) is the person selling it may not have your best interests at heart. For instance, the kind of scooter you need to use to drive 4-5kms daily is quite different to a scooter you'd put in the back of your car and then only use while you do your grocery shopping.
Make sure to see the mobility scooter in person wherever possible. If you really do have to buy online, do it through a reputable platform with buyer protection in place. Buying over the internet from a classifieds site is not recommended.
Don't pay cash. It's true that you often secure a better price if you pay cash. But for a valuable item like a mobility scooter, the risk isn't worth it. Instead, pay through a channel where you have some recourse if something goes wrong. PayPal has good buyer protection in place, for example.
And remember the golden rule: if it sounds too good to be true, it probably is.
Insurance for used mobility scooters (and new ones too!)
If you're looking at mobility scooters, you'll already have a good idea of their value. Not to mention how important they are to you as the user.
Luckily, our purpose-built comprehensive mobility scooter insurance is seriously affordable.
Plus, it offers you peace of mind that if your scooter is broken or stolen we'll be there to help cover the cost. And with mobility scooter theft on the rise, a safety net can only be a good thing.
There's one more important thing to keep in mind when it comes to buying and insuring used mobility scooters – make sure you stick to reputable brands.
Over the last few years, there have been a number of imported scooters brought into Australia that aren't known brands and don't have warranties, local representatives or available replacement parts. These types of scooters can't usually be repaired after an accident, and most insurers will not offer insurance for them.
Make your choice wisely.