Buying a mobility scooter can be exciting and – especially if it's your first time – nerve wracking too. While you get to look forward to improved mobility there's your functionality needs and budget to consider too, among other things.
Mobility scooter designs and technology are improving every day, which means more features to consider. With so much choice out there, how can you be sure you're making the right one? Not to worry, we'll help you by highlighting some things you might not know.
Buying a mobility scooter? We've got you covered
At Blue Badge Insurance we deal with mobility scooters daily, whether it's to help a customer replace their stolen scooter or insure a new purchase. And we understand that buying a mobility scooter can be almost as daunting as buying a new car.
This is why we offer a Free Mobility Scooter Guide to download, printout and keep so you can read it anytime. It's also why we put together articles like this, to share the latest tips you might not know when buying your mobility scooter.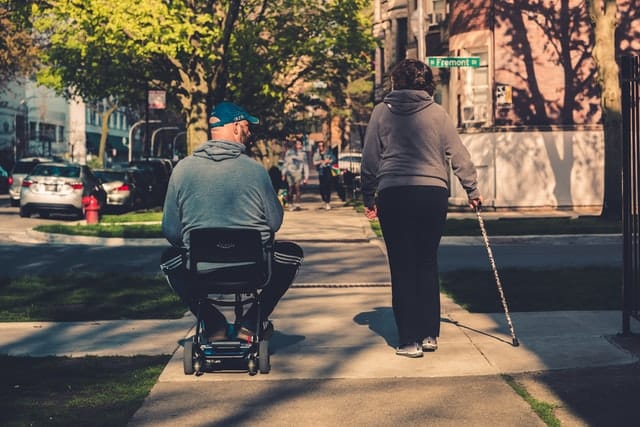 What you didn't know about buying mobility scooters
When you're buying a new mobility scooter, it's a good idea to make a checklist of your needs first. Then, spend plenty of time researching what's available that will tick off all your essentials and most of your 'nice-to-haves'.
Here's a list of resources to get you started:
Now let's look at five tips for buying a mobility scooter that you may not know:
1. Types of mobility scooters
Nowadays there are several options for seats, backrests, covers, accessories and more. Use your checklist of needs to balance against possible purchases, as the availability of product parts can be overwhelming.

Mobility scooters are grouped in these four categories:
Travel. Compact design that disassembles for easy storage
Folding. Easy to fold up and pack away
Full Size. Has more power and is good for accessible outdoor travel
Heavy Duty. Good for rough terrain
Of course, there are many makes and models in each category that go from basic to luxury to meet your requirements and budget.
Here's a video review on mobility scooter top picks:
2.Book a home test
Most mobility scooter companies offer a free home test. Give them a call or email to find out if they will bring to your door the scooter or scooters you'd like to try.
Or, if you're going to be using the scooter mainly on a certain route outside of home, ask if you can try out a section of that route. Consider which part of the route is the tricky bit and see what it's like to navigate.
Here's some things you should check on your test drive:
Turning
Speeding up/slowing down
Steering around obstacles
Reversing
You don't want to commit to buying a mobility scooter only to discover it doesn't have the capacity to drive where you need it most. Or that it's too wide to fit between X and Y space at the local shops.
If a seller won't do a home test, book an appointment to test drive at the store. Try all the scooters you think might fit your needs and budget. Take your time.
Your test drive booking is an opportunity to talk to the sales rep about your specific needs. Tell them where and how you plan to use the scooter so they can make a tailored recommendation about features, accessories, wheel options and more.
3. Battery life
Beyond features and functionality, ask your sales rep about the battery life. How long does the battery hold its charge, how many batteries does the scooter come with and what plug points or charging method does it use. These are all valid questions you should seek answers for.
It's pointless having a state-of-the-art mobility scooter with a battery that doesn't hold its charge very long – that's like a Ferrari with no petrol. Also ask about discounts for buying an extra battery or add-ons that take your fancy.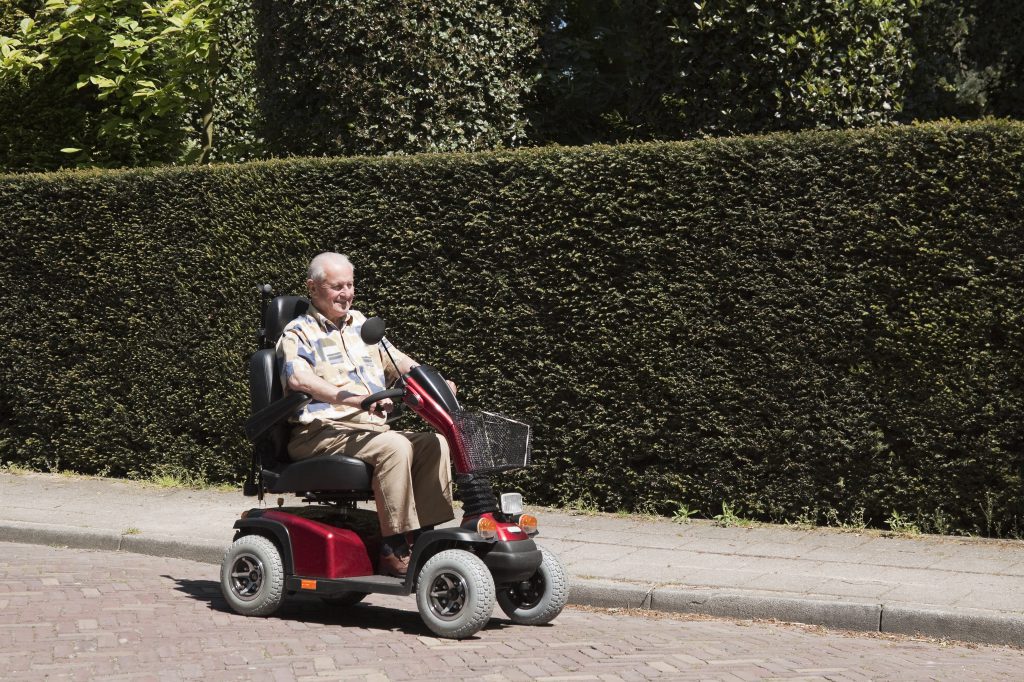 4. Follow up support
Make sure you buy your scooter from a reliable seller that gets great reviews on their follow up services and support. You may find a dealer who sells the same make and model for less with no follow up support. Because a mobility scooter is a big investment, don't scrimp where it's important.
In the long run, a dealer which offers valuable information and follow up support after the purchase can save you time, money and worries.
5. Mobility scooter insurance
Mobility scooter insurance is affordable and gives you peace of mind when using, parking, or storing your scooter. If it's stolen, vandalised, or breaks, we help cover the cost. We also offer new for old (see our PDS for terms and conditions) for scooters up to a certain age, so you can trade it in if it's damaged beyond repair.
And with our included third party liability cover, if you accidentally drive your scooter into someone or something, we'll help cover costs of damage to them or their property.
We've got you covered.
Buying a mobility scooter – over to you
Share your tips for choosing a mobility scooter via our Facebook page so others can benefit.