In this article we explore physical disability and driving a converted vehicle.
Many people believe disability and driving don't go together yet this is far from true. Converted cars provide a range of driving solutions for people with limited mobility, that replace the typical vehicle controls.
The technology around disability and driving controls is rapidly changing. More and more people with a disability can drive independently. Joystick control, foot-steering and even operating controls with your voice are now all realistic options for drivers with a disability.
Driving a converted vehicle when you're living with limited mobility can be a truly liberating experience. Having the freedom to drive from A to B, at will, indicates just how well technology can help overcome physical limitations.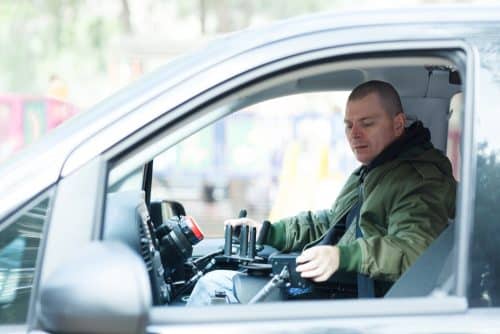 What is a converted car?
A converted vehicle is a car that's modified to suit various disability driving needs, by providing specialist driving controls. And unlike wheelchair accessible vehicles (WAVs) that are structurally modified, converted cars use non-structural modifications.
Of course you might drive a vehicle that's both a converted car and a WAV so that you can transfer in your wheelchair and drive using adapted controls. For a closer look at adapted controls, read about disability converted cars driving controls.
But first, let's take a general look at how these converted car modifications support your driving goals.
How disability driving controls support limited mobility
Cars are designed to be functional and convenient. For example, the steering wheel is usually found in a specific position and shaped a certain way because that's generally convenient. However, what's convenient for one person isn't necessarily convenient for another.
In short, the controls on a car, from steering, accelerating and braking to clutch control and more, can be engineered to suit the driver's physical capacity. If for example you have limited arm movement, you can use modifications that limit the amount of movement and exertion required to use hand controls.
Or if you have paraplegia, accelerators, brakes and clutches can all be transferred to hand controls for total feet-free driving. Right foot controls can also be transferred to left foot if preferable. And for drivers who use a manual transmission and need an alternative to a foot operated clutch, electronic clutch controls can be installed on the gear lever.
Secondary functions, like lights, indicators, windscreen wipers and windows can be incorporated onto the hand control brake lever. They can also be controlled with a remote unit that attaches to the steering wheel, spinner knob or steering aids. Or they can be mounted on head-activated switches or operated by voice-control units.
Automatic doors or ramps that you don't use while driving can also be controlled via your laptop or smartphone.
Comply before you buy
Vehicle certification and compliance is a requirement for using a car with disability driving controls. Advanced modifications require stringent independent testing and competent multiple redundancies to ensure their safety as any failure of the system can be dangerous.
Always ensure they have the required certification and testing and that the vehicle converter you choose is experienced in working with these technologies.
Role of the disability driving OT
Your first step to buying disability driving controls is having a driver trained occupational therapist assessment.
Your driver trained occupational therapist (DTOT) will help you find, test and buy driving controls to suit your physical needs. Their report is also a step towards getting licenced to use the controls as well as being a necessary component for any funding applications.
Buying a car for driving with disability
Before you get to buying your disability driving controls, you'll need the right car. If possible, start speaking to your DTOT before buying your car or modifications, so they can help ensure these are compatible with one another.
Together you should take care to ensure you choose a reliable supplier who provides follow-up support and who has branches in your city.
The car you buy needs to suit your method of transfer, disability driving controls and more. Here are some things to consider:
Do doors open wide enough for easy transfer?
Can seats move back far enough?
Can the steering wheel be raised to give more room for access and transfer?
Is there enough cabin/boot space for storing mobility equipment?
Protecting your precious converted car
You'll be pleased to know that with Blue Badge Insurance your insurance for wheelchair accessible vehicles or converted car includes cover for assistive technology you travel with in your car.
Contact us today to find out about getting up to 25% discounted disability car insurance if you have a disability parking permit.