Wanting to get away from home this winter and spend a few days somewhere new? Finding accessible accommodation (hotel or otherwise!) in Australia can sometimes be a challenge, especially finding somewhere that not only has the right accessibility but all the other things you want from a holiday.
Despite many places being listed as accessible, people living with disability may not actually find them suitable. The doorways could be too narrow, the bed too low, or the bathroom too small to fit a wheelchair or walker. Then there's the matter of actually getting from the car park to the room!
We know… sometimes \accessible accommodation isn't really that accessible.
If you're planning a break away this winter, we've rounded up some accessible accommodation options which regularly receive recommendations and positive reviews. Maybe one of these will fit the bill for your next trip?
Sick of the cold and want to escape somewhere warm and sunny? This accessible accommodation option in Coochiemudlo Island is just the ticket. Enjoy a relaxing island break and embrace the bay and bush in a three-bedroom house which can cater to families or groups of friends.
This idyllic little spot truly has thought of everything; there's a hoist, electric bed, commode and much more. It's topped off with huge bedrooms featuring plenty of space for mobility equipment, as well as a purpose-built chair user bathroom, and a kitchen that's accessible for wheelchair users.
If you have an assistance dog or therapy dog, you'll be pleased as punch to know it's pet-friendly too! And to make it even more convenient, Woolworths now delivers to the island twice a week – so no need to leave your little heavenly cocoon to brave the shops or try to find accessible parking spaces on a busy weekend morning.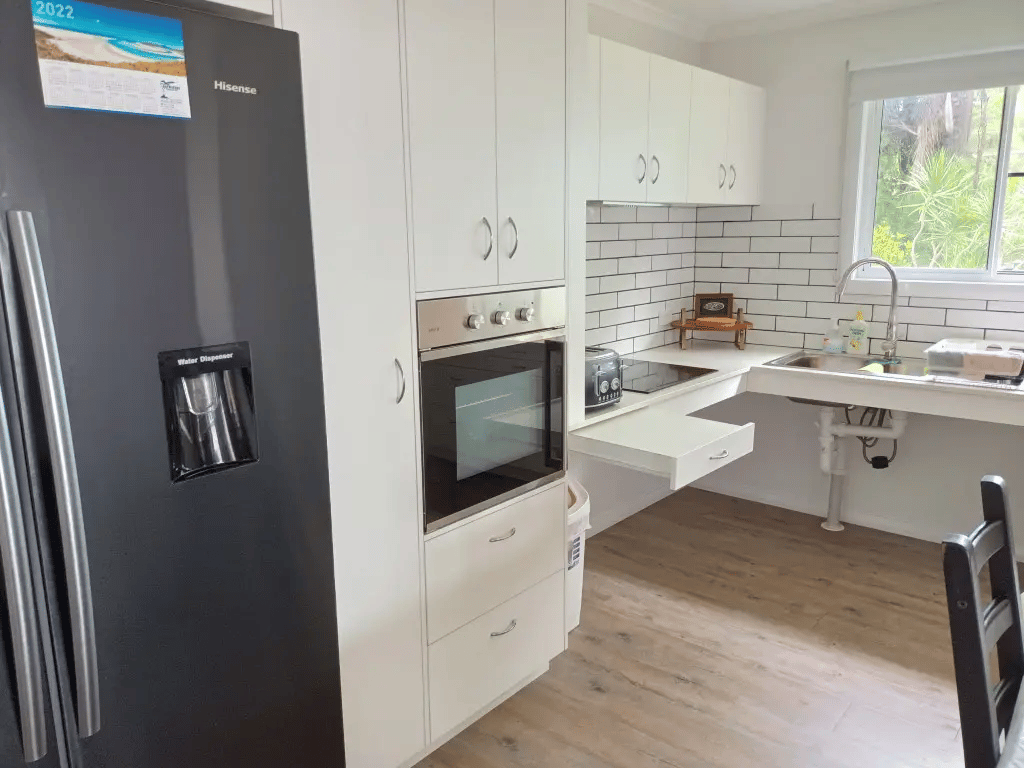 Sometimes, a break away can be as simple as a change of scenery. Hollyhall Farm is situated on an equestrian farm in the Southern Highlands of New South Wales. This means waking up to the sound of hooves clip-clopping and ponies grazing.
The newly-built farm cottage sleeps six in three bedrooms, so you can bring the entire family with you for a getaway and enjoy local wineries, restaurants, and sights. Or simply relax by the fireplace or on the patio with a cup of coffee and enjoy the fresh air.
One thing Hollyhall isn't lacking is amenities. Paved paths cover the 25-acre farm, so you can meander with the family through the grounds which include an equestrian centre, vegetable garden, and equine therapy options. But perhaps the most attractive amenity at Hollyhall is their indoor pool. Not only is it heated, which is a real luxury in winter, but it also features a hoist for guest private use.
Pets have to be on-leash when they're outside the cottage, but it's also pet-friendly. So your dog can join you for strolls around the farm!
Here's a video showing you what Hollyhall Farm looks like in real life:
Often, accessible accommodation can be quite basic and lack the wow factor of, say, a luxury five star hotel or a quirky inner city boutique. But there's no reason people living with disabilities shouldn't be able to experience the glitz and glam of travel if they want to.
Fortunately, there are some accessible accommodation hotels and providers who understand that. Mac01 in Hobart offers all of the accessibility features, with none of the compromise. So if you're looking for an upmarket hotel and want to feel like you could've stepped into a boutique hotel on a New York TV series, this should float your boat. More on boats later, for that matter.
Modern, swanky, and tastefully decorated, it's situated right on Constitution Dock in Hobart. Some of the accessible rooms (which are billed at the same rate as equivalent non-accessible rooms, as they should be!) even have spectacular waterfront views from their balconies.
There are wheelchair ramps in all the right places, including car parks and balconies, and customers rave about the service. They say staff are always quick and eager to assist in making your stay as easy and comfortable as possible.
Did you know Australia's Murray River is the third longest navigable river in the world, after the Amazon and the Nile? Exploring the Murray River is a fantastically Australian way to holiday. Plus, accessible accommodation doesn't always equal a hotel. Not that we have anything against a great accessible hotel, of course!
But for something different, a cruise might be just perfect. The houseboat Imagination docks at Mannum and has been completely renovated with accessibility in mind. There are five ensuite bedrooms, two of which have full disability access.
When you book the houseboat, you can also include additional services. Perhaps you'd like transport to and from the houseboats, a full-time skipper, 24-hour care, meal preparation or daily assistance? They're all available!
Friendship House, owned by the Rotary club of Albany in Western Australia, has two accommodation options.
Of the two, the Van Eyk unit is particularly suitable for people living with disability because it's primarily been designed with disability access in mind. Aside from the open plan areas that are wide enough for wheelchairs, there's also a grab rail in the bathroom, an electric bed, a hoist, and super spacious showers.
Emu Point in Albany features a very calm beach, as well as a beach wheelchair and matting to make trips to the sand and sea more inclusive. On top of that, there are plenty of accessible parking bays, an accessible barbeque, an accessible toilet, and even a cerebral palsy swing in the playground.
The Quest Apartment Hotel group is one of the leaders in Australia's accessible accommodation industry. One look into local community groups will see them recommended often, and for good reason.
Not only do they tend to be very centrally located, the consistency of a chain of hotels means you know what to expect even if you're travelling somewhere totally new. If you're living with disability, having peace of mind that your accommodation will be suitable for your needs can take a lot of the stress out of travelling.
You can focus on the important parts of your trip, whether it's for business or leisure.
According to its website, Quest has over 50 locations across Australia which include accessible accommodation options. And if you're travelling internationally, they also have locations in the UK, Fiji, and New Zealand.
Though you may have to sacrifice the individual, quirky nature of independent hotels, you do know a couple of things for sure you stay at one of Quest's accessible accommodation options. Firstly, you'll have good service. Secondly, you can tailor your stay with plenty of options including one- and two-bedroom apartments, bathrooms with grab rails, roll-in showers and more, dependent on the property.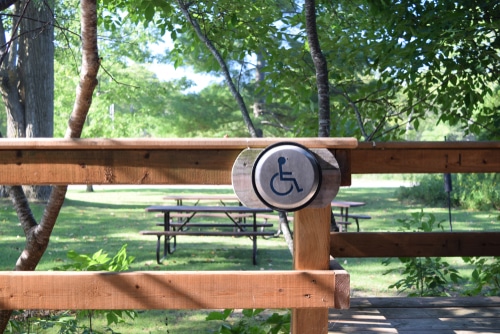 How to get to your accessible accommodation
Travelling to your destination by car this winter? You might have a few questions around parking permits in different states. Luckily, we've got all that covered for you:
Did you know that if you're a disability parking permit holder, you could receive discounted disability car insurance premiums with Blue Badge Insurance? You might also want to read about pet friendly accessible accommodation and check out our Blue Badge pet insurance.
We can even insure your mobility equipment, disability converted car, or wheelchair accessible vehicle. Simply contact us for a quote.