Winter can be a tough season for many of us. And while we can't necessarily change the cold weather, we can give you tips for how to keep warm in winter.
From aching joints to inaccessible pathways and dangerous road conditions, the chillier weather brings some challenges to people living with disability. But doing your best to keep yourself warm and cosy can make winter easier to bear.
Here are some of our top tips to help you keep warm in winter weather.
Keep warm in winter via three areas
Keeping warm when it's cold outside is more of a science than an art. And if you're living with disability, it can quickly become even more complicated. Still though, there are ways to manage the cold so that you're more comfortable until summer makes a reappearance.
You'll probably want to split your winter chill-busting strategy into more than one area:
Keeping your home warm
Keeping yourself warm
Staying warm when you use mobility aids
Here's how.
Keep your home warm in winter
Being able to use central heating like ducted aircon, portable heaters, and/or a fireplace are obvious ways to keep warm.
But central heating can become expensive, and a fireplace or portable heater might not be suitable due to safety risks.
If you're able to safely heat the room you mainly occupy, even for portions of the day or night, it's a good way to escape the seemingly endless chilliness that comes with winter. Even if that just means having a fire on occasional evenings.
If you're not able to heat your home via the above-mentioned methods, here's what you can do to help ward off the cold:
On sunny days, keep the windows closed but open the curtains/shutters to let the sunlight in to warm your home as much as possible.
Once the sunlight moves away and especially at night, close thick curtains across your windows to stop cold air coming in. It's all about trapping the day's warm air inside.
Use rugs or carpets where possible to keep your feet toasty and fight some of the cold from tiles and wood. Remember that some types of rugs or carpets may not be suitable for wheelchairs and other mobility equipment, though.
Make use of any "spare" heat if you can. If you're done cooking and the oven is turned off plus it's safe to leave the oven door open, do so! That way the heat flows into the room. Heat from a hot shower or bath can also warm up a bathroom or bedroom sufficiently to get dressed and into bed in relative comfort.
If you haven't insulated your house, whether the ceiling or sub-floor, consider doing so ASAP if you can afford it and it's possible to.
Hopefully these tips will raise your home temperature by a couple of degrees.
Now it's all about how to keep your body warm in winter.
Keep yourself warm in winter
How do you keep warm in winter without bundling up so much that you're mistaken for the Michelin man? A few winter life hacks can make all the difference.
Microwaveable wheat bags, and hand and foot warmers are safer and more effective than hot water bottles. They warm up in seconds, and last for a long time. This is useful on colder nights or if you need something warm to ease muscle or joint pain (read more about chronic pain management tips here). They allow you to warm up your hands, feet and other body parts as needed, and can be easier than layering up and down if you have limited mobility. Or, on the flipside, if you transition between indoors and outdoors a lot.
A warm beanie to help prevent heat loss from your head. Though the old myth about losing 45% of your heat from your head isn't true, you do lose around 10% – and nobody wants cold ears, anyway!
Base clothing layers made from thermal materials can be very helpful. They negate the need for multiple bulky outer layers, and also help to wick moisture so you don't get wet and cold if you sweat. Depending on your level of mobility, you could opt for long ones or a thermal vest – whichever is easier to get on.
A warm outer layer is essential. Depending on your needs, this could be a warm coat or sweatshirt, but it could also be a poncho or something easier to get on and off as needed.
Fingerless gloves can be a lifesaver when it comes to keeping your hands warm.
And then of course, remember to consume hot liquids like soup and tea where possible and safe. You can also take a warm bath or shower to get your body temperature up, if that's an easy option.
If you use a wheelchair or mobility scooter, we have some more specific tips below.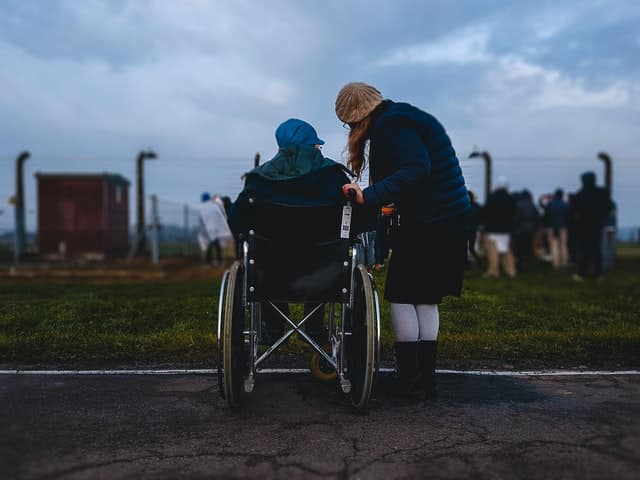 Tricks to keep warm in winter when you use mobility aids
If you use a mobility scooter or wheelchair, you likely are more sedentary. So, you may need to take a few extra steps to stay warm and toasty during the colder months. Luckily, there are a lot of products designed to help you do just that.
If you use a wheelchair or mobility scooter, a cosy seat cover can make a huge difference to your warmth. It's like the difference between lying under a blanket on cold sheets and lying under a blanket on warm sheets. Sheepskin is a good option, because it's thermoregulating and if you sweat, you won't stay damp. Plus, they're soft and comfy.
A waterproof cover for your wheelchair is also useful if you need to go outside in bad weather. Nothing will make you cold more quickly than getting caught in the rain! But if you do, dry it off as quickly as possible then read our tips on how to clean a wheelchair.
Trying to do some exercise can help to keep you warm as your heart rate and body temperature rise. In addition, light exercise can help to relieve joint and muscle pain in some individuals. Why not read our article on exercising with limited mobility to see if some suggestions could work for you?
Layering may be difficult if you use a wheelchair or a mobility scooter. Instead, look for alternatives such as fleece lined leggings or tracksuit pants, thermal tops, insulating fabrics like wool and down, and ponchos or big scarves which can double as blankets. Uggs and thermal socks are lifesavers too. Of course, be mindful of anything that could get trapped in the wheels of your scooter or chair.
Disability-specific insurance for winter
Ok, not just for winter. But our disability-specific insurance is sure to give you that warm and fuzzy feeling.
Whether you want to insure a wheelchair, mobility scooter, or disability converted car, we can do it properly. Plus, disability parking permit holders are eligible for discounts on their premiums…because we know you're safer drivers.
Over to you
Got any winter warmers to share with your fellow freezing Aussies? Let us know your top tips for keeping cosy in the comments.