Buying presents for children with disabilities can be a challenge as much as it is a great pleasure. Kids can be hard to please sometimes and accommodating for special needs adds another layer of pressure. So, if there's a birthday, family visit, or other special occasion coming up which requires a gift, we've put together some thoughtful ideas.
Many of these gifts will appeal to all kids and/or teens, not just children with disabilities. And of course, their preferred present will depend entirely on who they are as an individual.
It goes without saying that none of these presents will be suitable for every child. You'll have to keep their needs, preferences, personality and lifestyle in mind when looking to buy the perfect gift. But hopefully either something on this list will be just right or it will give you ideas for something else that fits the bill.
Choosing presents for children with disabilities by age
Buying an age-appropriate gift can be difficult sometimes, as kids' maturity, developmental levels, and interests can vary so much.
That said, we've organised our present suggestions into three broad age categories for ease of reading. Feel free to mix and match to suit the specific child you're buying for.
Presents for children aged five years and below
Lots of children this age really enjoy playing with arts and crafts. And who can blame them? It's a chance to get creative, messy, and let your imagination run wild. Think the usual culprits like glitter, cardboard, paint, shaving cream, and so on.
Buy these through craft specialty stores or simply head into Big W, a discount store or similar. Or, if you're in NSW, shop online and use the state government's $100 Creative Kids voucher if you're eligible.
As for imaginative play, you can't help but adore Kmart's range of inclusive dolls. There's a doll in a wheelchair, a doll with Down Syndrome, even a doll with a guide dog. And loads more too. Shop the entire range here.
And what kid doesn't enjoy a play kitchen? This one from Target is the right height for children who use a wheelchair and the store has a whole lot of kitchen goods and other stuff for educational-yet-fun role playing.
We also love this therapy putty. Stretching, rolling, squeezing, and shaping are all helpful for developing fine motor skills, and strengthening hands and fingers.
Presents for children aged 5-12
Technology, when used correctly, can be a wonderful aid to development and learning. And we all know kids loooove tablets and iPads. Google tells us they're widely searched for by people looking for presents for children with disabilities.
They're helpful not only for giving kids somewhere to watch TV shows, YouTube Kids or play games for their own enjoyment, but thanks to the vast amounts of apps and features available, can also be useful tools for communication and learning.
And many kids find them relatively easy to navigate. If not, Apple has lots of accessibility features listed here. Of course, an iPad would probably be a great gift for most teenagers too, as they work so well for varying developmental stages.
Other favourite presents for children with disabilities in the 5-12 age bracket have fun sensory elements. Think things like lava lamps, slime, ooze tubes, and bubble tubes. And these pop toys are everywhere at the moment, for kids with fidgety fingers. Those with certain sensory processing problems might not like them, but they often do make wonderful presents for children with disabilities.
The brand Melissa and Doug has loads of toys and gifts which are designed to help aid and improve learning and development. Finding one that the child you're buying for shouldn't be hard; they cater to all kinds of ages and developmental levels, and the toys are fun, eye-catching, and interactive.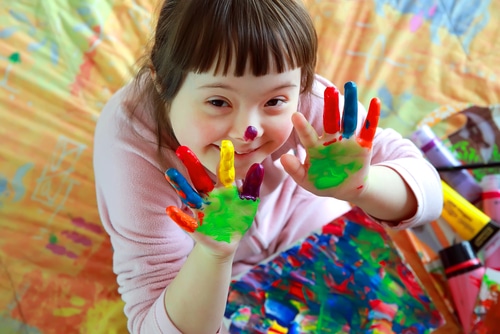 Presents for teenagers with disabilities
Teenagers' sleep cycles can be a mystery to parents, but a weighted blanket might just help to improve sleep quality and decrease anxiety. Research has shown the pressure can help to reduce anxiety, stress, and insomnia. Anecdotal evidence suggests they might be helpful for people with ADHD too, and might even help to manage chronic pain.
Just make sure to get the correct weight and size, and consider their safety when you take into account the recipient's disability/ies. There have been a couple of deaths recorded from these blankets.
Personalised gifts are also lovely for teenagers and older children. Perhaps they're into watching or playing a particular sport, or have a favourite TV show? A team shirt with their name on it, a mug with their photo, or some other paraphernalia personalised to them will likely go down a treat.
Depending on the teenager, they might also enjoy a day out doing a specific activity. As kids get older, they often appreciate time and experience-based gifts more than tangible ones. If the teenager loves animals, a trip to the zoo could be fun. Or a ticket to watch a live sports match. You might even just want to take them shopping or out for lunch or coffee.
And if all else fails, there's always a gift voucher for online shopping. The world is your oyster with that one.
Toys like them
It's been proven to be highly beneficial to a child's self-esteem to see themselves represented in the toys and media they consume. Toys and kids show that show differently abled characters are rare, so be sure to check out these 5 Kids Show Characters Giving Disability Visibility.
Also know that LEGO recently brought out a new line of toys that includes a series of playsets designed to help raise disability visibility. The LEGO friends characters include those with Down syndrome, limb differences, anxiety, and a dog with a wheelchair. This comes after LEGO cited results from a study surveying more than 32,000 parents and 24,000 kids that found an "overwhelming desire for more representation in play and more discussion on diversity." Check out LEGO friends here.
Places to look for disability-specific shopping
Here are some good stores to visit if you're looking for a gift for a child with a specific disability or need some more inspiration for present ideas.
Many of these stores feature items organised by disability, specific needs, or benefits.
What to keep in mind when buying presents for children with disabilities
When you're buying a present for a child with a disability or disabilities, make sure to keep in mind aspects such as:
Their developmental level: physical, intellectual, and emotional
Any sensory requirements. Some children might crave audio stimulation but not like certain textures, for instance
Their level of mobility
Their individual preferences, likes, and dislikes
One more thing to consider. When you're buying presents for children (or teens) with disabilities, it's a really good idea to check with their parent or guardian that what you're buying will be suitable beforehand.
Considering insurance as a gift
It might not be as exciting as unwrapping an iPad, but insuring someone's wheelchair, mobility scooter, or disability converted vehicle could make a really thoughtful and unusual present. You'd be alleviating the financial burden of replacement or repair in the event of an accident, and making sure that you protect an important possession(s).
If you're still stuck, you could also check out our post on everyday gadgets that are useful for people with disabilities. Many of them make excellent gifts, and could help the recipient to build their independence.
Presents for children with disabilities – over to you
What have been the best gifts you've given or received? Share them with us on Facebook.