Australia is perfect for outdoor fun during what we'd like to say is the vast majority of the year. It has some great inclusive playgrounds and wheelchair accessible parks that are well suited for family outings over holidays and weekends. But sometimes it can be difficult to know just how inclusive these areas are.
Depending on where you live you might choose between a tree-lined garden park, a playground or a lakeside lookout. You may stick to what you know and be unfamiliar with the possibilities out there.
Perhaps this list of some of our favourite accessible parks and playgrounds will help broaden your horizons.
Wheelchair accessible parks and playgrounds
An all time favourite for children is playing on swings. However, for kids who use wheelchairs the choices can be limited. That's why we've paid special attention to where you can find accessible swings and playgrounds. That helps us grownups as well as kids get the most from our outdoor experience.
Before we list our favourite inclusive playgrounds, watch the below video. It's all about how to safely use a wheelchair accessible swing. Knowing in advance means less to work out, and more time to play:

1. Brimbank inclusive playground, VIC
Brimbank inclusive playground and park is designed to be as accessible as it is engaging. It's also designed to let you play and explore with a special focus on being connected to nature and the outdoors.
That's reflected in the flowing designs, tactile surfaces and animal sculptures. The materials used in the construction help reinforce this appreciation for nature, e.g., textured concrete, solid wood and wood chips.
As a visitor of any age or ability, you can expect the following from your visit:
Accessible swings
Braille and Auslan signage
Accessible water fountain
An accessible sandpit
Interactive colourful murals
There's much more on offer and we hope you get to explore it all! Don't forget to comment on our Facebook page and let us know how about your park experience at Brimbank park playscape.
Here's a quick look at some of this inclusive playground's features. Check it out:

2. Hendrie Street Reserve inclusive playground, SA
If you're keen on a day of play in the park plus a good ol' Aussie BBQ, then the Hendrie Street Reserve inclusive playground has everything to offer.
While the kids (and adults) are getting happily tired out from playtime, the family chef can manage the meat and tongs. That's because the park isn't the only accessible feature… There's also a ready-to-use BBQ facility. Yum!
Although many parks across Australia have wheelchair inclusive playground features, they don't always have this many on offer. Here's a list of what to expect from Hendrie Street Reserve inclusive playground:
Accessible spinning carousel, swing, slide and play multi-station (with ramp)
Interactive chalkboard (it's BYO chalk)
Interactive musical elements
Accessible BBQ
Sensory spaces for vision or hearing impairments
Have a look at this video for a preview of what you can expect:

3. Dru Point inclusive playground, TAS
Dru Point playground is perfectly located, on a point looking out onto a beautiful river. That means you get scenic panoramic views and also the occasional duck sighting. Perfect for the kids and the whole family!
A fun feature is the accessible 'mini-road' course. It comes complete with signage and traffic lights so you can navigate the entire track by wheelchair. The park meanders over a large area with plenty of shaded areas throughout.
Here's what to expect on your visit to Dru Point Park:
Accessible swing
Level and ramped playground areas
Lots of picnic areas
Accessible pathways around the whole park
Sensory area with sculptures
Jetty
Here's a video that gives you a bird's eye view of this beautiful and inclusive park:

4. Livvi's Place, nationwide inclusive playgrounds
Born out of one of the most heartbreaking and touching human stories, Variety Livvi's Place is not one but several inclusive playgrounds across Australia. The name comes out of a partnership by Touched by Olivia and children's charity Variety.
To say Livvi's parks have a special meaning for John and Justine Perkins is a complete understatement. That's because they're in memory of the couple's second child, Olivia, who was diagnosed with Lymphatic Malformation in her eighth month and died a short time later. Sadly, she spent her final weeks away from home in hospital.
Our work is focussed on combatting mental health issues, social isolation and the barriers that prevent us from being a truly inclusive community.
– Touched By Olivia
Livvi's parks are John and Justine Perkins' legacy. This is how they share the message of 'inclusion through play' with kids from all over Australia. Touched by Olivia now has nearly 40 inclusive parks across states and territories to choose from.
Blue Badge Insurance would like to share a big thank you to the Perkins for their loving contributions to Aussie kids and communities.

5. Wheelchair accessible Kings Park / Botanic Garden, WA
Inclusive playgrounds are fantastic, but sometimes all you need is a walk in the park. If this is what you're after, then Kings Park and Botanic Gardens in Perth offers up the perfect array of scenic walks.
Do you love outings filled with history? Then Kings Park Memorials Self-Guided Walk is a great option to try. Take an hour or more to leisurely explore this inclusive hilltop park. The tree-lined walk is wheelchair accessible and runs over 1.7 km through the park.
This scenic stretch overlooks vast swathes of Swan River as it meanders through the central business district. That means you get the best of both worlds: urban panoramic views while immersed in manicured gardens. Aah, Australia is beautiful!
This accessible walk is packed with historical conversation starters surrounded by tranquil scenery. For example, statues, memorials and 'honour avenues' surrounded by loads of picnic hotspots.
Have a look at this video to get an inside glimpse of this wheelchair accessible park paradise:

6. Wheelchair accessible parks, VIC
Parks Victoria has put together a fantastic, well-rounded itinerary of wheelchair accessible parks and inclusive playgrounds. There is such a wide variety of options to choose from, it's hard to know where to begin.
For example, there's accessible boating, beaching and canoeing. There's even all terrain wheelchair hire and destination options. Check out their list of options and imagine your next adventure.
Also watch this video introduction to their all abilities walks video series:
7. Spotlight on Newcastle, NSW
Blue Badge Insurance is based in Newcastle, on the east coast of NSW, so it would be remiss of us to mention some great locations we enjoy locally.
You'll find even more playground suggestions in this great article: Playgrounds with All-Abilities Equipment in Newcastle, Lake Macquarie & Hunter.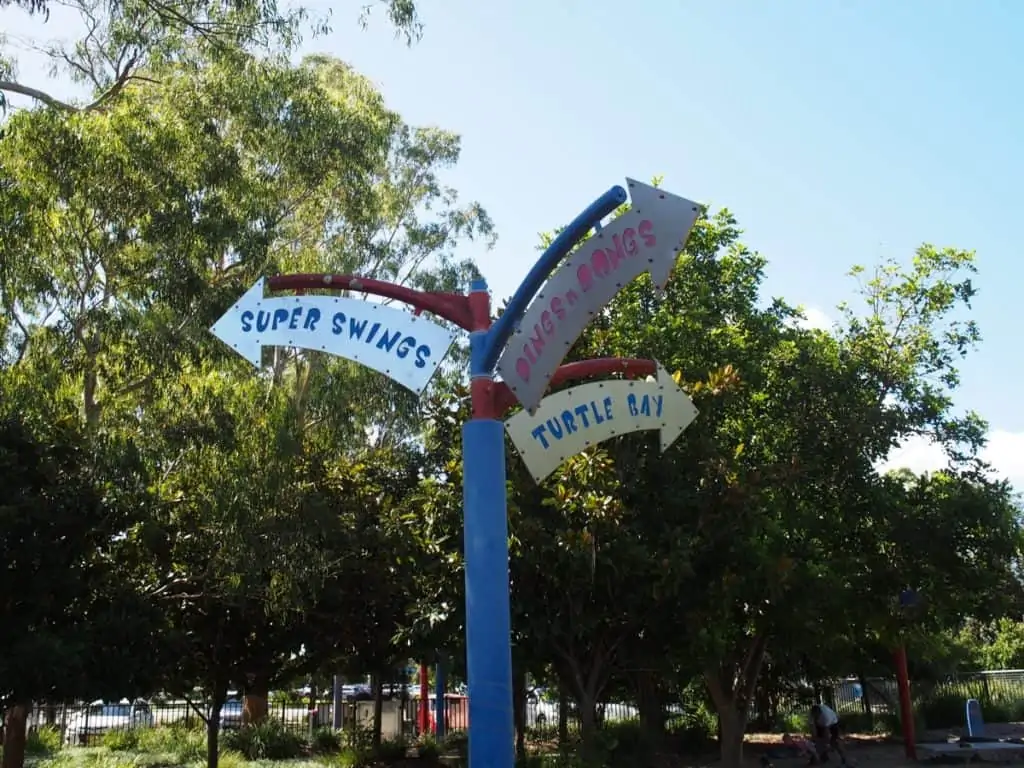 Wheelchair insurance, your assurance
Knowing your wheelchair is well protected during your trip to a wheelchair accessible park or inclusive playground means peace of mind. This is especially the case for custom made wheelchairs that can be expensive to replace, and near impossible to live without, while you wait.
It's easy to safeguard yourself by getting wheelchair insurance today. In times of need, your plan can help cover the costs of repair and replacement in case of theft, damage or loss – wherever you are. We also offer up to 25% discounted disability car insurance for disability parking permit holders.
Click below to get a quote and start your plan today.