With the NZ travel bubble now open, it's the perfect opportunity for a Kiwi-styled holiday close to home. Especially if you've been feeling cooped up over the past year of social changes due to COVID-19. Let's explore the accessible travel New Zealand has to offer us Aussies.
From accessible accommodation and dining to natural wonders and everyday city sightseeing, we've listed four top spots below. This blog article is your go-to-guide for making your NZ travel bubble inclusive and wheelchair friendly.
The NZ travel bubble and more…
Be Lab (previously called Be Accessible) is a charitable trust that helps businesses, institutes and service providers be more accessible. Their vision and aim "is for New Zealand to become the most accessible nation in the world."

The reason we're mentioning them here is because they assess how accessible places are to visit. Including some holiday stop-offs like 'Sea Life Kelly Tarlton's Aquarium'.
Accessible travel New Zealand
Be Lab has given Sea Life Aquarium in Auckland an overall accessibility rating of silver. If gold is the standard, that makes silver pretty good. For this reason, we're starting the list of our four favourite holiday sightseeing destinations, with Sea Life aquarium.
1.

Sea Life for close up views of ocean creatures
Open five days a week during school terms (Thursday to Monday), the aquarium has everything from king and gentoo penguins through to turtles, sharks, stingrays and fish.
In addition to seeing sea creatures up close, it has a range of exhibits for you to explore. Perhaps plan your visit around sea animal feeding or talk times?
You can even do a penguin encounter, and a shark cage adventure if you're able and keen! (no thanks)
Here's what the aquarium has to offer in the way of accessibility:
Wheelchair lifts: There are two sets of stairs which both have wheelchair lift options
Wheelchairs on loan: You can borrow a wheelchair at the aquarium, but these can't be booked in advance and it's first come first served (probably wise to arrive early). To borrow a wheelchair, you need to leave your I.D with them so be sure to have it on you
Accessible toilets: There are three sets of accessible toilets, at the entrance, exit and alongside the café
2.

Waitomo Caves for stalagmites & stalactites
A natural wonder, the Waitomo Cave network has three caves, and one of them – the Ruakuri Cave – is fully wheelchair accessible. Ruakuri is the largest of the Waitomo caves and it's filled with breathtakingly beautiful crystal and limestone formations.
The Waitomo Caves are a two-and-a-half-hour car drive from Auckland, so we've listed some wheelchair accessible car hire places further down.
Australians get a huge discount when visiting the caves until the end of June. One Australian ID holder is free with every paying adult. See the website for more booking details.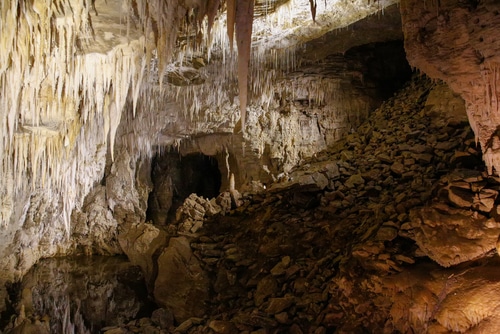 If you're happy to travel to the South Island, one destination worth seeing is the Te Waikoropupu Springs (or, Pupu Springs).
Situated in the island's Golden Bay, this is the largest cold-water spring in the Southern Hemisphere. The clear waters offer a crystalline view to the bottom of the water; however, no swimming is allowed. Interestingly, the government website says "In Māori tradition the springs are waiora, the purest form of water and provide water for healing. In the past, the springs were a place of ceremonial blessings at times of birth and death and the leaving and returning of travellers.'

There's a wheelchair friendly walkway that winds around the spring and is 1.5 km long, said to take 45min to traverse. While this gives you access to marvel at this natural spectacle, it's worth noting that the walkway is a boardwalk where some parts are gravel.
4. Queenstown for adventure
Also in the South Island, Queenstown is known as the adventure capital of New Zealand – whether you've limited mobility or not. It's also known for fantastic landscape (snow topped mountains, anyone?), cruises, restaurants, wineries and shopping.
You can bungee jump, skydive, and there's even an adaptive snowsports program ready for you to check out.
More on accessible destinations
While we've listed four of our top accessible places to see, there are many more across the islands. Wheelchair Jimmy has a long list to choose from and tour operators providing accessible holiday packages include Accessible Kiwi Tours, Accessible NZ and Ability Adventures New Zealand.
Resources for accessible travel New Zealand
In addition to these must-see destinations, here are some other accessible resources for everyday places to go, accommodation, eating out and tours:
Enjoy the NZ travel bubble with WAV car hire
Travelling around in a WAV or converted car is, of course, a must for accessible travel in New Zealand. It's great to be able to go where you want and when you want, so we've listed some accessible car hire companies here:
A mobility parking permit will take around three weeks to process, to give you an idea of how long in advance to plan this.
Wheelchair insurance
Speak to Blue Badge Insurance to make sure your wheelchair is insured while you're travelling. We've many years' experience providing travel insurance for wheelchair users.
Our wheelchair Insurance means you can lean forward into your NZ trip with even more positivity. That way if something happens to your wheelchair like it breaks or gets stolen, you can have it easily replaced or repaired.