Blue Badge Insurance is to mobility scooters, wheelchairs, converted vehicles and disability parking permit holders what Vegemite is to toast. Truly complementary.
We're not a traditional insurer. And we're proud to say that.
Blue Badge Insurance is single-mindedly focused on delivering tailored and comprehensive insurance products for Australians living with disability. Importantly, this commitment extends to the organisations that support and service them (you).
Why are we different to other insurers out there? Read on for more reasons…
Why Blue Badge Insurance is different
Some traditional insurers will cover your valuable disability-specific equipment with little question. That's great, but are they really making sure you're properly insured? Because Blue Badge Insurance is a disability insurance specialist – we focus on insuring disability equipment and vehicles, so we truly understand your needs.
And we make sure the insurance we provide really is suitable for those needs.
Here are five ways that Blue Badge Insurance differs from traditional insurers.
1. Australia's first mobility equipment insurance specialist
Blue Badge entered the market in 2014 as Australia's first specialist mobility insurance provider.
Why specialise? We realised there was a glaring need for affordable and reliable insurance cover for mobility equipment. From there, we soon moved into similarly tailored, affordable insurance for WAVs and other disability converted cars. And on to providing car insurance discounts for disability parking permit holders.
As CEO Nik Witcombe says, "We built Blue Badge Insurance on a commitment to positively discriminate for people living with disability. There was – and still is – a great lack of understanding amongst insurance providers about the intricacies of mobility equipment and converted cars, as well as the broader needs of those living with limited mobility.
"The company's key business premise is to make the difficult easy when it comes to mobility insurance. "
Every day our team works with people who have lived experience with disabilities, to protect their crucial equipment and cars. This means we understand you and we understand the value of your disability converted car, for example. Thanks to our heritage and our specialisation, the Blue Badge Insurance team has the know-how you need to feel confident you're appropriately insured.
2. Blue Badge Insurance for mobility scooters and wheelchairs
Blue Badge Insurance mobility scooter and wheelchair insurance gives you comprehensive cover for your mobility equipment, no matter where you travel with them.
And we have the industry connections to get them quickly repaired (or replaced) when they're damaged, giving you a soft landing at a tough time. We're talking to manufacturers, suppliers, support organisations and more every day, building and strengthening our connections.
Whether you're totally dependent on your mobility equipment daily, or only use your scooter or chair from time to time, we understand how important mobility equipment is for your life.
That's why we offer:
New for old. New for old replacement for mobility scooters or wheelchairs up to two years old from the date of purchase, if new when purchased
Third party liability. Protection for damage claims from third parties if your mobility equipment injures or damages someone or their property
Interstate and overseas cover. Automatic cover for your scooter or chair if you take them with you to another state/territory or overseas
To get the best from our mobility equipment cover, find out what questions to ask your insurance provider when getting insurance for your wheelchair. If you use a scooter, here's five reasons why you should consider mobility scooter insurance.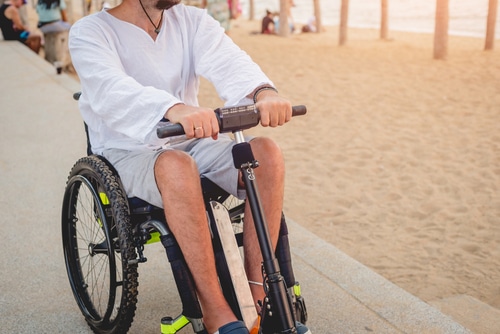 3. Disability converted cars and their precious cargo
Disability converted cars – WAVs and those with drive control modifications – can be a minefield for traditional insurers. Not for us.
For general insurers, the conversions can be difficult to price and some may hike up your premium as they see converted vehicles as higher risk. Sometimes they'll lump your car in with luxury and performance vehicles.
Traditional insurers will also often depreciate the value of conversions at the same rate as your car. This can result in underinsurance, so when comparing disability car insurance please ask these questions!
Not at Blue Badge Insurance. We know just how valuable your converted car is. Both to you personally, and financially. That's why we offer to insure your disability conversions for replacement value if they're under five years old (up to $75,000*).
In addition, Blue Badge Insurance customers get up to $5,000* in cover for damage to assistive technology in your vehicle, like your wheelchair or mobility scooter, that happens during a claimable incident.
Plus, we offer free car hire of up to $150* a day if yours is stolen. This is higher than the industry average because we want you to be able to afford a disability-specific vehicle.
The only thing we ask is that you fully disclose all your conversions, modifications, and accessories before you finalise your policy. So we can ensure you have complete peace of mind because your converted car is properly covered.
4. Discounts for disability parking permit holders and other-driver coverage
If you don't need Blue Badge Insurance for mobility scooters, converted cars, or other specialised equipment, you might still benefit from our car insurance for disability parking permit (DPP) holders. Here, we offer discounts of up to 25% on the insurance premium.
Why? Because we know, from both local and overseas experience, that DPP holders are statistically safer drivers. Not more dangerous. Where other insurers may penalise you, Blue Badge Insurance rewards you. Better yet, we cover the people who regularly drive your car, like family and support workers.
If you're all about saving money, find out about disability discounts you mightn't know about.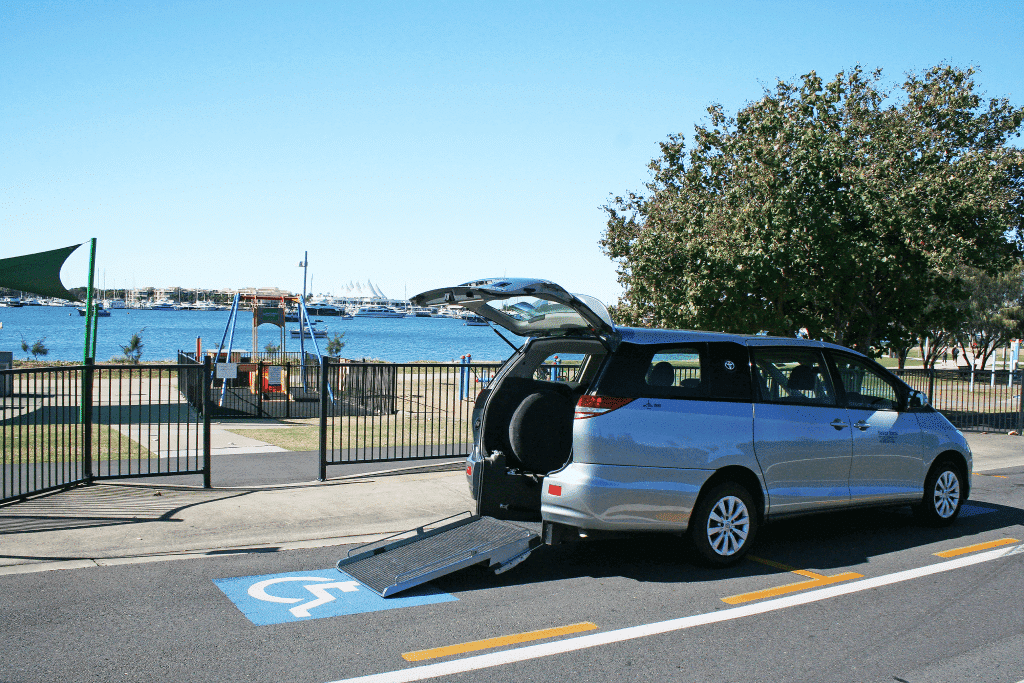 5. The best service!
And then there's the fact that we care about you and your needs. At Blue Badge Insurance, you're not just another number. We're all about personalised interactions, simplicity and soft landings.
We pride ourselves on excellent customer service that understands all disabilities are different, so your needs are unique. We'll always do our utmost to give you the kind of tailored, specialised cover that you need.
Plus, we like to think we give our customers some really useful tips and insights on everything from the NDIS to travelling with a disability to who can park in seniors parking and parents-with-prams parking (DPP holders, that's who). Read our blog to keep up to date with advice, tips, and information on all things disability in Australia.
Want Blue Badge Insurance for your mobility scooter, wheelchair, or something else?
Have you realised your car might be underinsured, or that you could qualify for specialised insurance at a competitive rate? Visit our Blue Badge Insurance mobility scooter and wheelchair insurance page and our car insurance page now.
Blue Badge Insurance for mobility equipment and car insurance – over to you
If you're a Blue Badge Insurance customer, let us know what you love most about our offering by leaving a comment.
* at the time of writing