Whether you have a companion animal, therapy animal or an assistance dog, sometimes they probably travel with you by car. You may be travelling with pets to the vet, or perhaps heading interstate for a road trip. Whichever the case, using best practice techniques for managing pet safety in cars will help keep everyone happy and calm.
In this article we'll share three top tips for pet safety in cars. That way you can get from A to B without any spills, messes or upsets.
5 tips for pet safety in cars
Spending some time understanding pet safety in cars will help protect the wellbeing of you and your pets during the drive. In the next few sections we outline these five safety tips for travelling with pets in cars:
How to keep assistance dogs and pets comfortable in cars
Safety for pets in parked cars
Road rules for travelling with pets
Pet friendly accessible holiday stays
Pet insurance and assistance dogs insurance
Now that you've read the list, find out about each of these points in a bit more detail. As a keen pet owner you might also want to read about the physical benefits of owning a pet and how pets and mental health are connected.
Onwards…
1. When travelling with pets, keep them comfy
If your pet isn't used to travelling in a car, help them get used to it slowly. Let them explore and smell the car at home while it's switched off. Once you get driving you'll need a pet seat belt or a securely fastened pet carrier to ensure they don't distract you or get flung around the vehicle.
It's also a good idea to get them used to the seat belt or carrier in your car before taking a drive. Once they're used to their crate or harness and the car, start them off with short trips just around the block every few days.
If you're going for a long road trip, the best time to feed your pet is three or four hours before you start the drive. Be sure to stop every two hours to let them do their toileting and have a fresh drink of water. Keeping your pet well hydrated when travelling in the car is important. If you don't they could get panicky or unwell.
In addition, some pets (just like people) suffer from motion sickness. Try to keep the car well ventilated but don't open the windows too wide either, for your pet's safety. Perhaps ask your vet if they can recommend or prescribe pet motion sickness medication to take with you. Just in case.
2. Don't leave cats or dogs in parked cars
Unlike humans, dogs and cats don't sweat so it's difficult for them to regulate their temperature. Inside a parked car – whether in shade or not – the temperature gets warm quickly and pets can't cool down.
If you're travelling with pets, don't leave them in the car because they can overheat. Did you know that if the weather is 25ºC outside, inside your car can become more than 10ºC hotter in only 10 minutes? A pet that's locked inside can quickly suffer from heat stroke.
Sadly once a dog's body temperature reaches 41ºC it only takes a short while before they experience brain damage. Worse still, heat stroke in pets can be fatal.
3. Road rules for travelling with pets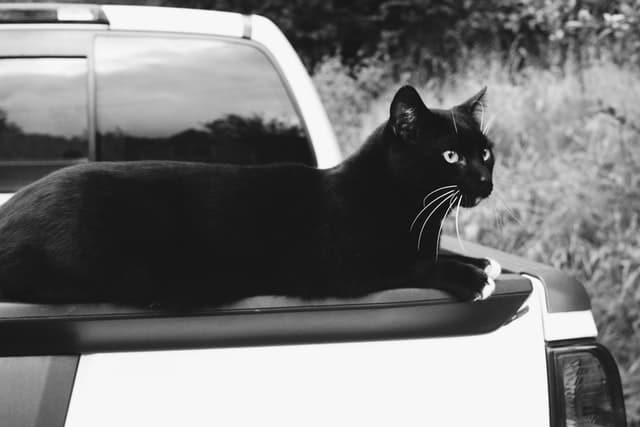 Top of the list is knowing your road rules for pet safety in cars. These are more or less the same between states and territories, with some minor differences. Depending on where you live and where you're travelling with pets make sure you check which rules apply to you to accomplish pet safety in the car.
Here's a list of road rules for travelling with pets in each state and territory:
One rule that applies no matter which state or territory you're in is that pets can't sit on the driver's lap. That makes sense because they could easily distract the driver, so it's better for everyone in the car! Just like human passengers, pets should be restrained to keep them and others safe from accidents.
Read a quick round up of rules of the road for pets in cars.
4. Travelling with pets on holiday
If you're going on holiday with your pet, then first of all – hoorah! Australia is blessed with a bounty of beautiful road trip destinations. Added to this is a fabulous selection of accessible and inclusive holiday accommodation.
Since you're travelling with pets, we've rounded up some of our favourite pet friendly accessible holiday accommodation for you to choose from.
One thing to remember when planning your trip is to contact your holiday destination in advance. Although all the places we've listed in the article we've linked to do welcome pets, you'll need to give them advance notice.
5. Assistance dogs insurance and pet insurance
Travelling with pets in your car is so much easier when you're calm. Having pet healthcare cover will help you have peace of mind and feel calm. You only pay a small amount every month and if your pet gets injured in an accident or falls sick with an illness, your plan will help cover a wide range of media care costs.
Blue Badge Insurance offer affordable and reliable pet insurance that helps pay for non-routine vet bills, treatment for accidents, medication and more. Plus, you can get up to a 15% discount if you have a disability parking permit. Read our product disclosure statement to understand what's covered and what's not.
We also offer 25% off assistance dogs insurance. This means your dog can get the medical care they need as soon as they need it and you won't have to worry that it's too expensive. They'll get well sooner and be back at your side where you need them most.
Remember that we offer up to 25% off disability car insurance for disability parking permit holders too… With all your insurance needs covered you can travel with full peace of mind.