All around us technology is improving rapidly and accessible vehicles are no exception. Whether you're thinking of buying your first car, looking to replace your existing vehicle or simply in need of mechanical repairs it's important to keep up to date before investing your hard-earned money. Wheelchair-user Jess Kapuscinski-Evans and her father Mirek discuss their current modified vehicles and their plans to buy a new one.
Doing Your Research
Before purchasing a modified vehicle, it pays to do your research. Even if you've bought modified vehicles in the past, personal circumstances and individual functionality can change over time and it's important that you invest in a vehicle that best meets your current needs. Jess explains what she looks for in a car: "I use a wheelchair and can't use my hands, so the van had to have wheelchair restraints and be okay for my parents or support workers to drive." She says, "Our first van had a ramp but our last few have had a hoist however, I am thinking of going back to a ramp again." Her father Mirek agrees "We want to explore the simpler options, (a ramp system with smaller van) more thoroughly."
Choosing a Base Vehicle
The choice of the right base vehicle can ensure that your modified car meets your expectations. While secondhand vehicles may be appropriate in some circumstances car modifier Paul Crake from Total Ability recommends that, "If investments are going to be made modifying a vehicle with driving controls or vehicle access we do encourage a later model vehicle be selected. A vehicle that is new or with low kilometers is likely to provide many years of trouble free driving." Mirek remembers that one of their previous modified cars broke down regularly, "It was a big source of frustration, inconvenience and repair cost."
It's also important to check that the base vehicle meets your access needs. Jess is currently in the process of buying a new wheelchair and there is a concern that it might not fit into the family's current vehicles. "We need appropriate clearance at the back (so wheelchair and occupant can get in), and sufficient internal dimensions so the occupant does not to have ride in a reclined position," explains Mirek, "Jess had doubts regarding the last vehicle, mainly because of the tight dimensional tolerances. This is going to be potentially a problem with the new wheelchair."
Other features worth considering include making sure steering columns and seats that are easily adjustable, that doors open extra wide and ensuring there is plenty of room for extra family members or mobility equipment. Mirek would like his next car to feature dual zone air conditioning and park assist to help less-experienced carers handle the vehicle. "Liaise with your vehicle modifier," suggests Bill Georgas from PME Auto Conversions, "as they may be able to help you with some suggestions towards the vehicle in relation to what modifications they will perform."
Blue Badge Insurance Top 5 Tips
Invest some time researching your options
Look for a reliable, late model base vehicle
Discuss your preferred vehicle & modifications with a vehicle converter before you buy
Understand the recent technology & equipment options available
Ensure your investment is protected in the event of accident or theft
Keeping Costs Low
There is no doubt that converting a car is an expensive process and keeping costs to a minimum can have a major impact on getting someone on the road. "It costs more than twice what a regular vehicle would cost and this is not including the hoist," says Jess of her car. Mirek adds, "Some cheaper options were not available to us because of the dimensions of Jess' chair."
Bill describes a case where electronic mobility controls would have been too costly for a client who was a quadruple amputee. To combat this Bill explains, "A PME custom designed mechanical system was manufactured in place… Modifications consisted of mechanical brake linkage fixed directly to right arm prosthesis with universal joints attaching directly to the brake of the vehicle. The accelerator is applied with a custom mechanical linkage whereby using his left side stump with a radial movement to the right acceleration is achieved, steering is applied with the left arm and secondary functions such as indicators, wipers, etc, are activated through the RF360 driving aid. The client was assessed in his own vehicle and passed his disability RMS driving test."
Passengers with Disability
Although Jess is unable to drive herself, she finds that owning an accessible vehicle improves not just her own independence, but that of her family members as well, "It means my parents can go to work or stay at home more independently of me than before so it's good when one of us has to be somewhere early and the others don't," she explains, "It also means that I can go more places in one day and have more flexibility if I want to go out at night." Jess' friends and paid carers are also able to drive the car, enabling her to travel independently of her parents.
There are a range of options for modified vehicles designed to carry people with disability as passengers. These include lowered rear and side entry points, extra seating for large families and turning seats to allow access for people with limited mobility or those who wish to transfer out of their wheelchairs. One of the more recent technological developments in this field is a quick-release front passenger seat that can be easily removed to allow a wheelchair user to sit up front next to the driver.
Repairing Your Converted Vehicle
Buying a modified vehicle is a big investment, so it's important to keep it in tip-top condition. If your modified vehicle needs repairs or servicing in most cases you can take it to any local mechanic to be treated like any other vehicle. "If however the fault is known to relate to the modifications then it is recommended to contact the modifier first to determine if a simple solution is available and if not, where there closest service agent is located," explains Paul from Total Ability, "It is common practice for installers to provide service or repair work on vehicles modified by other installers, however, the client should first consult with their modifier to ensure the warranty is not void."
Modified vehicles offer independence and flexibility to people with disability and their families. With a little research, you can ensure that your vehicle provides the best possible technology and continues to meet your needs for many years to come.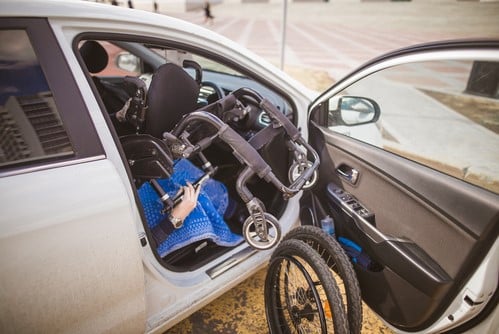 Changing Technology Puts People with Disability in the Driver's Seat
Rapidly changing technology means that some people with disability who have been previously been assessed as unable to drive may now be able to access modifications to meet their needs. These changes are happening so fast that car modifiers like Paul Crake and Bill Georgas sometimes find themselves able to provide driving options to people who they originally thought were too seriously impaired to get behind the wheel.
Paul describes finding options for a person with quadriplegia who did not seem to have sufficient strength to drive, "The client had sufficient arm function on one side to operate the steering wheel with a 3-point spinner, however, the other arm had a very little function or movement," he explains, "with this arm we set up a power assist brake and accelerator system that required minimal effort to operate and was located in a non-fatiguing position. This meant the client could drive from their wheelchair independently and enjoy being behind the wheel."
New technology means that there is an ever-widening range of options that allow people with disability to drive independently. These include relatively simple modifications like left-foot accelerators, spinner knobs and hand controls, to more complex conversions like joystick control, headrest operated functions, foot steering and cars which allow you to drive directly from your wheelchair. The introduction of advanced electronics equipment means that people can even access some of their car's controls through laptops, smartphones or other remote controls.
Can You Learn To Drive?
Being able to drive can have a huge impact on the independence of a person with a disability. Whether you're a young person learning to drive for the first time, or you're returning to driving after acquiring a disability you must ensure that your driver's license has the proper endorsements for your particular needs. "The client will need to contact an occupational therapist that specializes in driving assessment and evaluations, in conjunction with a specialist driving instructor in a modified training and assessment vehicle," explains Bill from PME Auto Conversions. "Once they meet the necessary requirements, they can have their license reissued and endorsed with any special requirements. As a general rule, a vehicle modifier should not modify a vehicle for a person with a disability who does not have the proper endorsements on their license to suit their individual requirements."
Click below to get a quote with up to a 25% discount on car insurance for wheelchair accessible vehicles and disability converted cars.
Image used with permission of Absolute Design