Do you need a compact power wheelchair? Looking for daily living aids or mobility devices? Searching for the latest in Assistive Technology for a client? Know someone who needs to update their lift chair, bed or commode? Don't know where to start with a vehicle modification? Visit the ATSA 2023 Independent Living Expo over mid to late May, where you'll find solutions to all those challenges and more!
Better yet, it's free to attend.
In Brisbane – 11-12 May – there are more than 90 exhibitors displaying products and offering services to cover many needs. In Sydney – 25-26 May – there are 140 -plus companies ready to answer your questions.
View the exhibitor list for Brisbane and Sydney here.
Free seminars along with scores of stands
In addition to the exciting innovation and new products on display this year there is a very strong seminar program – all available for free, you just need to pre- register.
The diversity in the seminar program is set to be very engaging. From the practical to the informative there is something for everyone. Remember to book early!
When you pre-register you not only receive free access, you also receive a free coffee.
And for those in the industry, remember you can gain CPD points from attending.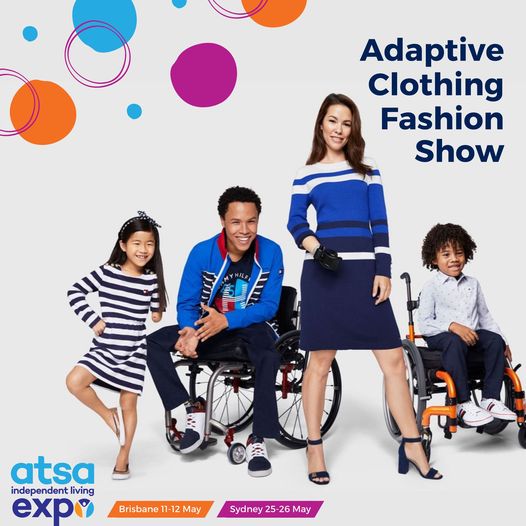 Announcing: For the first time…
For the first time ever, the ATSA Independent Living Expo is hosting an 'Adaptive Clothing Fashion Show' at the Brisbane and Sydney expos. This will provide a platform to showcase accessible clothing and accessories by exhibitors including Active Adaptive and EVERYHUMAN.

Attendees can even get involved. ATSA are NOT looking for professional models, they ARE looking for people who want to have fun modelling some great fashionable items!

Participants of all ages, all backgrounds, and of all abilities are welcome. For accessibility purposes, there won't be a raised stage at either event; the stage / catwalk will be ground-level.
TO APPLY, email [email protected]
Key ATSA Independent Living Expo links
View all the details here: https://www.atsaindependentlivingexpo.com.au.
Spread the word to your friends, family, colleagues and broader network! The ATSA and Blue Badge Insurance teams will see you there.