With almost 29 million pets in Australian households, we're a nation of true pet-lovers. Despite this, our pets are typically underinsured. Research shows that only around 6% of Australian pet owners have insured their furry friends. Pet insurance for your dog can save you tons of money in vet bills and emergency care.
More importantly, it means you don't have to agonise over the cost of potentially lifesaving medical treatment.
The key role dogs play in our lives
Ever since the first dogs were domesticated, they've helped make human lives better. Assistance Dogs take this relationship even further, significantly improving the lives of their human partners. These furry companions aren't just lifelong friends, they also give people the ability to tackle things they'd otherwise be unable to do.
And although Assistance Dogs are undeniably amazing, we know any animal can change your life for the better. Which is why Blue Badge Insurance now offers pet insurance for both dogs and cats, with some amazing discounts (keep reading for more on those)!
As a team of disability insurance specialists and animal lovers, we know the relationship between you and your companion animal can be an important part of your ability to live independently. And we want to protect that.
Here's what you need to know about whether pet insurance for your dog is something you should explore.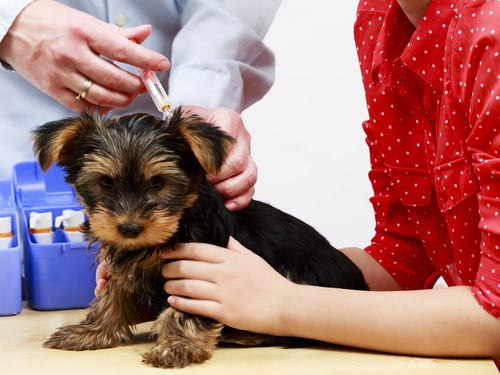 How does dog insurance work?
The main reason your dog needs pet insurance is because it offers you, the owner, financial protection in an event where they need medical treatment. Depending on the type of pet insurance plan you choose, you'll be able to claim back all kinds of vet bills for your dog. It's essentially a way to give your dog a safety net, so you know you can pay the bills if they need to see a medical specialist.
There are other benefits too, like third party liability cover – which is particularly important if you dog is out and about everywhere with you. This offers protection if Rover damages someone else's property or person (if they've no history of aggression). You know, just in case they get excited and knock over a vase or scratch someone's car or accidentally hurt someone else's pet.
By getting cover that will pay for treatment for an injured or sick pet, pet insurance can help owners avoid having to face the heart-wrenching decision of treating their pet or putting them to sleep.
We don't want you to have to decide between your bank account and your dog, assistance or not.
What does pet insurance for Blue Badge members cover?
Blue Badge Insurance members have access to simple, reliable pet insurance plans for dogs – and cats too, if you're a cat owner. You can choose from:
Accident – $5,000 annual claims limit
Classic – $10,000 annual claims limit
Deluxe – $15,000 annual claims limit
What you can claim for depends on your policy, but they range from bills for treatment after accidents right through to investigative tests and prescription medication. The clincher? If you're a disability parking permit holder, disability converted vehicle owner, or Blue Badge Insurance Preferred Partners Network member/customer, you'll save 15% off our premiums.
And if you're an Assistance Dog owner, the news gets even better. As a key partner of Assistance Dogs Australia and Australia's first disability insurance specialist, Blue Badge Insurance knows how important these service dogs are. Not only will you receive 25% off your dog's insurance premium, we'll donate a portion of that premium to Assistance Dogs Australia as part of our partnership. If you own a service dog, find out more about whether the NDIS funds Assistance Dogs and why it's a stumbling block.
(While we're on the topic of savings, we know everybody loves a discount. So we've also rounded up some disability discounts you might not know about from various Aussie businesses.)
Why your dog needs pet insurance
We try to keep our dogs safe from harm, but accidents happen. If we could protect them from cars, snake bites, cancer, and more, we'd do it in a heartbeat. Sadly, we can't.
Being a responsible pet owner is like being a parent to littler humans. It's just that the kids are furry – and the human kids don't chew your shoes. Hopefully…
Pet parenting is about getting the basics right: love, food, affection, shelter, safety, and boundaries. But it's also about thinking ahead and putting protective measures in place.
You can proactively manage things like their diet, exercise regime, and bonding time. Choosing a great vet to handle both routine pet care and emergency care is important too. Just like having a GP who you trust is crucial.
Taking finances out of pet medical care decisions
Unfortunately, while human medical costs are subsidised by the Australian government, pets' bills aren't. A vet bill can set you back thousands of dollars if your pet needs ongoing care or emergency treatment.
The real question is whether you can put a price on your dog's wellbeing. This is true for all pets, but especially for Assistance Dogs, emotional support dogs, and therapy dogs. They're not just part of the family, they're a crucial part of your support network. And in our minds, anything which helps you to live more independently is worth protecting well.
The worst scenario is one where you have to choose between saving your dog's life or saving your pennies. It's heartwrenching, and one of the main reasons why vet mental health is such a big issue. Pet insurance acts as a safety net in that if something happens to your dog, you don't have to choose between their life and your bank balance. Which is why we believe it isn't just a want, it's a need.

Blue Badge Insurance recently celebrated it's one year anniversary! We look forward to another year of protecting companion animals in their times of need.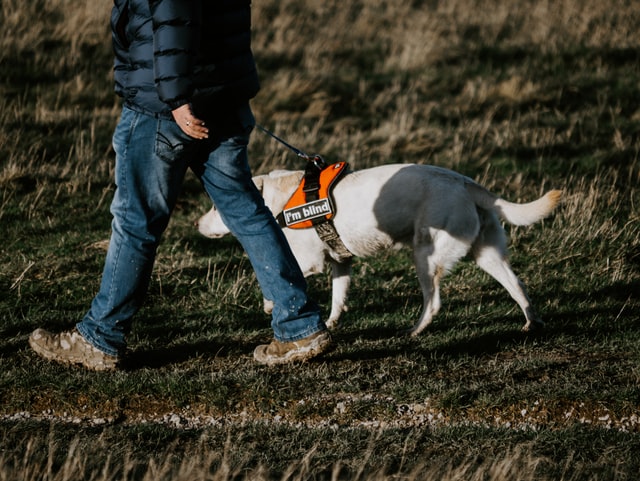 Assistance Dog insurance (and for regular dogs too!)
We know that all dogs can get sick or injured. We also know your dog can make a huge difference to your day-to-day life. If they do get sick, they need good medical care so they can get back to being right by your side as quickly as possible.
​Having pet insurance for your dog helps safeguard your finances if your pooch gets sick or injured. Remember, because there are plenty of physical benefits to having pets – not to mention emotional benefits too. Protecting your pet is protecting you too. And that doesn't even cover the fact that they're part of the family.
Nobody wants to question if they can afford to take their sick or injured dog to the vet. With one of our three pet insurance plans you won't need to. Especially with the 25% discount we're offering for Assistance Dog insurance.
If you don't have an Assistance Dog but do have a pet, you can still protect them. Find out about our 15% discounted pet insurance for disability parking permit holders. Why not get a quick free quote now?