You or a loved one might be considering buying a mobility scooter to get around. Or maybe you already have one. In which case you're probably wondering about all the other stuff that comes with it: whether mobility scooter insurance covers theft, if you can drive on the road, whether you can park it outside safely and still be insured… And so on.
Does mobility scooter insurance cover theft? Yes, with Blue Badge Insurance it does. But if your mobility scooter insurance is with a general provider, you might not have cover for theft at all. And if you do, it might be far less than you need. Scary to imagine, right?
Read on to find out more about what exactly is covered for mobility scooter theft. You'll also discover whether insurance for your mobility equipment is a requirement and how you can make sure you're adequately covered and won't have to pay out of pocket if it's stolen or damaged.
Is mobility scooter insurance necessary?
Mobility scooter insurance in Australia isn't compulsory. There's no legal requirement to have it. But when you buy a scooter, most suppliers will advise you take out cover.
Insurance on your mobility scooter can help financially protect:
Your mobility. With proper insurance you're able to repair or replace your mobility equipment if it's damaged or stolen, so you're mobile again as soon as possible.
The safety of others. Our mobility scooter insurance provides cover for costs associated with legal liability if you accidentally injure other people or their property.
The value of your mobility scooter. If theft, damage, or vandalism mean your mobility scooter needs to be repaired or replaced, you won't have to fork out to cover the cost of a brand new one yourself.
Speaking of safety, read our tips on improving your safety when it comes to scooters and mobility.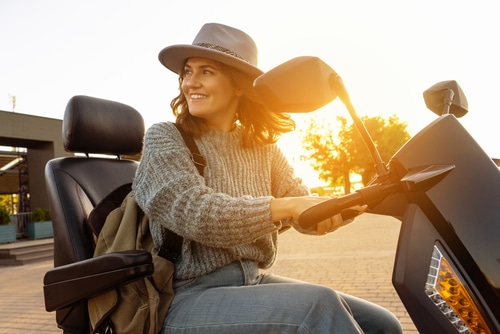 Mobility scooter insurance that covers theft – really?
When insuring mobility equipment (like your scooter) it can be difficult to find a policy where it's counted as a standalone item. Often, you can't insure it the way you can your car. Instead, your scooter or wheelchair is often covered under home and contents insurance.
Unfortunately, this isn't as convenient and time saving as it sounds. In fact, in many cases this kind of insurance means your mobility scooter is only covered when at home. Mobility scooter users will know you're likely to experience theft or damage when you're away from home, when your household insurance might not cover you.
We have some advice on protecting your scooter from being stolen, but you'll still want financial protection too.
The issue with H&C insurance and motorised items
On top of that, many home and contents policies don't cover motorised items. In a case like this, a walker or a manual wheelchair might be covered but a mobility scooter or electric wheelchair wouldn't be. That's why it's important to check the fine print when it comes to your insurance.
Mobility scooter insurance with a disability insurance specialist has many benefits. And yes, one of them is that the insurance covers theft. This means if your mobility scooter is stolen (amongst other things) you'll be covered for replacement.
Other benefits include:
Repair or replacement of your scooter in the case of damage
Repair or replacement of your scooter in the case of loss or damage that's caused by theft, vandalism, fire or flooding
New for old replacement for scooters aged up to 2 years old
Coverage of any legal user you authorise to use your mobility scooter, not just yourself
How do you know you have enough cover?
When your insurance cover for your mobility scooter (be it for theft or otherwise) isn't enough, it's called underinsurance. This means you don't have enough insurance to cover the cost of damage or loss of your mobility scooter.
Simply put, you might have to pay extra costs out of pocket if your insurance doesn't cover the full costs of replacement or repair.
Of course, you can rest assured that Blue Badge Insurance will make sure you're properly and adequately insured.
Not only do we offer mobility scooter insurance which covers theft, but we also provide wheelchair insurance, insurance for wheelchair accessible vehicles and disability converted cars. We'll even give you up to 25% off disability car insurance if you have a disability parking permit.