An accessible road trip in greater Australia is a wonderful way to sightsee without going too far from home. Travelling when you know your mobility scooter and/or wheelchair plus other assistive technology are safely secured in your car storage makes for peace of mind. Even better that they'll be easy to access when you need them – unlike a bus or plane trip.
Of course you may drive or be a passenger in your wheelchair, but whatever your travel mode you'll want mobility aids and essentials close at hand in the car. In this article we've rounded up lots of in-car storage essentials to make your road trip easier and more enjoyable.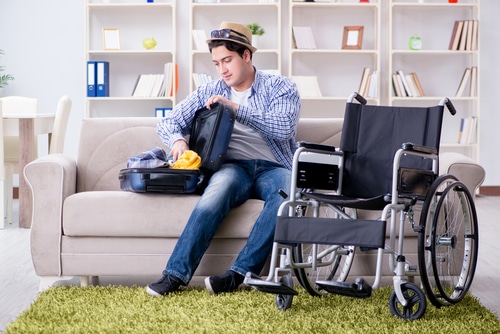 Planning ahead for an accessible road trip
With a road trip you'll be able to relish the wind in your hair, the beauty of the world rolling by, the sounds and smells of a totally new town… And stop whenever you want. The ultimate travel freedom. You'll be able to enjoy it all the more if you have your gear safely stored near you.
So, car storage is a key consideration for your driving holiday. Road trip life is easier to manage when you're across useful car storage hacks for your mobility equipment and other travel goods.
Planning makes perfect, which is why before we head into our storage tips we've put together some essential general travel tips. They'll make your schedule smooth and accessible. Simply browse this list for accessible accommodation, food delivery, vehicle hire and parking permit info:
Did you know Blue Badge Insurance offers assistance dogs insurance and pet insurance? These plans help cover treatment costs in the unexpected event of an accident while you're on the road – anywhere in Australia. Costs like non-routine vet visits, prescription medication and surgery are all covered by our plans.
Just like our car and mobility equipment insurance provides cover all around the country.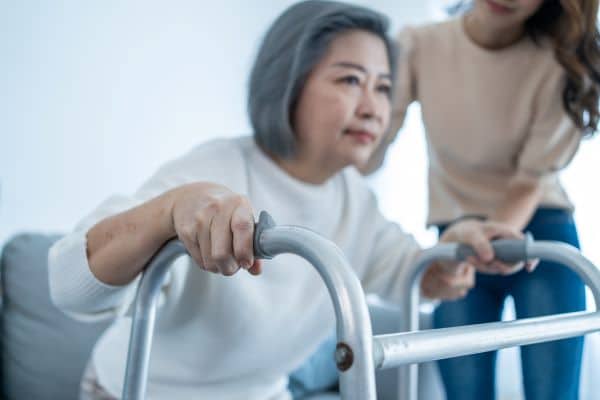 What needs to fit in your car – and where – on your road trip?
When planning how much car storage space you need for your wheelchair or mobility scooter, also consider any emergency and backup supplies. You not only need them packed, you need to be able to access them quickly.
What about the smaller mobility aids and other equipment you need to take when exploring the new sights? And what assistive items will you need for within your accommodation? Items that help you breathe and sleep easier, have a shower, go to the toilet, make your meals and more.
Then there's the usual luggage, hobby gear and so on. Whether heavy or relatively light, all this needs to be properly secured to prevent them becoming hazards in an accident. Much of it will need to be readily accessible too.
So, in planning your driving holiday are you sure you have what's needed to store everything carefully? And still be able to travel well? Write an initial list and add to it over the days before you even begin packing, as more comes to mind. Then you can determine the best ways to store these items and which should be packed first, second, third, etc.
In-car storage options
As someone living with disability or caring for someone who does, you're likely right across the vehicle modifications, anchor points and so on you need inside a vehicle. The ones that make driving and passenger-ing a relatively simple home-away-from-home experience.
If not, you might want to read more about the difference between wheelchair accessible vs converted cars and why it's important to work with a driver trained occupational therapist when choosing, buying or modifying a vehicle. 
Below are interior and exterior mobility equipment car storage options for wheelchairs and more. They'll help ease the potential pain of a road trip and increase the pleasure…
Storing things safely in your car on a road trip
With the need for safety and accessibility in mind – at your end destination and through your stops along the way – consider these interior mobility equipment storage options for your driving holiday:
Seat storage
This comes in all shapes and sizes for all types of luggage, including smaller mobility aids. There are headrest storage compartments that slip over front and back seats, boot storage compartments, under seat storage pockets, console organisers and side pocket add-ons… more storage extras than you can poke a walking stick at.
Having your back-up battery, first aid kit, equipment tools, extra winter woollies or summer singlets and other must-haves readily available can make a sojourn much simpler.
Cargo barrier
These can be put to good use within your car to help secure unoccupied wheelchairs and scooters, and their accessories, in the back. This is especially the case for station wagons. It is important in case of an accident but also more generally, so the driver and passengers aren't caught unawares while on the road.
Luggage nets
Usually strung across boot spaces, luggage nets can hold all sorts of smaller, lighter equipment and separate different types of luggage for easy access. Choose from hammock style or pocket nets made from material of different strengths and attach a cargo bar to hang them from if you don't want to attach to the boot's side, floor or bulkhead.
Umbrella stand
There are many different in-car umbrella stands, such as a self-adhesive hanger, for the inside of your car door. Or, choose from clip hooks for the roof of your boot. Or, you might hook a waterproof umbrella storage bag to the back of your headrest. There's even a 'Doorbrella' (created by three Sydney dads) that attaches to your car window with a robust clip and one-click suction pad
In many places, the longer you travel the more likely you'll be exposed to different weather. By this we mean rain, wind, hail or otherwise unpleasant weather. Anything you can easily access before or soon after getting out of the car is a winner.

Wheelchair car storage and more, inside and out
We've put together a full guide on mobility equipment storage and transfer options for your car. In it we cover common internal and external vehicle modifications to make life easier on the road.
Here's what's in the mobility equipment storage guide:
Tow bar mounted wheelchair and scooter carriers
Roof racks
Trailers
Boot mounted loaders
Storage boxes/roof pods
Roof hoists
Boot cranes
Boot sliders
If you've installed new storage equipment to make road tripping easier (whether large or small), test them out. Do so well in advance of your holiday. Then you'll know if adjustments need to be made and can set off with confidence when the big day arrives.
Another essential: specialist disability insurance
Just as travel insurance is considered a necessity when you're flying somewhere, insuring your vehicle and mobility equipment is crucial when road tripping. Same goes for daily life too! Protecting the vehicle and mobility equipment that give you the freedom to travel will provide peace of mind that, should they get into an accident or break, you'll be covered.
Choose your insurance provider wisely. It's always worth considering a specialist provider like Blue Badge Insurance that has years of experience working with the needs of people with disability. Aside from the pet and assistance dog insurance we mentioned before, here's what we offer for the road:
🚐 Car insurance designed for people with disability
This comprehensive insurance has been designed specifically for people with disability who drive a car. It also covers family, friends, carers and support workers while they're driving and covers assistive technology (wheelchairs, mobility scooters etc.) in the car up to a certain amount.
Plus, Blue Badge offers up to 25% off car insurance for wheelchair accessible vehicles and disability converted cars. Even if you drive own a car that isn't a WAV or has converted controls, as long as you hold a disability parking permit (DPP) you're eligible for our discounted vehicle insurance.
Converted cars are also provided a 'new for old' replacement option for all disability conversions (conversions up to five years old, from newly installed), up to a certain amount.
🦽 Mobility equipment insurance
Blue Badge Insurance's comprehensive wheelchair insurance and mobility scooter insurance cover your equipment against accidental loss and damage, plus third party liability for both personal injury and property.
Additional benefits include overseas cover, personal items that are lost, stolen or damaged while using the device, and costs incurred to get the user and their device home after an accident (in Australia).
There's enough to pay for on a holiday without worrying how you'll afford to replace your trusty equipment/vehicle. Get your quote today – click below for more.