With spring now upon us, we can start to emerge from our warm and cosy hiding spots. There's no better time to get out and holiday or explore! So, in this article we're covering disability friendly travel spots and wheelchair friendly holidays around Australia. And for those with more time and energy up their sleeve, a bit further afield too.
Living with a disability can make going on holiday a little trickier, but it's achievable with enough pre-planning and preparation. Read our travelling with a disability guide before you set off and explore disability equipment hire in Australia if you know you'll need it while away.
Aussie wheelchair friendly holidays
With so many beautiful getaway spots right at our doorstep, why not keep it local? Let's start by covering our favourite disability friendly Aussie getaways.
1. Disability friendly travel in Echuca in VIC
Echuca is a peaceful, old-timey port town situated on the banks of the mighty Murray River. If you're into history and heritage, you'll especially love Echuca. Surrounded by towering red gums and the tranquil river, the town is especially lovely in the spring.
Choose one of their accessible accommodation options and then book yourself a trip on a paddle steamer. Learn about early Aussie heritage at the Port of Echuca Discovery Centre with its 19th-century river trade exhibits. It also houses part of the original Echuca Wharf. If you have a love of vintage cars, visit the National Holden Motor Museum.
For something totally off the beaten track (and especially if you're travelling with kids), visit TwistED Science. Here you can delve into the exciting world of all things scientific. With these fun and interactive exhibits you can test your reaction speed, eat bugs for breakfast, make fantastic flying machines and more. Find out about Echuca attractions here.
2. Coffs Harbour in NSW for PWD
We love Coffs Harbour as a disability friendly travel option with a beach. Found in the north coast of NSW, this city is best known for the Big Banana Fun Park – which has several disability-friendly rides and attractions. If rides aren't your thing, book a ticket to the Dolphin Marine Conservation Park or spend a tranquil spring day in the North Coast Regional Botanic Garden.
You'll also want to go to Forest Sky Pier at Bruxner Park. This 21m long suspended walkway is completely accessible and offers a beautiful view overlooking Coffs Harbour and surrounds. The car park is opposite and there are barbeques, picnic shelters and an accessible toilet close by.
Coffs Coast offers disability equipment hire such as wheelchairs, scooters, shower chairs and other equipment. There's even beach wheelchairs!
3. Disability friendly travel in North QLD
The Great Barrier Reef is a bucket list item for so many, and luckily there are disability friendly travel activities and spots available there, too. Consider an activity pontoon, glass bottom boat tour, semi-submersible tour and underwater observatory viewing.
Depending on your mobility, you may want to scuba-dive or snorkel. Here's a great guide on the Great Barrier Reef for disabled visitors, including advice to go to the outer reef activity platforms that are permanently moored on the reef. These platforms are protected and sheltered from strong winds and strong currents, however you may need a travel companion or carer to assist you with accessing them.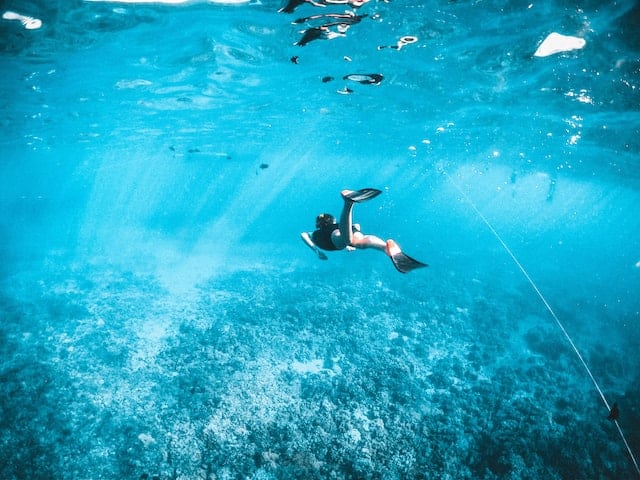 There are also cruise options you can consider with a provider like Quicksilver Cruises. Their primary vessel, Quicksilver VII, has an oversized toilet cubicle suitable for most wheelchair passengers.
On it, you can visit a large, floating platform called Agincourt with its modern, dual level facilities for reef viewing and relaxation – come rain or shine. Agincourt has the only water powered lift on the Great Barrier Reef, enabling access to the water for wheelchair passengers. You can swim directly off the lift's chair into the weightless environment of the reef where you can snorkel and explore at your own pace.
4. A disability friendly Pacific Island cruise
Feel like you want to leave Aussie borders altogether? A multi-day cruise might be just the ticket. Being able to take what you need and your disability friendly travel accommodation being the mode of transport takes a lot of the worry out of travelling.
If that really tickles your fancy, consider a 19-day cruise around the Pacific Islands of Australia on the Queen Elizabeth. This cruiser features luxury accommodation and specially adapted staterooms with wide access doors and lower sinks, units and hand rails. All meals and drinks are included, and you can relax with guest entertainers, evening performances, games, art classes or enrichment lectures and classes.
5. Head over the pond to NZ
You might have heard about an organisation called Be Lab, which has set a goal to make New Zealand the most accessible nation in the world. With that in mind, it's a destination you'll want to consider for wheelchair friendly holidays and holidays with other mobility equipment.

We've rounded up our favourite assistive tech and disability friendly travel spots in our piece on making the NZ travel bubble fully accessible. From gazing at stalagmites and stalactites at Waitomo Caves to enjoying the crystal clear waters of Te Waikoropupu Spring, there's sure to be a spot that catches your eye.
Are our wheelchair friendly holidays above not quite what you're looking for? These two articles might have disability friendly travel spots you'll also be able to enjoy in spring:
We've also gathered our favourite wheelchair travel blogs if you'd like some more fun ideas and stories from people who've travelled around the world.
Insurance is more than cover, it's peace of mind
Travelling with disability equipment can be stressful and the worry that it may be stolen or damaged can take the shine off your holiday. At Blue Badge Insurance we understand that your equipment is more than just the price tag. It's part of everyday life.

We offer year-round, cost-effective comprehensive wheelchair insurance that includes cover for overseas (and domestic) travel. Find out more about our tailor made wheelchair cover options, as well as mobility scooter insurance, insurance for wheelchair accessible vehicles and more.
It might just be the small confidence boost you need to ensure you have an amazing trip. Wherever you decide to go, Blue Badge Insurance will follow.