When you're getting insurance for your wheelchair, it's important to completely understand what's on offer. Asking the right questions can help you to get a clearer picture of what's covered, what isn't, and which insurance company is right for you.
Don't have your wheelchair yet? Read our article on five considerations when choosing a wheelchair.
Once you do, here's six questions to ask your insurance provider when you chat about getting insurance for your wheelchair.
1. Is there cover for accidents and third party liability?
Accidental damage to your wheelchair is a real possibility. It can happen easily to even the most experienced wheelchair users. Whether it's an over enthusiastic child tackling your chair at a family gathering or a bumper bashing when it's in the back of a car, you want to be covered.
Cover for accidents will mean that if your wheelchair is damaged, it can be replaced or repaired without you having to worry about the costs.
Accidental damage is likely to be included when you're looking at insurance for your wheelchair, but ask about third party liability coverage too. This means you'll be covered should your wheelchair accidentally cause damage to other people or their property. This may seem like an unnecessary addition, but liability costs can skyrocket very quickly so it's best to be covered for this eventuality
2. Are there any exclusions I should know about?
Regardless of what type of insurance you're shopping for, it's important to ask about exclusions. Most insurance policies will specify some exclusions or instances in which you won't be covered.
For wheelchair insurance, exclusions could be damages caused by wheelchair sport or accidents that occur when the wheelchair user is intoxicated, for example.
Finding out when you're covered and when you're not is key to understanding any wheelchair insurance policy.
3. What if I travel overseas with my wheelchair?
Travelling is becoming more accessible, and wheelchair travel is easier than it was in previous years. Thanks to innovations in air transport and wheelchair accessible sights and cities, travelling with a wheelchair doesn't have to be a pipe dream.
If you're an avid traveller or want to spend more time in new places in the near future, it's important that your wheelchair is insured wherever you go. So whether you're eating a hāngī feast in New Zealand, visiting the beach with your wheelchair in Queensland or chilling out at the best pet accessible accommodation in New South Wales, you won't have to worry about it.
With Blue Badge Insurance, your wheelchair is automatically covered for intrastate, interstate and international travel. That's one less thing to think about when you're planning your next trip!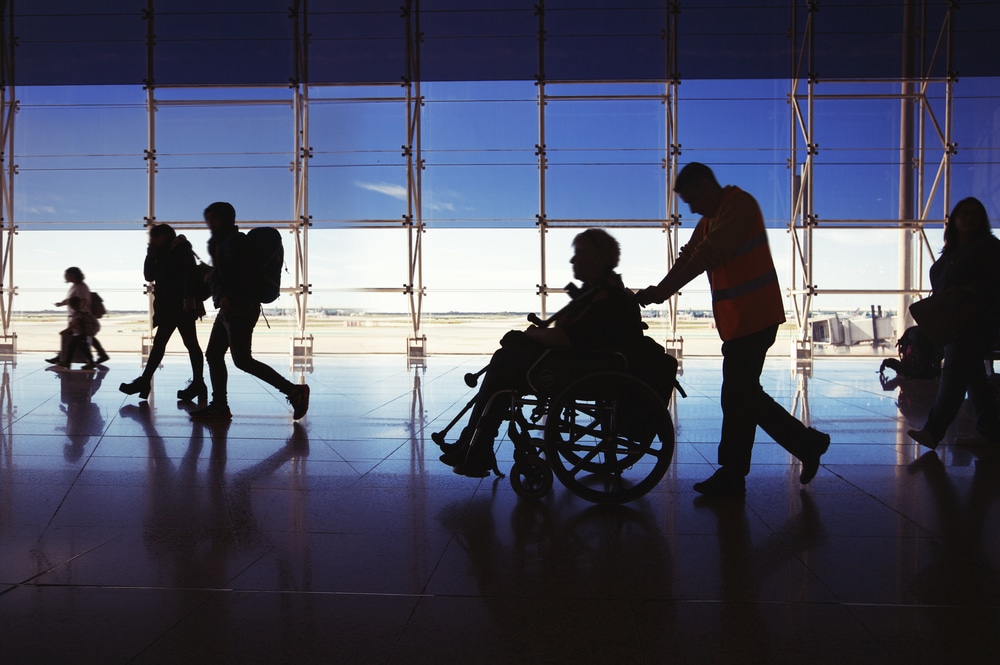 4. What if my wheelchair is stolen?
Do you need your wheelchair insurance policy to provide cover for theft? You might not think that wheelchairs are obvious target for thieves, but wheelchair users have been victims of theft in the past.
Hopefully you're never in the unfortunate position of having to deal with wheelchair theft. However, even after taking all the precautions, you can still be a victim of an unscrupulous thief. You might even find the wheelchair is "collateral", e.g. if a car is stolen with a wheelchair inside it.
On that note, here's how you can prevent car theft with these simple daily habits.
5. What is the excess payable?
Your excess – what you pay during an insurance claims – will be clearly stated on your policy disclosure statement. Make sure you ask during the quoting process too. Sometimes you will have the option to choose your excess, with a higher one resulting in lower monthly premiums and vice versa.
Even if the excess is a set amount, it's good to know how much you need to keep aside in the event of a claim.
6. What other benefits do I get?
Sometimes, there might be inclusions or extras that come with your insurance or can be added on at minimal cost. Asking what other benefits come with insurance for your wheelchair just help you to make a decision to go with a particular insurance provider. The benefits offered will differ from one to the other.
For instance, at Blue Badge Insurance, we'll cover the cost of getting you home if your wheelchair is stolen or unsafe to use after an accident.
What other questions should you ask when getting insurance for your wheelchair?
Of course, you don't have to limit yourself to asking only these six questions when you're shopping for wheelchair insurance. Even if a question might seem obvious or silly, ask anyway so that you have clarity.
If you already have insurance and don't know what's covered, check your policy or give your insurance provider a call. This will make sure you avoid any nasty surprises in future.
Thinking of taking out insurance for your wheelchair? We can help!
As Australia's disability insurance specialists, we know how important your wheelchair is to your everyday life. That's why we offer comprehensive wheelchair insurance at great prices.
You should also know we offer insurance premium discounts of up to 25% for disability parking permit holders.