You or a loved one might have impaired mobility and are considering buying a mobility scooter to get around. In which case you're likely wondering whether you need mobility scooter registration or whether it's a simple buy and drive away situation.

If you're unclear about the laws around mobility scooters, we've gathered plenty of the information you need to know about registering and insuring them in Australia. We've also covered off similar info for wheelchairs in case you're interested.
Do mobility scooters need to be registered in Australia?
The short answer is no, only in Queensland. Queensland is the only state in Australia where it's compulsory to register mobility scooters and electric wheelchairs.
If you're just visiting Queensland, it's not required because you aren't a resident. However, the law states that if you move to Queensland you have 14 days to acquire mobility scooter registration. The same applies for your motorised wheelchair.
What qualifies my mobility scooter or electric wheelchair to require registration in Queensland?
You will only need to register your wheelchair or mobility scooter if it has an electrical motor. Further, the law states that it must only be capable of travelling up to 10km per hour and you can drive no faster than that on level ground. It also states that it must be designed in a responsible sense for a person with mobility difficulties.
This document on registration for motorised wheelchairs will give you more information on the process. The Department of Transport and Main Roads article here on choosing a mobility scooter if you're planning on using public transport is also useful.
And just in case you're curious about the laws surrounding needing a valid driver's license, you can read our article: Do you need a license to drive a mobility scooter?
Is it necessary to insure a mobility scooter, registration or not?
While mobility scooter insurance in Australia isn't compulsory, you'll find many – if not most – suppliers will strongly advise that people take out insurance. As do we, obviously!
Insurance on your mobility scooter can help in a lot of ways. It will help financially protect:
Your mobility, by allowing you to get cost-effective repairs or replacement quickly and easily
The safety of others, by covering the significant costs associated with legal liability if you accidentally injure other people or their property
The value of your mobility scooter, for obvious reasons
Mobility scooter insurance has many benefits, especially when it's through Blue Badge Insurance. This includes:
Repair or replacement of your scooter in the case of damage
Repair or replacement of your scooter in the case of loss or damage that's caused by theft, vandalism, fire or flooding
New for old replacement for scooters aged up to 2 years old
Coverage of any legal user you authorise to use your mobility scooter, not just yourself
What makes Blue Badge Insurance different is that we provide overseas cover for accidental damage and third party property/ personal injury for 21 days (can be extended longer) as well as cover costs incurred to get you and your mobility scooter home following an accident. Get a free quote now if you're interested.
Mobility scooter safety tips
Accidents happen, that's why they're called accidents, but there are ways to increase your safety when you're out and about on your mobility scooter (registration or not). Here are our top tips:
Stay alert
Treat driving your scooter the same as if you were driving a car. Don't rely on other pedestrians to see you or be safe in their travels. Instead, stay attentive to the chance they'll not see you or not realise how close they are to you and your scooter. Also, resist handling your phone or anything else that distracts, plus make sure your lap is unencumbered so your whole focus is on driving safely.
Make yourself known
If you think someone may run into you then get loud quickly and yell out. Better yet, make sure you have a bell or horn on your mobility scooter so you can put it to good use! Perhaps use your horn to draw the attention just in case, for example if you've tried to say something but they've not heard you.
Use mobility scooter accessories and become brighter
Make your scooter as visible as possible through colours and lights – whether it's night or day. Flags, lights, reflective strips, or a brightly coloured backpack that you hang over your back seat can help with this. Make yourself highly visible, too. Choose clothes and shoes that will make you noticeable, or you could invest in a hi vis vest and a brightly coloured helmet. You could also secure a hi vis vest over the back of your scooter seat.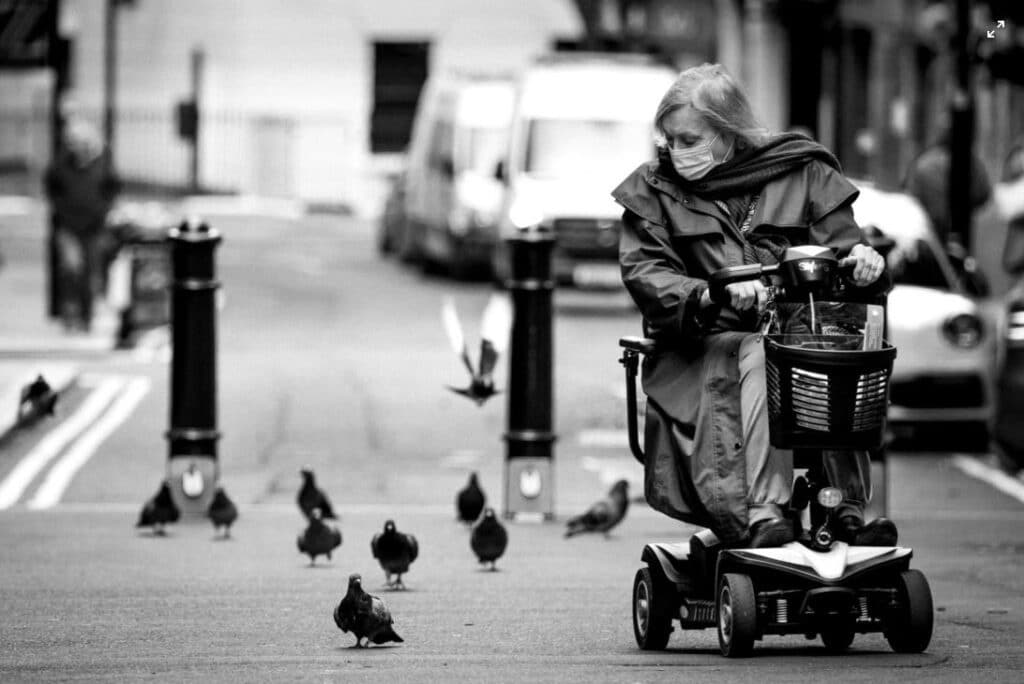 Take the safest possible route
According to the law you're a pedestrian, so drive on the footpaths as much as you possibly can. Do whatever you can to reduce the chances of being hit by a car or lots of foot traffic. Also plan your route beforehand to avoid getting lost or having to travel across unsuitable terrain. The same goes for weather; avoid heavy weather (rain, wind, sleet, etc) whenever possible and use your lights if needed.
……………………………….
Secure peace of mind through mobility scooter insurance, wheelchair insurance, insurance for wheelchair accessible vehicles and disability converted cars. We'll even give you up to 25% off disability car insurance if you have a disability parking permit. Get a free quote now if you're interested.