Wheelchair Accessible Vehicle Ramp
Wheelchair Accessible
Vehicle Ramp
Access is one of the first things that you'll want to consider when buying a Wheelchair Accessible Vehicle – after all, travelling can be difficult if you can't get into and out of your car easily.
Ramps are one of the most common choices for wheelchair access for a car.
If you are purchasing a Wheelchair Accessible Vehicle you're going to need a way to get into your car. The two most common methods of access are ramps and wheelchair lifts. There are a number of things to consider when choosing between a ramp and a lift. Ramps often require less space than a lift, and so can be installed into smaller vehicles.
Ramps should always be safe and manageable. If you are considering installing a ramp in your Wheelchair Accessible Vehicle you need to make sure that you (or your Carer/Support Worker) are strong enough to push yourself up the ramp. Buying a car is a long-term investment, so consider whether your strength or weight are likely to change over the next ten years.
Read on to learn more about the key things you should consider if you're thinking about installing a ramp in your car.
There are two main types of entry for Wheelchair Accessible Vehicles, rear and side entry. In the past, wheelchair users wishing to access the front seat, either as a driver or a passenger, were limited to side entry designs, but there are now front seat designs available in both side and rear entry.
There are pros and cons to both designs. Rear entry vehicles are generally cheaper than side entry ones, because fewer modifications are required. These vehicle conversions have a range of different ground clearance and this should be considered and tried prior to purchase. Rear entry conversions allow the wheelchair user to enter from the back of the vehicle and sit in either the front position, second row position or third row position depending on their preference.
Side entry vehicles either use a ramp – or sometimes a lift or a hoist – to allow the wheelchair user to enter the vehicle to sit in either the first or second row position depending on their preference.
Before deciding on a rear or side entry Wheelchair Accessible Vehicle, you should give careful consideration to where and how you are going to use and park your car and how easily you can get in and out. It is well worth trying both options in the places you are most likely to use it before making your decision.
Ramps are available in three types: portable, mounted (non-powered) and powered.
Portable ramps are stowed in the vehicle and need to be lifted into position for each use. When not in use, portable ramps need to be stored carefully, to ensure that they don't become a hazard in an accident.
Non-powered mounted ramps are attached permanently to the vehicle, but need to be manually lifted up and down when in use. If choosing a portable or non-powered mounted ramp, you should make sure that you or your Carer/Support Worker have the strength and agility to use them.
Powered ramps are also attached to the vehicle, but they also include an electric lifting system than moves the ramp into position at the touch of a button. Powered ramps are generally more expensive than non-powered ones, but they are much easier to use and do not require any lifting.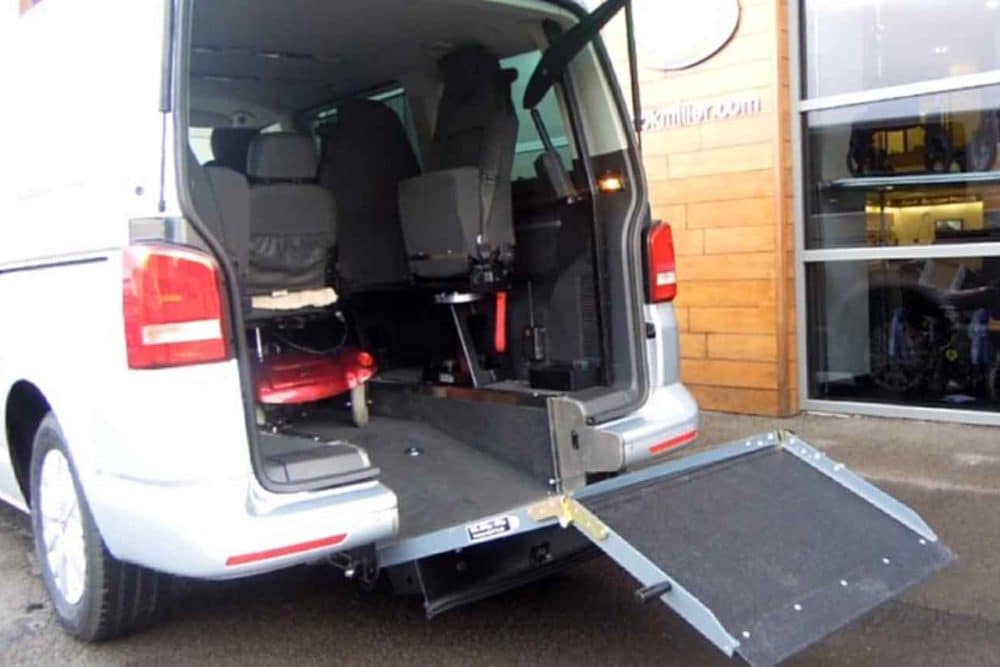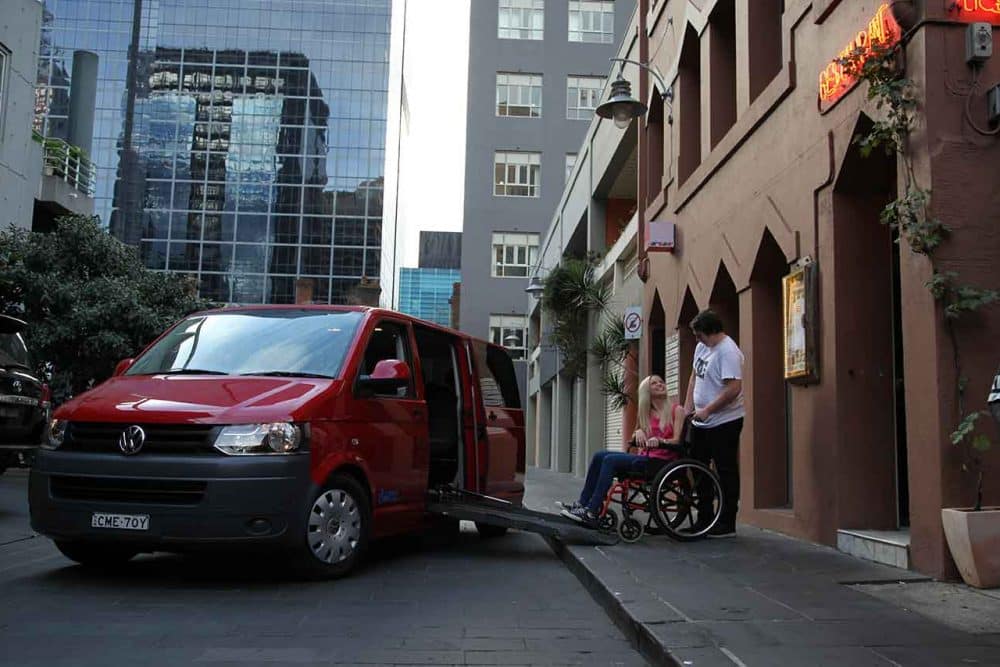 "Ramps can be installed in either side or rear entry vehicles. They are available in three different types: portable, mounted (non-powered) and powered."
A-Z Disability Converted Cars
If you found this information about Ramps useful, make sure you download for our A-Z Guide on Disability Converted Vehicles. The FREE guide contains everything you need to know about buying, owning and maintaining a disability converted vehicle.
It is important to talk to a vehicle converter before purchasing your ramp, they will help to ensure that you choose a product that is suitable for your vehicle and your needs. There are a number of things to consider when choosing a ramp, including:
Strength – Is the ramp strong enough to hold the weight of you and your mobility equipment?
Safety – Does it have non-slip surfaces and edge barriers? Are there controls to stop it folding when in use?
Motor failure – Does your powered ramp have a manual back up mechanism in case of motor failure?
Storage – Can the ramp be safely locked away when not in use?
Compliance – Does the ramp comply with Australian Standards?
Mobility is freedom. Protect yours with Blue Badge Insurance.
Call us 1300 304 802