If you use a wheelchair, you may have seen plenty of social media posts that create a big buzz because they highlight accessibility pitfalls. Like, for example, when there is no wheelchair ramp available to get into a public building. Or worse, there is a ramp, but it leads to a doorway that's too narrow for a wheelchair to pass!

Even though wheelchairs make getting about far more inclusive, this all comes apart at the seams when steps and gaps are thoughtlessly provided as the only available 'accessible' pathway.
While public spaces are often filled with these types of obstacles, thankfully at home you can install your own wheelchair ramp. Choosing the right wheelchair ramp for getting in and out of your WAV or converted car is also a definite must. (Read all about the wheelchair accessible vehicle ramp).
In this article we look at the different types of wheelchair ramps and what the benefits are for each. Read on to find out more.
10 wheelchair ramp solutions
A good starting point when choosing the best wheelchair ramp is to first familiarise yourself with the full range of styles. Once you begin speaking to suppliers and getting quotes, you can always start by explaining your needs then working out which add-ons or combinations of features work best for your use.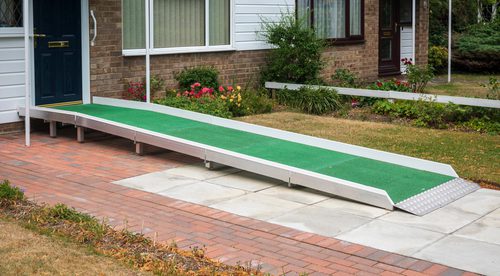 Here are nine key points to consider when choosing a wheelchair ramp:
1. Permanent ramps
Permanent ramps are usually constructed from concrete, wood or aluminum and they're installed securely into one spot for the long term. For example, a concrete wheelchair ramp will be fixed into place through its construction, while an aluminium ramp may be fixed into place using bolts. Permanent ramps are often used in buildings and homes.
2. Semi-permanent ramps
Semi-permanent ramps are generally for shorter term use. They can be made from the same materials as permanent ramps and rest on top of a concrete pad or the ground. Semi-permanent ramps can be used in public spaces during construction, or at home for permanent or part-time use. They can be a more affordable option than constructing a permanent ramp.
3. Portable ramps
Portable ramps need to be made of the lightest material so they can be moved around, with aluminium traditionally the most common material used. They usually fold in segments so they can be easily stored in a vehicle or at home. This is the most likely type of ramp you'll use for getting in and out of your vehicle and it can be used at home too.
4. Telescopic ramps
Telescopic ramps are a simple, compact and adjustable type of portable wheelchair ramp. They're constructed in segments and can extend to different lengths (like a telescope) making them an adaptable solution in a wide range of contexts from home, to holiday and more.
And now that lockdown is over, excluding two borders, why not plan a holiday at one of these pet friendly accessible accommodation destinations? You don't have to have pets to try them out, but if you do then what a bonus that they can come too!
5. Channel ramps
Channel ramps are two separate ramps – one for each wheel. They're very portable and more lightweight than most options because you can move each one separately. The width and positioning need to be adjusted to your wheelchair and wheels each time you use it. Unless you use it in a permanent position, such as one particular set location in your home.
Many channel ramps are also telescopic ramps. They're generally compact enough to fold and pack in their carry bag, making them extremely versatile in a wide range of contexts.
6. Manual and electric ramps
Most vehicle ramps are portable ramps that have the option of being manual or electric. An electric wheelchair ramp can be controlled with a keypad (wired or wireless). This allows greater independence because it's easier to control from your wheelchair.
Note that portable electric ramps tend to be heavier than manual ones. For example, this ramp weighs between 30-35kgs for a manual unit whereas it's 35-46kgs for the electric version.
7. Lift wheelchair ramp
Some vehicle ramps are designed so you can wheel onto them before you then use them as a lift that rises until you're level with the car interior. From there you can wheel into it relatively easily. Read all about lifts and hoists for converted vehicles.
8. Handles
Handles are a handy option because they give added support, as something to hold onto if you roll. Having the option to hold onto the bars as you go up and down the ramp is a choice to make depending on the angle, location and whether the ramp can be fitted with handles. Overall, it provides an enhanced sense of security.
9. Hinges
Ramps with hinges allow you to go up and down inclines as well as over a threshold. Hinges allow a ramp to bend in two sections, with one part at one angle, like for example up and over steps, and the other part over a threshold at a gentler angle.
Combination ramps can combine the folding, telescopic, channel ramps with the hinge element.
10. Wedge ramps
Another portable solution is a wedge wheelchair ramp. A rubber wedge ramp can be really handy (compared to say a wooden one), because it gives you non-slip traction and is generally very economical.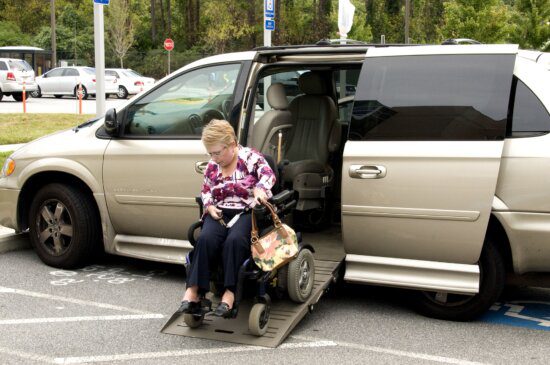 Wheelchair ramp considerations
There are several factors to consider when choosing a wheelchair ramp, such as how and where you will use it. For example, a lightweight model may be easier for moving around than a heavy but more durable option. However, if the ramp is going to be in a single fixed position then heavy and durable may be better. Load bearing capacity and budget will also factor in your decision.
Suppliers of wheelchair ramps should be able to tailor your wheelchair ramp to your needs. For example, the angle of incline and length can be selected from multiple part folding mechanisms. You could choose a two-part folding ramp, for example, to bridge a short space. Whereas you may choose a three-part folding ramp for a gentler incline and longer bridge.
It's important to read online reviews and customer ratings of products before making final purchase choices. Customer reviews tell you about post-purchase satisfaction, usability and whether the product lasts and lives up to expectations.
Disability parking permit insurance discount
Wheelchair insurance is a fantastic way to safeguard your wheelchair against damage, accidents or theft. Replacing or repairing your mobility equipment is expensive, however the small investment of an insurance plan will help pay for these costs when you need to pay them.
If you have a disability parking permit, you're eligible for up to 25% discount off our disability car insurance too! Contact us today to find out more.