There are lots of different types of wheelchair lifts for cars available, as well as lifting systems which make it easier for you to transfer to your car independently.
In this article we look at the different types of lifting systems available for people with disabilities, as well as what to consider when you're weighing up your options.
So, let's take a look at wheelchair lifts for cars, plus storage hoists and sling lifts.
What car is needed for wheelchair lifts and other lifting systems?
You'll likely need a converted vehicle or wheelchair accessible vehicle, depending on your needs. If you're new to the world of disability-specific vehicles, read our article on the differences between wheelchair accessible vehicles and converted cars. We've also got tips on making transferring from your wheelchair to your car easier.
If you can drive a vehicle with no adaptations, you're more likely to need a storage hoist so that your wheelchair can be stored in any given vehicle. If that's the case, remember you'll probably want a collapsible wheelchair too.
Let's take a closer look at the types of wheelchair lifts for cars and other lifting systems available.
The different types of lift systems for your car and wheelchair
There are a variety of hoists available, depending on your needs. Lifting systems to help you get into your car fall into three main categories:
Sling lifts. These are suitable for converted vehicles, designed to lift a person out of their wheelchair and help them transfer into the car without it.
Storage hoists. These are designed to lift an empty wheelchair for storage after the occupant has transferred.
Wheelchair lifts. These can be fitted into wheelchair accessible vehicles to lift a person into the car while still seated in their wheelchair.
It's important to involve your occupational therapist as well as your vehicle converter when looking at hoists and wheelchair lifts for a car. That way, you can make sure you get one that suits your unique needs. Read about how to use a sit to stand lift.
Sling lifts for cars – for the wheelchair user
Sling lifts can be specially fitted to your vehicle. Alternatively, there are also stand-alone, portable sling lifts which can be taken in and out of the car when needed or stored in the boot.
Sling lifts are generally quite adaptable. Usually, they can be fitted to the driver's side or one of the passenger doors, while using a removable one means other people can access your vehicle with ease when necessary.
The right sling lift for you will depend to a large degree on your level of mobility. There are options available which can be operated by the person being transferred, or by a helper.
Your occupational therapist can help you decide which one best fits your needs.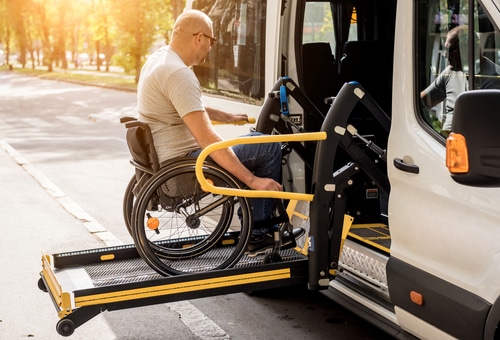 Storage hoists for cars – for the wheelchair
Storage hoists can be installed into your converted car. They allow your wheelchair to be automatically stored after you've accessed the car. If you use this alongside a sling lift (instead of a wheelchair lift) then they provide a solution for independent transferring out of your wheelchair and into the car.
Where is the wheelchair (or even mobility scooter) stored? Depending on the type of storage hoist, you might be able to store your wheelchair on the roof or in the boot. Both options leave your back seat free for passengers or other items.
While roof storage can be fitted to most cars, it does raise the overall height of the car. Plus, roof hoists are only suitable if you use a manual and collapsible wheelchair.
Boot loaders are more convenient in many ways as they don't change the height or size of your vehicle. They're also suitable for foldable and non-folding wheelchairs. However, automatic boot mounted loaders can't be fitted into every type of vehicle.
Once again, check with your occupational therapist and vehicle converter before deciding on the correct vehicle and storage lift combination. And read up on the features to look for when buying a converted car or wheelchair accessible vehicle
When choosing a storage hoist it is important to consider:
Whether it's strong enough to lift your wheelchair
How the storage hoist is operated (i.e. by the touch of a button or does it require more manual intervention?)
Your vehicle restrictions
Your own mobility
For those who are more mobile but need extra help getting their wheelchair out of the car, boot sliders are another option. Boot sliders allow you to easily and safely slide your wheelchair out of the car and onto the ground without having to do heavy lifting.
Wheelchair lifts for cars – for both
Wheelchair lifts for cars are fitted into wheelchair accessible vehicles. They're distinct from the first two options because they are designed to lift a person into the car while still seated in their wheelchair.
Essentially, they do a similar job to wheelchair ramps. However, wheelchair lifts for cars are more suitable than ramps for some wheelchair users who may be unable to wheel themselves up a ramp and into the car. Or for those who are driving solo so have no means of getting a ramp out of the back so they can exit the car. Wheelchair lifts for cars can be fitted to side or rear entry vehicles and are available in a range of sizes and weight ratings.
As always, it's best to talk to your vehicle converter and occupational therapist to find a model which works for you.
Some things to consider include:
Will the lift be stored inside the car or externally? How much space do you need inside your car?
Is it strong enough to hold you and your mobility equipment easily?
Is it big enough to use easily? Can your wheelchair fit in width-wise without problems, and is there enough headroom?
Is there an emergency back-up mechanism in case the motor fails?
Can you (or your carer) use it easily and safely?
Is the lift compliant with Australian Standards?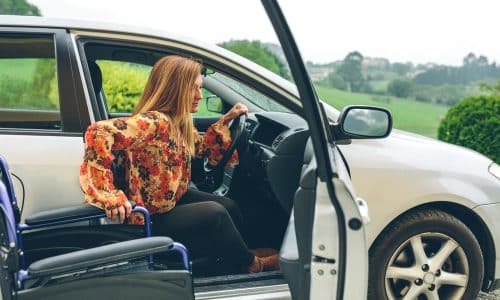 Disability-specific insurance
If you're in need of wheelchair lifts for a car, it's likely that you need (or know someone who needs) a wheelchair for everyday life.
If that's the case, have you considered comprehensive wheelchair insurance? We understand how important your wheelchair is to you, and can make sure that it's properly covered. Here are six questions to ask when getting insurance for your wheelchair. (We promise, we can answer them all!)
Plus, we also offer insurance for disability converted cars. Why not trust the experts in disability-specific insurance, and contact us for a quote? Click below to get started.