Clothes are essential. They keep us warm or cool, protect our skin and of course they can make a fashion statement too. But for many paraplegics and quadriplegics, clothing – although necessary – can be tough. Tough to put on and take off. Restrictive in terms of blood flow, movement and safety. This is why adaptive clothing is really important and we need more of it.
There aren't a lot of adaptive clothing labels out there, which in Australia is surprising. Almost 20% of Aussies are living with disability, many of whom are affected physically. For any clothing label, that's a big market waiting to snap up adaptive products. Especially ones as essential (and enjoyable!) as clothing.
This is why we've put together some options and, best of all, they're Australian labels.
Adaptive clothing is more than just a fashion statement
Most people spend a portion of their day thinking about what to wear. Whether you're meeting or making friends, going to school or work, or having a date, how you look says something about how you feel that day. It says a lot about your personality too.
But when it comes to living with physical disabilities, the primary concern is having clothing that's comfortable, safe to wear and easy change out of.

Of course there's no reason adaptive clothing can't tick all the boxes. Clothing that's designed for function and form (in other words, is wearable and fashionable) can be produced. Increasingly, designers are cottoning on to the possibility and the opportunities this brings. Let's look at who they are and what inclusive clothing options exist.
Here are our top three favourite adaptive clothing brands in Australia:
Carol Taylor
Carol Taylor is our very own homegrown fashion designer. Not only that, she's Australia's first quadriplegic inclusive clothing designer.
Carol's designs have opened a runway event for Mercedes-Benz Fashion Festival in the past, to great applause This was the first time in Australian fashion history that an all visible disability cast of models was showcased on a national stage.
Last December Carol won the National Disability Leadership Award in the Arts category for this achievement. Her adaptive clothing designs are beautiful and inclusive, with the fabrics used in these designs also featuring Carol's accessible art.
Many times I have experienced a sudden increase in my blood pressure because I became too warm too quickly.
This requires me to change my clothing very quickly into something lightweight and cool. One of my caftan top designs can be folded into itself and into a small drawstring bag that fits in my backpack on the back of my wheelchair."
– Carol Taylor
Being quadriplegic, Carol knows first-hand how much clothing can impact one's health and sense of self. She aims to bring fashion and disability together seamlessly. Read about her inclusive clothing designs and visit her website here: www.caroltaylordesigns.com.au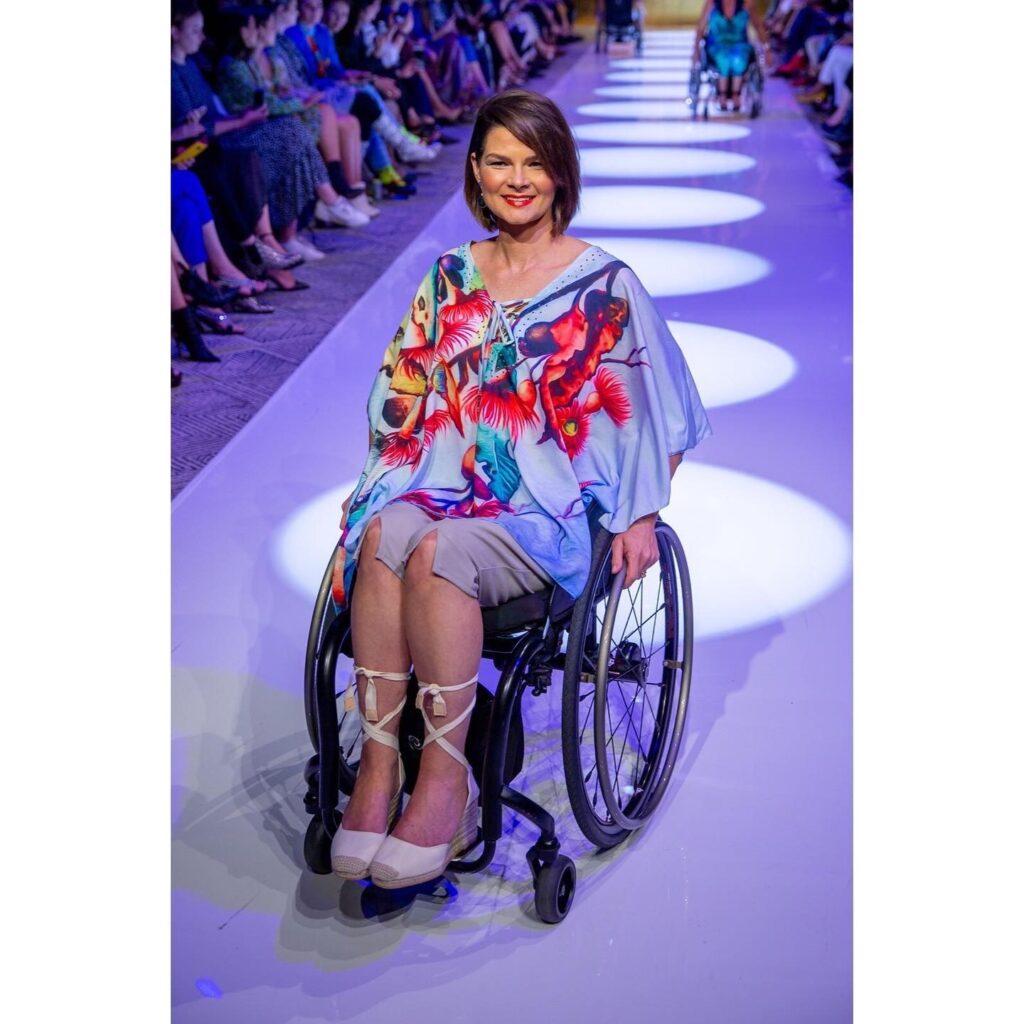 Christina Stephens
Another Australian adaptive clothing brand is Christina Stephens. Not only are the designs geared towards being user-friendly (easy to put on, take off, adjust and wear), they're also made from sustainably sourced fabrics. They're elegant and stylish – a perfect blend of smart/casual.
Founder Jessie Sadler named the clothing label after her mum and dad, whose names are Christina and Stephen. She started it after her mum had an accident that restricted her elbow movement. Jessie realised the gap in the market and began to build her label and team, which now spans Australia, China and Canada.
If you have the budget to buy from Christina Stephens, you can easily satisfy most, if not all, your clothing needs for work and home. NDIS participants can use their core support budget (Assistive Products for Personal Care and Safety) to purchase Christina Stephens clothing.
Watch this video to see the adaptive clothing label's designs being worn:
EveryHuman
Australian adaptive clothing brand EveryHuman has you covered from top to toe. Their range includes clothing, accessories and shoes designed to provide maximum support for those with (or without) disability.
The easy-wear casual style is said to immediately reduce any potential barriers or stigmas that can affect people dressing with disability.
Shopping online with EveryHuman is fun too. You can shop for shoes according to width, for AFO (ankle foot orthotics), whether they're easy to put on and off, and to ensure they're orthotic friendly. Some of the designs use zips and velcro while still keeping the lace-up look.
When it comes to clothing, buyers can shop according to seated-wear, sensory friendly, continence, easy closures and easy dressing.
Just looking at the menu makes you feel included – now that's inclusivity.
You are what you wear in adaptive clothing
They say 'you are what you wear' and when there are enough adaptive clothing designs to cater to disability needs then this can be true! Adaptive clothing allows us to be adaptable so we can more easily adapt to new situations in our ever-evolving bodies.
Also check out Spinal Life's magazine the Advocate, which showcases lots of international adaptive clothing brands.
Freedom of mobility
Whether you use a wheelchair, modified car, mobility scooter or other mobility aids you deserve the choice to feel as comfortable as possible with your mobility.
Freedom of movement is about having the right mobility equipment and the right adaptive clothing. Thankfully we now have several inclusive clothing brands to shop from right in Australia. And when it comes to great mobility equipment we have some wonderful options too – protect yours with great wheelchair insurance or mobility scooter insurance from Blue Badge Insurance.
You can also contact us today to get up to 25% discounted disability car insurance with a disability parking permit.