In this article we look at wheelchair accessible vehicle rental options in Australia.
Car hire companies are increasingly offering hire cars and other vehicles that cater to people living with disability. Many vehicle converters also offer hire vehicles, which means you get the benefit of their expertise along with the rental.
The availability of accessible vehicle rentals is useful information to have in your back pocket when you're travelling away from home, just in case. Or if you need to hire a replacement car while yours is being serviced or repaired.
Wheelchair accessible vehicle rental considerations
While car hire companies are beginning to understand the need for wheelchair accessible vehicles, and more and more solutions are available, fleets are generally small. Keep this in mind and book your modified vehicle well in advance to guarantee availability.
Always read the terms and conditions to see if there are any hidden costs for things that are considered extra. You don't want to have to pay more than you expected to, so offset this with a bit of research beforehand.
For short trips or one-way journeys, a wheelchair taxi may provide a better solution than wheelchair accessible car hire. Especially as there are taxi subsidies for wheelchair and mobility scooter users across Australia.
Wheelchair accessible vehicle rental companies
There are several rental options for individual needs or large groups of people needing wheelchair access. Have a look at which companies operate in your area and which vehicle sizes and accessible solutions are on offer. Some of them are listed below:
| | |
| --- | --- |
| Brazier Mobility | Located in Edinburgh North, South Australia, Brazier Mobility vehicle converters offers a large selection of wheelchair accessible vehicle rental options. |
| Disability Hire | Based in Sydney, this company offers a range of WAV's for different sized parties. |
| Europcar | This well-know rental company offers Kia Grand Carnival WAV's for hire at selected locations across Australia. |
| Freedom Motors | The nationwide vehicle converter also provides WAV's for hire in Sydney. Pick up and return from St Marys (40km from Sydney CBD) or opt for delivery/pick up for an additional fee. |
| GoGet | This carshare provider offers a WAV at the Royal North Shore Hospital in Sydney. |
| Hire Mobility | Based in Perth, WA, Hire Mobility provides wheelchair accessible vans and buses. |
| Integrity Car Sales and Rentals | This vehicle converter also offers wheelchair accessible vehicle rental options across VIC, NSW, QLD and SA and promises more locations soon. |
| Nationwide Mobility Vehicles | Based on Queensland's Gold Coast, the company has a large selection of WAV's for hire. |
| Wheel Away | This wheelchair accessible vehicle rental company offers a selection of vehicles in VIC, QLD and NSW. |
| Wheelie Campers | This company offers self-drive wheelchair accessible campervans with delivery available on the Gold Coast and Brisbane. |
| Wheelie's Van Rentals | Wheelie's provides WAVs for hire in NSW, QLD, SA, VIC and Tasmania. |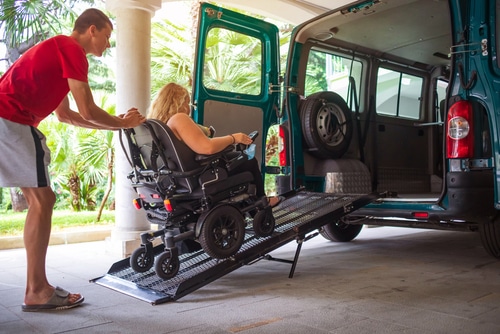 Converted car rental companies
| | |
| --- | --- |
| Disability Hire | In addition to WAVs, the Sydney based wheelchair accessible vehicle rental company also has converted car hire options. |
| Hertz | Cars fitted with a limited range of hand controls are available for hire at Melbourne, Sydney, Brisbane and Rockhampton Airports. |
Keep in mind new accessible vehicle rental companies are constantly being added to the list, so it is by no means exhaustive. Be sure to bookmark (and share) our page on disability converted vehicle hire with up-to-date email and phone contacts.
Wheelchair accessible vehicle insurance
If you own a wheelchair accessible vehicle, you know its value is high and its true value in bringing you mobility is priceless. That's why having car insurance for wheelchair accessible vehicles and disability converted cars can bring your peace of mind.
Not only does our insurance cover vehicle repair/replacement, it also covers assistive technology in your vehicle. Plus, as a disability parking permit holder, you're eligible for up to 25% off your car insurance. Contact us today to find out about disability car insurance, wheelchair insurance and mobility scooter insurance.