Buying clothes when you are a permanent wheelchair user comes with challenges, which is why Carol Taylor started designing her own inclusive and adaptive clothing. She's the first quadriplegic fashion designer in Australia to hit the runway, and in fact the world.
Her inclusive clothing designs aren't run of the mill, they're proudly fashionable. Because as Carol puts it "people with a disability have been left out of the fashion conversation".
Blue Badge Insurance spent some time with designer, artist and lawyer Carol for an exclusive two-part interview. In this piece, we speak to her about designing runway ready adaptive clothing designs. And in part two (watch this space) we talk to Carol about being an award winning artist despite her hands being paralysed.
Interview with inclusive clothing designer, Carol Taylor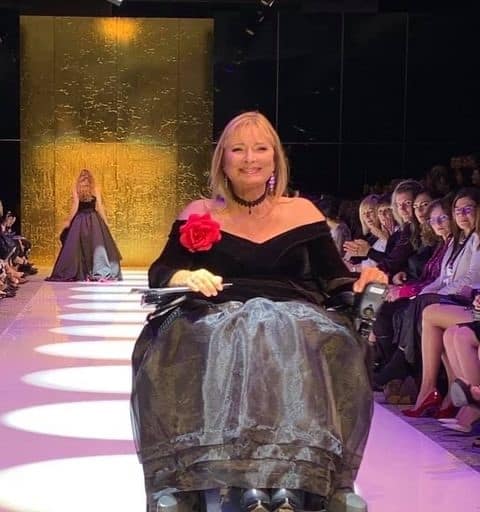 In 2019 her inclusive clothing designs caught the attention of the Mercedes-Benz Fashion Festival. The festival director, Lindsay Bennett invited her to design a nine-piece adaptive clothing collection to open a runway event at The Fantuzzo Brisbane.

This was the first time Australian fashion week included people with disability and is notably the first of its kind for fashion inclusivity. It's also the first time a national runway featured clothing by a disabled designer where every runway model has a visible disability. Carol explains "This milestone matters and it's having a ripple effect. That's positive change for people with disability and we just need to keep the ball rolling."

She describes "This year, for the first time AfterPays Australian Fashion week Sydney also featured models with visible disability on their runway. A giant leap forward and a historical moment for the Australian fashion landscape. There is still much to be done but Rome wasn't built in a day."

Watch this video to see behind the scenes footage with Carol and her inclusive clothing for the Mercedes-Benz Fashion Festival:
Spinal cord injury
As newlyweds, Carol and her husband Robert wanted to make a successful life and start a family. And, as principal lawyer of her own legal practice, launching an inclusive clothing label hadn't been a part of the plan.

Then, in 2001 Carol and Robert were driving home when they hit black ice. The car rolled and the roof caved in, hitting her on the back of her neck instantly leaving her paralysed from the neck down. Carol has since regained limited control of her shoulders, arms and wrists but still has no movement in her hands and fingers.
Adaptive clothing: Carol tells us how it all began
"Prior to my injury, I liked to sew. I was taught by the nuns while at school back in Ireland. I'm not very good but good enough to get by and I still have the first evening gown I made to wear to my first ball in Sydney. I still have this gown in my wardrobe, and I marvel at how tiny it is and wonder how I ever got this body into that dress!
The workmanship is pretty shoddy, and it wouldn't pass the nuns' standard. But it was good enough to turn heads on the night. As I was a struggling uni student, the price of a fancy gown was beyond me at the time.
I received many compliments on my dress that evening and I like to think that I held my own amongst all the glitz and glamour at the Rose Bay Golf Club Ball."
Inclusive design for forward thinking fashion
"Essentially, I try to make my designs user-friendly. I don't profess to solve every issue for everybody. But I would like my designs to work for as many people as possible. Including those with disability, able-bodied, plus size and those with finger dexterity issues. I don't see these as mutually exclusive.
Buttons were invented in the 13th century and the design hasn't been updated since! It's about time we embraced the concept of using magnets instead don't you think? I like to design using magnetic buttons and magnetic zips. I also prefer soft flowing fabric that doesn't cling and can hide a multitude of sins."
Here are some of the physical benefits of these adaptive and inclusive clothing designs:
Designs that cover or compliment the "Quad Pod" which is the unwanted bulk around the middle from tummy muscles that atrophy over time due to lack of use
Lightweight material designs that use magnetic buttons to unclip and cover more skin to regulate temperature control
Placing zips and seams in places where they won't create pressure sores
Dresses with different lengths at the front and back to avoid collision with wheelchair wheels
Dresses with clips that allow the look of the garment to change. It can be one colour for one event and can be worn again looking like a different dress for another.
Designs which give the illusion of wearing a dress from the front. Carol says, "I call this my 'smoke and mirrors' design and it's particularly useful to prevent pressure sores especially when it comes to those that suffer quadriplegia."
Spinal cord injury and autonomic dysreflexia
Spinal cord injuries can cause sudden and extreme fluctuations in blood pressure levels which can come with no warning signs. The instability of blood pressure in someone with a spinal cord injury can be triggered by a condition known as autonomic dysreflexia (AD).

AD can result in sudden temperature changes, fainting, stroke, heart attack, surgery and can sometimes be life threatening. Carol takes her lived experience of AD into her inclusive clothing designs.

For example, one of her designs is a caftan top that folds into itself. It goes into a small drawstring bag that fits easily in a backpack on the back of a wheelchair. This provides a lightweight wrinkle free clothing option in case of an episode of AD with an extreme rise in temperature. This is especially useful in a public setting and considers the quad pod too.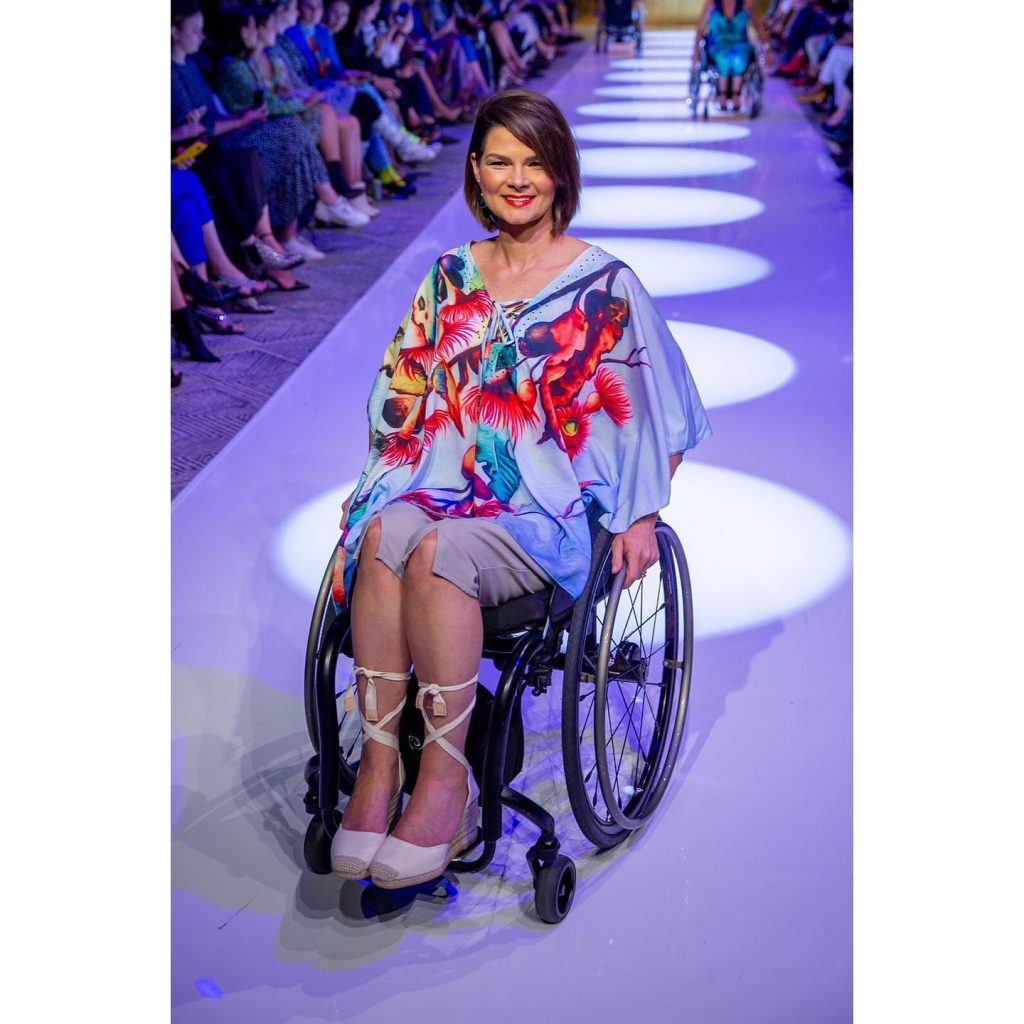 Inclusive clothing and Arts Access Australia
"In particular, I would like the fabric in my inclusive clothing designs to be an opportunity to showcase the artwork of Australian artists with disability. I spent some time on the Board of Arts Access Australia and during that time discovered Australian artists with disability earn 40% of their able-bodied counterparts.
I can't paint fast enough for the fabric to all be my own artwork. And I hope to recruit beautiful artwork from other Australian artists with disability to utilise in my designs.
Working this way puts a spotlight on an important issue and showcases the incredible work of these artists. And will also create an additional source of income for artists with disability."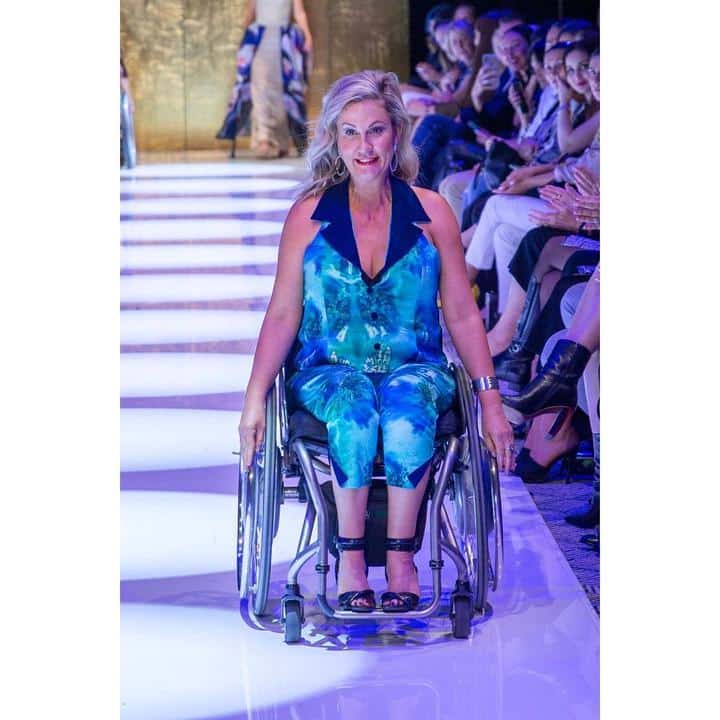 Inclusive Clothing At The Mercedes Benz Fashion Festival
"All the pieces shown at Mercedes Benz Fashion Festival Brisbane are one-off pieces. I had 12 weeks to design and create this collection of nine pieces all whilst running my law practice and juggling my responsibilities as wife and mum.
It was an incredibly bumpy road and it almost didn't happen, but I learned a lot through the experience. Besides designing the inclusive clothing, my artwork was digitally printed onto fabric then cut and sewn into my designs. I would absolutely love to paint directly onto fabric. But I'm limited in size as to what will fit on my wheelchair tray where I paint."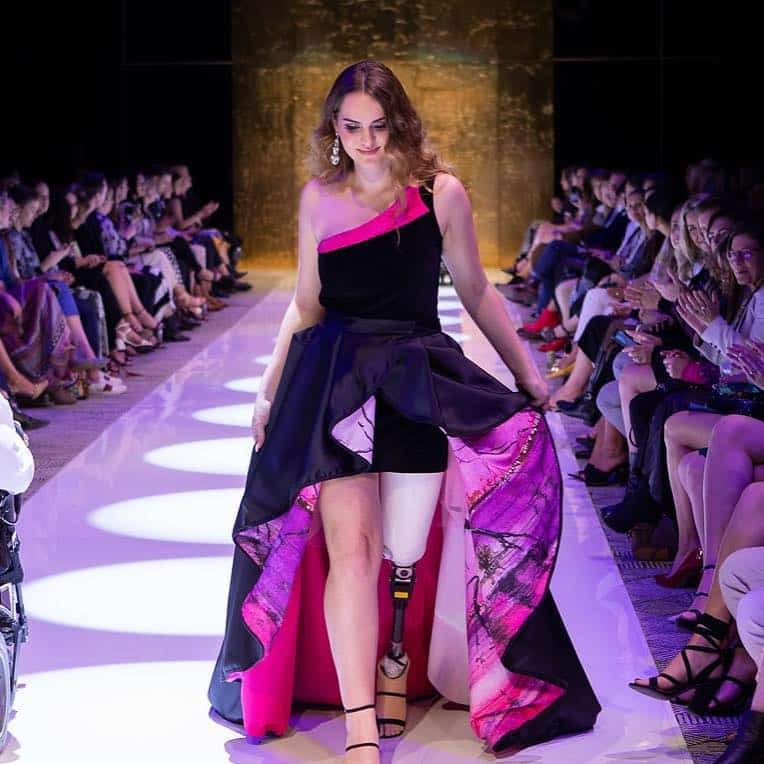 Want to see more positive examples of inclusion? Check out these 7 inclusive playground and wheelchair accessible park destinations in Australia.
Getting dressed as a permanent wheelchair user
"Once I became a quadriplegic, beautiful things were out of my reach as I could no longer buy garments off the rack.
I spent my days in 40 shades of grey tracksuit and huge sneakers as my feet had swollen so much after the injury. Over time the swelling went down, and I now have a collection of killer stiletto boots. My husband calls me "heels on wheels".
Sustaining a catastrophic injury doesn't change who you are. I loved fashion before my injury and I'm still the same person. Granted, I can't wear what I used to. Shopping is a very sad and lonely experience that brings back lots of memories of the beautiful garments I was able to wear pre-injury.
In 2006, five years after my injury, I found a sewing machine that does not require a foot pedal. I can sew the most basic of things using my knuckle on this machine. I still need someone to cut. It was wonderful when my son was a baby as I was able to make him cot quilts. They are now carefully stored away in the attic. 
About six years post-injury I started to design my own garments. And whilst I couldn't cut and sew myself, I paid a dressmaker or relied on the help of friends that were handy with a sewing machine.
I think the first design was a gown to wear to my cousin's wedding. My dear friend Nancy Mitchell helped make my design possible. It was pretty rustic, but I felt like Cinderella for the first time in many years.
Covid-19 certainly slowed down my inclusive clothing plans
"I am in the development stages of establishing an online store. Covid-19 certainly slowed down my plans. I recently went live with an adaptive clothing website. However, as yet it's incomplete. My "shop" is yet to be added to the site.
Once it's up, I hope to start with a small collection of accessories and clothing items to test the waters and see whether people like my designs. It will also be a place to sell my artwork. You are welcome to take a peek, it was designed by Carly of Studio Carly."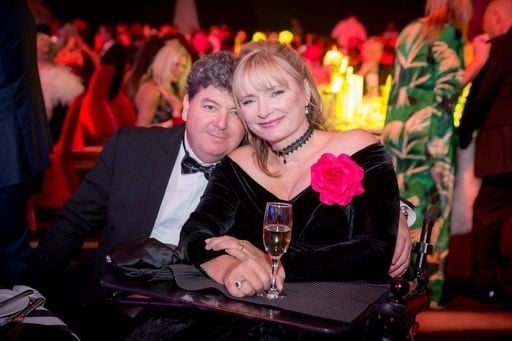 MeQ Designs has rebranded as Carol Taylor Designs
"I was the successful recipient of a Mentorship for Growth Grant from the Department of Employment, Small Business & Training. And I received advice from some very experienced MBA graduates – I was advised to change the name of my label from MeQ Designs as my story is the brand.
It is for this reason the label is now called Carol Taylor Designs. At this stage, I am unable to give you an ETA. But I promise when I'm ready to launch I'll let everybody know and make as much noise as possible!

In the meantime, please visit my website and sign up to keep posted. I would love to hear your personal feedback of what adaptive clothing and accessories you would most like to see."
Read more:
Australian Fashion Week Presents Adaptive Clothing Collective, 12 May
Accessible Art: In Conversation with Carol Taylor
A message from Blue Badge Insurance
We would like to thank Carol for sharing the story behind her quadriplegic, paraplegic and other mobility disability adaptive clothing range. Visit her website to view her full fashion and art collections.

As for wheelchair insurance, those reading this may agree with Carol when she says: "I am dependent on my mobility equipment and therefore it's a no-brainer, insurance just makes sense." Have a look at the financial and safety benefits of wheelchair insurance on the Blue Badge site.
Click below to start your plan today.