Assistive technology can help people with disabilities live more independently. And it just keeps advancing! For example, today's virtual software assistants can help a person with blindness or low vision navigate their surroundings and help someone with physical disabilities control on-off and open-close switches remotely. If you're hard of hearing or deaf they can translate audio to text and be your listening device on your behalf.
The possibilities that assistive technology offers are changing incredibly fast. They're already leaps and bounds ahead of where they were even 10 years ago. Can you just imagine how many opportunities there will be 10 years from now?
Before we get ahead of ourselves, let's take a look at some of the latest innovations available in assistive technology, today.
The most innovative assistive technology today
Assistive technology helps makes the world a more inclusive place to live in. For example, although equipment like electric wheelchairs was a fantasy before the 1950s now it's commonplace.
Nowadays, software assistant options can be built into your mobility devices. They can be used via apps on your smartwatch or on your phone. There are so many innovations in assistive technology for people living with disabilities… if you haven't already, we highly recommend you test a few.
Each is tailored to one or more specific disabilities or devices and you might find some suit your personality, technology ownership and/or budget better than others.
Read below about assistive technology for people with hearing, seeing and physical disabilities.
Assistive technology for blindness and low vision
Assistive technology can give you a whole new view of living with blindness or low vision. Today's options can help you communicate, access information quickly and easily and help you navigate your surroundings.
Here are some options for people with visual disabilities.
😎 Smart watch software assistant
Smart watches are undeniably the most successful wearable tech item globally.
Being able to take calls, read messages, and (obviously) tell the time makes it easier to live life on the go. But smart watches do more than this. They also offer accessibility features like text to voice and can monitor things like your heart rate, steps, and exercise goals.
The first braille smart watch for people with visual disabilities was the dot watch but there are several options out there. Other options include talking watches for low vision and blindness.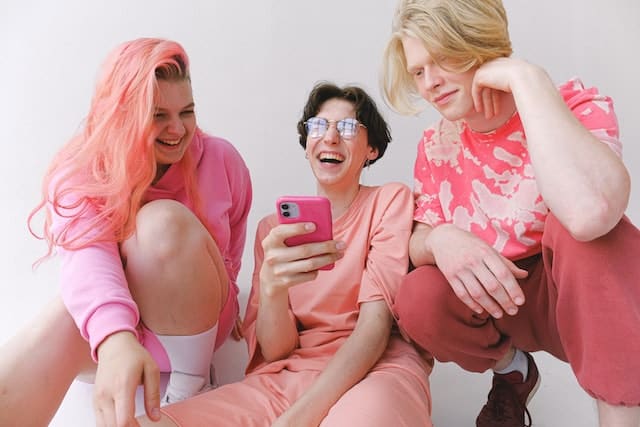 😎 Object recognition software assistant
Today's assistive tech includes several apps that can help you recognise the things around you and tell you what they are. Just aim your smartphone camera at something in your environment and let it tell you what you're looking at.
This assistive tech can help you identify signs and landmarks which is great for getting around more easily. It can tell you if you're looking at people, places, trees, animals or other objects. You might use it to help you find the bathroom in a public space or the entrance to a building. It can help you count money or identify colours.
Each virtual software assistant app has its own niche, so test and try to see which one you need and enjoy the most. Here's a list of options to choose and try:
😎 Volunteer assistants can 'be your eyes'
Be My Eyes is an app available for both Android and Apple. As the name suggests, it connects volunteers (who have sight) to visually impaired people. This way, people with sight lend their eyes to those with visual impairments to help them navigate everyday life more easily.
How does it work, exactly? A blind or visually impaired person requests assistance via the app. They're then connected via live video call to a volunteer, who communicates directly with them to solve a problem and guides them on where to focus or turn their camera. The request for assistance could range from knowing whether to turn right or left at a street to checking whether your chicken has expired or not. So handy.
Currently, there are over six million volunteers and more than 500 000 visually impaired users. So, the odds of getting help are pretty good. Now that's assistive technology at its best!
Don't believe us? Watch the video to see more:
😎 Virtual software smart voice assistant
Having someone around who you can ask for any information at any time can be useful for anyone. This assistive technology can be especially supportive for anyone with blindness and low vision.
Smart voice assistants are handy because they talk to you to answer your questions about the weather, your work or just about anything you can find on the internet. They can also follow instructions and help you operate your smart home devices. Some examples of virtual assistants include:
😎 Text reader software assistant
One of the best software assistant options for people with visual disabilities is the text reader. Having a software assistant that reads out loud (in a nice voice) what a handwritten note says, or what's in a photo or reads the text on the screen can be immensely useful.
The software uses Optical Character Recognition to give you the information you're after.
Some options include:
Also read our article on everyday gadgets which are useful for people with disabilities.
Assistive technology devices for physical disabilities
Today we're lucky to have several types of wheelchairs, mobility scooters, converted car mods and more. When it comes to assistive technology devices for physical disabilities the options widen and improve all the time.
Once you've read about these, also be sure to read about the Neuralink technology. 
👨‍🦽 Custom wheelchairs (electric, stand up, bariatric)
Since the first wheelchair was invented the assistive technology that goes into custom wheelchairs has advanced hugely. The best route to take when choosing and buying a custom wheelchair is to work with an occupational therapist who specialises in wheelchair scripting.
Here are some incredible wheelchairs that use highly advanced assistive technology:
Stand up wheelchairs. The stand up wheelchair allows you to see the world from your natural height in a standing position. You can both sit and drive in a standing position. This has some valuable health benefits from opening your lungs and helping you to breath more naturally to improved circulation. Read more about the benefits of using a stand up wheelchair.
Bariatric wheelchairs. These specially designed wheelchairs are made to carry people weighing more than 125kg. Some are designed with tilt-in-space and rehabilitation features and can come in manual or electric designs.
Power drive electric wheelchairs. Depending on whether a person is living with paraplegia or quadriplegia and to what degree, having power drive can open up a world of independence. It's also good for limited strength as your wheelchair gives you the added power you need to move around. The assistive technology in power drive electric wheelchairs makes it possible to select from front, mid or rear wheel drive power options.
👨‍🦽 Exoskeleton suit
In the past very little could be done to reverse paralysis. This meant a spinal cord injury or stroke, for example, could leave a person permanently paraplegic or quadriplegic. However, advancements in the externally worn suit (aka exoskeleton) are helping some people regain control of their limbs.
The exoskeleton is a suit worn on the legs, torso and arms. Clinicians use the suit as a form of physiotherapy helping patients relearn to walk again. While this assistive technology is still fairly new there have already been many success stories. Read about how Royal Rehab is providing this robotic EksoNR therapy in Australia.
👨‍🦽 Electric cars for wheelchairs
Electric cars are becoming more popular as the world becomes more environmentally conscious. However, electric cars have never really been a reality for wheelchair users.
Kenguru is the world's first electric car specifically designed for wheelchair users and it's controlled via a motorcycle-like handle. It isn't perfect, but it's certainly innovative when it comes to the world of assistive technology.
Designed in Hungary, Kenguru can only carry one person and has a maximum speed of 45 km/h. It's currently available in the US and the UK, but not Australia yet.
We can't wait to see this become a reality worldwide, and we hope that it gives rise to even more advanced electric cars for wheelchair users in the future. It's a huge step forward into wheelchair-accessible electric vehicles, and we love that. Here's Kenguru in action:
👨‍🦽 Mobility equipment accessories
Since the first wheelchair was invented there've been many advancements from customisation to power drive. For example, the stand up wheelchair and bariatric wheelchair are just some of the options to choose from today.

These mobility equipment assistive technology advancements help wheelchairs access more places more easily. In addition to helping wheelchairs access a wider range of environments, add-ons can help reduce stress on joints and muscles.
You can read about the following wheelchair add-ons in our article on powering your wheelchair:
Power assist wheels: motorised wheelchair wheels
Handbike attachments: allow you to steer your wheelchair with a front wheel
SmartDrive: for a power boost on hills, ramps and extended distances
Assistive technology for deaf and hard of hearing
There are several superb assistive technology options for people with deafness or who are hard of hearing. AI can help translate sign language into writing or writing into sign language. Or it can help by creating closed captions automatically from videos or converting speech-to-text.
The AI software assistant can do many things, you just need to know which app or interface you need to help you reach a particular goal. Here are some assistive technology options for people with hearing disabilities:
🦻 Software assistant to translate sign language
Assistive technology for people with hearing disabilities can help by translating speech or text into sign language. It can also do the reverse and translate your sign language into writing or speech. Viola, a software assistant translator!
Here are some examples to try out:
Like Han talk translator and Bright sign glove, DeepASL aims to make it easier for those with hearing impairments to communicate with the rest of the hearing and speaking world. DeepASL uses a camera device to capture hand motions and then translates them into sentences.
Currently, it can only do American Sign Language to English translations. But who knows – maybe one day you'd be able to translate into multiple languages.
If you can't quite imagine what it looks like, here's a video:
🦻 AI-powered automatic captioning systems
Captioning and subtitling is a great assistive technology that converts audio from videos or other content online into readable captions. This artificial intelligence has been packaged as a software assistant you can have available on your phone wherever you are.
Here are some options to try:
Read more about mobile assistive technology in our article on smartphone accessibility features. 
Insurance for your assistive technology
Now you have a good idea about some of the latest assistive technology, find out more about protecting your mobility equipment. Blue Badge Insurance offers insurance for assistive technology like wheelchairs, mobility scooters, and adapted cars like WAVs.
If anything should happen and your equipment is broken or stolen you may not be able to afford to repair or get it replaced. With a Blue Badge plan you won't need to worry. Your policy will help cover the costs of replacement or repair so you can be mobile as soon as possible.
While Assistance Dogs aren't exactly assistive technology, we protect them too. Find out all about Assistance Dogs insurance, wheelchair insurance, mobility scooter insurance and car insurance for wheelchair accessible vehicles and disability converted cars.
Disability parking permit holders can get up to 25% off disability car insurance premiums. Click below to get your quote today.