The first known wheelchair, or mention of a device that allowed seated people to move, was in China in 500AD. Since then, there have been major wheelchair advancements with design and technology. However, most of us who live with a disability knows there's still a great deal that can be done to enhance comfort and mobility.
Wheelchairs are indispensable, no doubt, but they could be even more helpful. We've rounded up some of the latest wheelchair advancements in case you were unaware of them. Plus, we look forward to where wheelchairs might be headed.
Power assisted wheels for manual wheelchairs
Going against the age old saying "don't try to reinvent the wheel", one neat wheelchair advancement that's available for wheelchair users comes in the form of power assisted wheels. You can mount these onto most manual wheelchairs, giving you the choice between self-propulsion and a power-assisted option.
The WheelDrive wheels, for example, come with two rims. The large 'assist rim' provides extra power assistance while self-propelling. You're able to choose from three support levels, each of these with their own specific driving characteristics. The small 'drive rim' gives you continuous drive at three speed levels. This works like a joystick on a powered wheelchair, but it sits on the wheel, so there's no effort required.
Of course, they're not the only power-assisting devices in the market. Do plenty of research and trial runs before settling on your chosen path.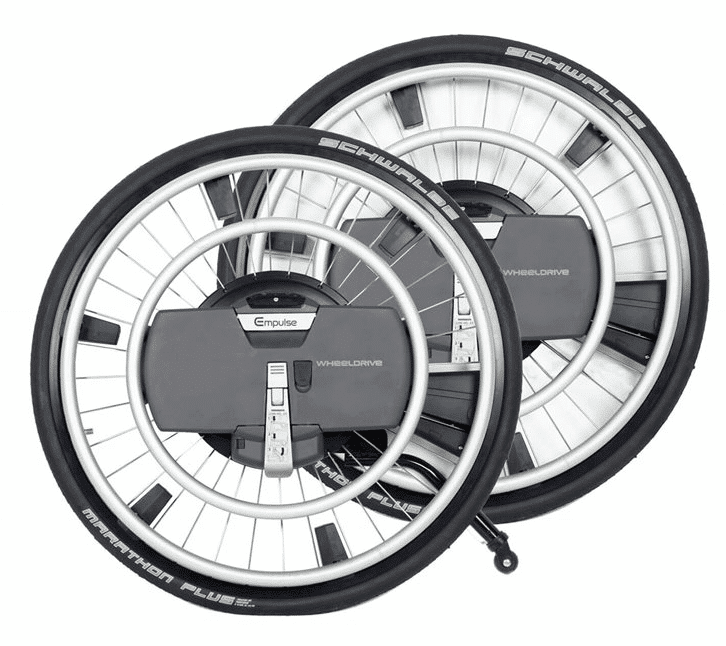 Wheelchair advancements: sensors to self-driving
While some are redesigning wheelchairs from the ground up, others are creating attachments to help your wheelchair work for you. Read more here…
LUCI sensors
LUCI is an incredible attachment built for powered wheelchairs to provide stability and safety. By using sensors around the wheelchair, LUCI will make sure you're not bumping into things around the house or out in the world. It'll prevent you falling off curbs and help avoid collisions.
This attachment comes in the form of eight sensors around the wheelchair and a dashboard that will feed you updates from the sensors. We also heard that LUCI is friends with Amazon virtual assistant technology Alexa. If Alexa is a mutual friend of yours too then you'll get added benefits.
Electric wheelchairs with height raise and standing function
It wouldn't be an article on wheelchair advancements if we didn't mention those that elevate the user to reach high cupboards or even raise the chair to a standing position.
Forward tilting, height raising, standing position and more are achievable for many wheelchair users thanks to these chairs' manual or hydraulic lifting mechanisms. Don't you love wheelchair evolution?
These improvements obviously increase independence and better allow face-to-face conversation. But also, plenty of studies show standing wheelchairs may provide health benefits like improved circulation, bone density and urinary and bowel function.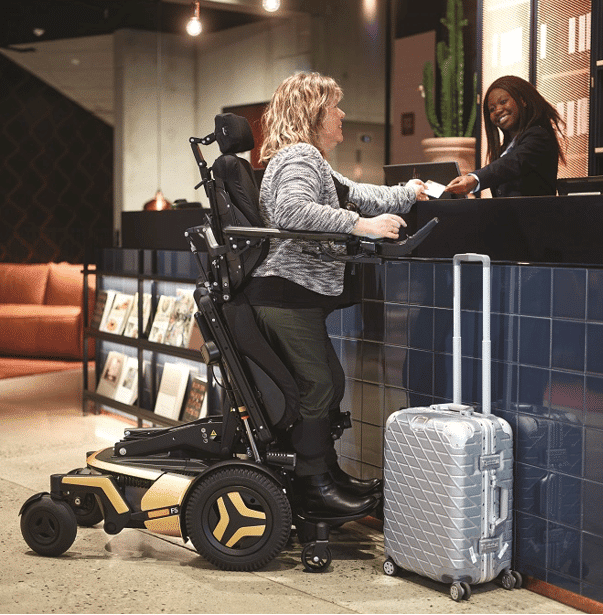 Phone and tablet mounts
Making your wheelchair work better for you means making daily life easier. Like equipping your wheelchair with a phone or tablet mount means easy access to your navigation app or handsfree calls. You can add portable phone charger attachments to your wheelchair as well.
Check out our list of useful wheelchair accessories such as these. And while you're at it, read our considerations for choosing a wheelchair and our tips for choosing wheelchair ramps for cars.
Headlights and LEDs
Adding headlights to your wheelchair has more than one benefit. Not only does it make it easier to navigate your path when out and about at night, it also makes it easier for others to spot you. You could also use lights to add some visibility to the wheels to make them easier to see.
Or, use them purely for aesthetic reasons to add fun and personality. With such a wide variety of different shapes, sizes and colours you can really make it your own.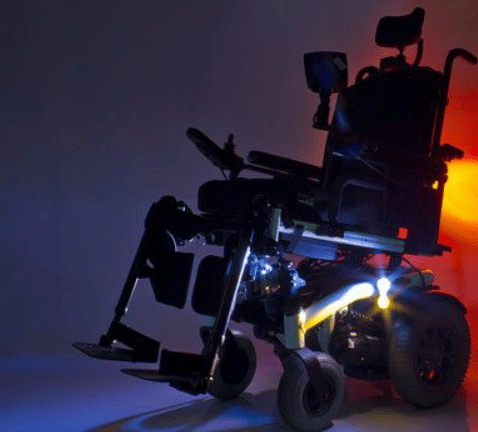 Self driving wheelchair advancements
Yes, that's right – it's not just cars that are going to be driving themselves. A South Korean company called Guru IoT has created a rather incredible wheelchair advancement, a self-driving wheelchair. For those who might be interested to find out what IoT (Internet of Things) is, you can find out here.
This amazing wheelchair uses state of the art advancements in technology, the first being the concept of digital twinning.
Simply put, this works by storing a detailed map in a digital cloud (think Google maps) that can quickly be accessed by the wheelchair. This enables the wheelchair to navigate its way round an environment safely. The approach is less expensive than equipping it with sensors connected to the internet, transmitting and receiving data in real-time.
Guru IoT states, "this self-driving wheelchair can navigate through a crowd or physical obstacles by reducing speed, avoiding hurdles, and stopping. This wheelchair has safety features such as vibration and overturns prevention functions that are not available in any other electric wheelchairs."
Read about even more wheelchair advancements here:
While we're celebrating wheelchair advancements, why not read all about International Wheelchair Day too.
Beyond the wheelchair advancements
Exoskeleton technology is so new it's impossible to say whether it will ever replace the wheelchair… But it's exciting to think that it might. At the very least, it's revolutionary – one of the biggest advancements since the inception of the wheelchair.
Already here in Australia, the exoskeleton is helping people recovering from a stroke and who have spinal cord injuries to walk again. Strapped around the waist, legs and feet, along with walking sticks it mechanically supports the wearer to take steps.
Read more about the ever-evolving exoskeleton suit here and about the father who built one to help his son walk.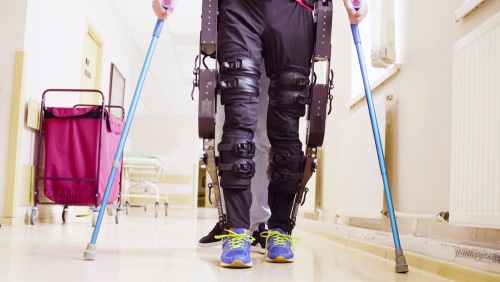 Insurance for your wheelchair
Blue Badge Insurance has specialised in providing comprehensive wheelchair insurance since 2014. You can have the peace of mind that if you have an accident we'll get it repaired or replaced quickly and thoughtfully, so you can get moving again ASAP.
We also offer travel insurance for wheelchair users, which means your wheels are protected whether you're 1km or 10,000km away from home. Read more on all the benefits of our wheelchair insurance in Australia now.