Choosing the right mobility equipment storage and mobility equipment transfer solutions for your wheelchair or mobility scooter is essential for comfortable car travel. When you bring extras – like back-up equipment for holidays – you'll need secure storage for that too. In this article we're exploring different storage and transfer choices for efficient and enjoyable travel.
When you're planning your mobility equipment storage, consider all the equipment you'll need to put in it on different occasions. Besides a wheelchair, might you need to bring a walking frame, commode, ventilator, extra battery, etc, and/or emergency equipment at any point?
They all take up space that you should plan for. Plan for the maximum amount of space you'll need at any one time, also considering safety. Heavy items like oxygen bottles, for example, need to not only be easily accessible but be well-secured so they don't become hazards in an accident or even just during the drive.
A good place to begin planning your mobility equipment transfer and storage is taking into consideration your vehicle type.
Mobility equipment transfer and storage for cars
Your choice of base vehicle goes a long way to ensuring you have room to store all your gear. Station wagons and minivans have more storage space than sedans or hatchbacks, obviously. But if your equipment is particularly bulky you might consider a full-sized van. There are also vehicle modifications that can increase your car's storage space.
Before committing to making a purchase speak to a driver trained occupational therapist (DTOT). They'll guide you in your decision-making and buying with their knowledge of mobility equipment, driving and disability.
DTOTs can help you choose the safest and most appropriate models to suit you and/or your caregiver, from your base vehicle to car modifications for driving with disability. Ideally you can discuss all your storage needs with your DTOT and vehicle supplier before buying a car. Then you'll be able to evaluate your storage needs and get the most suitable vehicle from the start.
Also note that if you're the driver you'll need to take the assessing fitness to drive assessment with your DTOT before driving with vehicle modifications.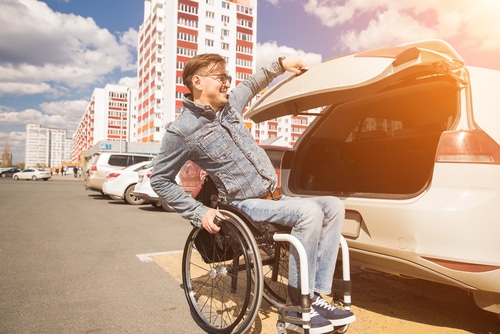 Transferring and storing your mobility equipment
There are several options for transferring and storing mobility equipment in your car. Let's begin with wheelchair storage lifts to safely transfer your wheelchair and other mobility equipment, then move onto keeping them safely fastened during your drive.
Wheelchair storage lifts
Storage lifts can be installed in converted vehicles to allow for automatic storage of your wheelchair after you're seated in the car. If you use a sling lift, your storage lift can be installed alongside the sling lift for easy, independent transferring. Read about choosing wheelchair lifts for cars and wheelchair ramps for cars.
When choosing a storage lift make sure it's strong enough to carry your mobility equipment. Different designs can be operated in different ways.
Here are four types of storage lifts for mobility equipment:
1. Roof hoists
Roof hoists can be used to lift wheelchairs onto the roof of the car and store them there. They're only suitable for people using folding manual wheelchairs.
It's important to note that roof hoists raise the overall height of the car. This needs be taken into account if you already have a tall vehicle or tend to use height-restricted facilities like underground carparks.
Watch this video to see this mobility equipment storage option in action:

2. Boot mounted loaders
Boot mounted loaders are designed to move your wheelchair from the door of your car and load it into the trunk at the touch of a button. And because the wheelchair is packed in the boot this option doesn't have the same height restrictions as roof hoists. They also leave your backseat free for extra passengers.
Boot mounted loaders can only be installed into certain makes of cars. This is one key reason why it can be a gamechanger to take the time to test out mobility equipment storage options before purchasing your base vehicle. Or at least discuss them in detail with an expert beforehand.
One drawback of the boot mounted loader is that it comes with a weight limit that restricts which types of wheelchairs it'll be able to lift. But unlike roof hoists, this option is suitable for both rigid-frame and folding wheelchairs.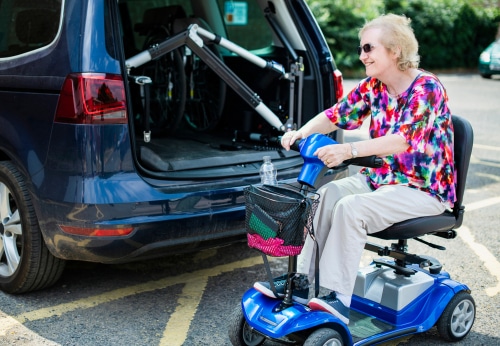 3. Boot cranes
Boot cranes offer a major advantage over roof hoists and boot mounted loaders because they can lift heavier mobility equipment. This allows full-sized mobility scooters or powered wheelchairs to easily be stored.
Models are available that can lift up to 150kgs however they must be installed into base vehicles that can also handle heavy loads. Further, the base vehicle needs to have enough storage room to house the required mobility aids.
A disadvantage of the boot crane is its location. It's situated in the boot and must lift the wheelchair directly into the boot from the back of the car. This means it's only a viable option if you're able to safely get from the boot of your car to your car seat without your wheelchair. For this reason, the boot crane may be easier to use if you have a carer who can help load the wheelchair using the boot crane once they've assisted you with your transfer.
4. Boot sliders
If you just need a little extra help getting your wheelchair out the car, a boot slider is an inexpensive and effective option.
A boot slider consists of a boot mat and wheelchair case that provides a slippery, low-friction surface. This lets you safely slide your wheelchair out of the car and onto the ground without having to do any heavy lifting.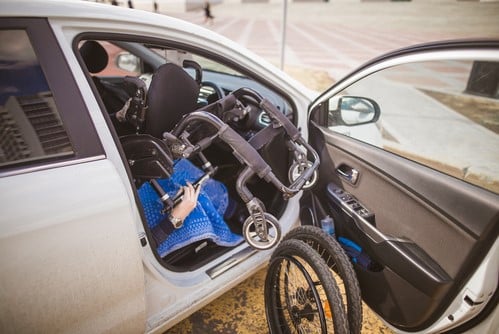 Mobility equipment stowage
Now that we've discussed how to transfer your mobility equipment to your vehicle, let's look at what mobility equipment storage options can keep them safe during your drive. After you read this, also check our car storage tips for road trip.
Here are four options:
1. Tow bar mounted wheelchair and scooter carriers
Tow bar mounted wheelchair and scooter carriers come in a variety of designs depending on the size and weight of the mobility equipment you plan to store. Foldable manual wheelchairs can be mounted on a rack very similar to a standard bike rack, while larger aids like scooters can be carried on a tray with an extendable ramp.
Tow bar mounted carriers don't have their own wheels, so the entire weight of the mobility aid and the carrier rest on the tow bar. The combined weight of your mobility aid and carrier must not exceed the vehicle manufacturer's rated allowable down force.
Larger tow bar mounted carriers, like those designed to hold scooters, add a significant unsupported weight to the rear of the vehicle. This needs to be planned for when choosing your base vehicle because it can affect road handling and increase the amount of space your need for parking.
2. Roof racks
Roof racks are usually combined with roof hoists to allow you to easily store your wheelchair on the roof of the car. These are available with or without covers but are only suitable for foldable manual wheelchairs.
They raise the overall height of the car, the ramifications of which should be carefully considered before installation.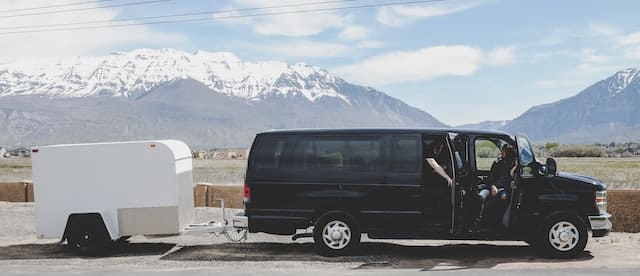 3. Trailers
Trailers can be specially designed to carry mobility scooters or power wheelchairs. They carry the weight of the trailer and mobility device on the tow bar but also feature their own wheels to evenly distribute the load. The combined weight of the trailer and mobility device must not exceed the manufacturer's vertical load rating.

Trailers should include a fold-up ramp for easy loading and unloading, and you and/or your carer will need to be familiar with the loading and unloading procedure. Trailers increase how much parking space you need and whoever is the driver should be comfortable reversing and parking with the trailer attached.
Read tips for reversing a trailer here.
4. Storage boxes
Storage boxes are a great way to store general mobility equipment. They secure all your gear safely so your things are all in one place, making them easy to find and they can't move around or cause an accident.
They are available from small sizes perfect for storing wheelchair restraints to larger boxes that can hold manual wheelchairs or walking frames. Storage boxes can be fitted to the vehicle internally or externally, depending on their size.
Wheelchair and disability car insurance
Did you know our disability car insurance can help cover the costs of repair or replacement? This can be so valuable if your vehicle is damaged or stolen.
Our protective cover extends to the mobility equipment transfer and storage options you use or travel with in your car, up to a certain amount. Just be sure to list them on your policy so they're covered.
You can also get standalone wheelchair insurance or mobility scooter insurance from us to safeguard your mobility equipment against damage or theft. Click below to get started.