Scooters and mobility go hand in hand, obviously. As you become less mobile, mobility scooters can help you gain or keep independence by making it much easier to get around. They are often key to your enjoyment of day to day life, and can make a significant difference to your overall quality of life.
But before you dive in and purchase a scooter, it's important to think about some simple mobility and health considerations. This will help make sure your purchase is appropriate for your needs.
Scooters and mobility considerations
Of course, a scooter is designed to help facilitate users' mobility so we're not saying you need to be fit as a fiddle to use one. But scooters and mobility considerations should be thought through properly before you commit.
One big consideration is that scooters do require more mobility from their users than a wheelchair. While some types of mobility scooter can be driven for quite a distance, others are designed to be put in a car and taken out at the shops or similar. These types require enough mobility that you can drive as well as load the mobility scooter.
Because scooters aren't typically designed for activities like travelling, beach trips, or long days out, you should consider your mobility level for such occasions. If you struggle to get about on a daily basis, are unsteady on your feet, or tire quickly when you stand or walk, a mobility scooter may not provide the level of assistance you need.
Your purchase decision will depend, in part, on your lifestyle. Read more about travelling with a mobility scooter or wheelchair to see what might be best suited to you. If you're not sure, why not read more about deciding whether a mobility scooter is a safe choice for you.
Then, of course, there's the decision on purchasing new or used. While we'd always suggest new because you'll receive a warranty and the scooter will be much less likely to have issues anytime soon, we do understand they can be costly. Read our article on tips for safely buying used mobility scooters.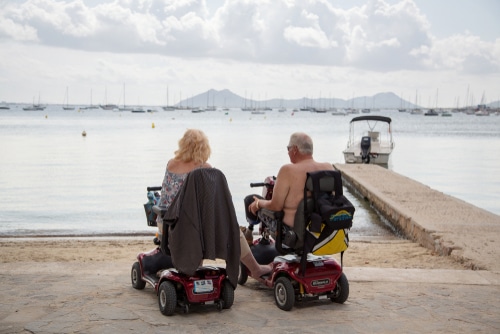 Health and welfare questions to ask yourself
Do you need a licence to drive a mobility scooter? The short answer is no. You're not subjected to the same scrutiny as licenced car drivers are. That said, you do still need to keep yourself and others safe while you're driving it. This means you need to consider other health factors too.
For instance, ask yourself these questions…
Top 10 questions before you decide to get a scooter
Is your eyesight good enough to see where you are going and everything in the near vicinity?
Can you see cracks in the pavement or uneven sections?
What about all the controls – can you see them clearly?
Do you have the physical dexterity needed to control and operate the scooter safely?
Do your core stability and balance allow you to sit properly on it for extended periods of time?
Can you shift your weight on the seat whenever needed?
Is the scooter able to safely accommodate your weight, along with anything you might need to carry while using it?
Do you have the ability to focus and concentrate for stretches of time when you're operating it?
Do you have the ability to brake quickly if needed?
Overall, are you able to always drive a scooter carefully along a pedestrian footpath and safely cross a road on one?
These are just some considerations to keep in mind when it comes to scooters and mobility equipment decisions. If you have any other health conditions, you should speak to your doctor or occupational therapist. They can advise whether these might affect your ability to safely and properly use a mobility scooter.
You can also read these guidelines from the government to get an idea of whether you'd be able to safely operate a scooter. Before that, read our tips on keeping safe on your mobility scooter. Because after all, all scooters and mobility equipment should be used responsibly for the safety of everyone.
Insurance for DPP cars, scooters and mobility equipment
Blue Badge Insurance offers specialised insurance for scooters and mobility aids such as wheelchairs and disability converted vehicles. We also provide discounts on comprehensive car insurance for disability parking permit users.
If you've decided a mobility scooter is right for you, here are our five top tips for buying a mobility scooter. Once you've got one, you'll want to get mobility scooter insurance too. That way, you'll be protected against accidental damage and theft. Plus, you'll have third party cover too – so if you bump into something or someone while driving your scooter, you'll have a financial safeguard.