Are you thinking it's difficult to predict, plan for or even keep track of what states and territories have implemented in easing COVID-19 restrictions? You're not alone. Things are changing all the time. However, one thing we can be sure of is how to keep safe while social distancing when away from home.
Leaving home after a time in self-isolation can be a daunting, or perhaps even scary, prospect. Ditto with letting people into your safe space. We hope to make it a little easier by giving you several how-to's around safe social distancing when heading out into the world and welcoming it inside.
Let's explore…
Heading out and about during the pandemic
Non-essential travel is finally OK across almost every state and territory, though there are some restrictions around hotspots (and residents of) as well as some remote Australian communities.
For a definitive answer on who can travel where, it's best to check with your state transport service. Though articles such as 'Australia's coronavirus lockdown rules and restrictions explained' attempt to keep track of what's appropriate in different areas.
The easing of travel restrictions is from a government perspective, of course. If you feel you still need to self-isolate at home due to medical or other reasons then do so. Don't feel pressured by friends, family, therapists or others to head away from home unless you're 100% comfortable with it. Your health and safety is THE most important consideration.
If you do venture out, here are some of our tips for safe social distancing.
Safe Social Distancing – With recreational travel
With recreational travel finally allowed in most places, it's tempting to break out of home quickly and not fully consider the consequences. Take time to plan well. For example:
Look into the COVID-19 social distancing, cleanliness and other safety measures put in place at your destination
Plan your stops along the way, doing the same research. If you know what to expect you can reduce your exposure
If stopping to enjoy the sights and sounds of somewhere, think about what surfaces other members of the public might have touched – then think twice about touching them. If you have no choice but to touch (eg. handrail), wash your hands well afterwards either with soap or sanitiser. If using the latter, make sure it contains at least 60% alcohol and rub it over all the surfaces of your hands then continue rubbing until they feel dry
If you have to use public restrooms (the National Public Toilet Map provides great information on accessible toilets) use tissue or paper towel when touching door handles, taps and other parts of the toilet. You might even take your own cleaning spray to clean surfaces before touching them. Of course, wash your hands thoroughly before you exit
Keep at least 1.5m from anyone you see along the way, unless they're part of your travel entourage, and don't touch your face. Note that in some areas, wearing a face mask is considered mandatory. Regardless, according to the world-renowned Mayo Clinic, a mask will help slow the spread of the virus along with other preventative measures
Safe Social Distancing – When visiting someone's home
How wonderful that most of us can visit friends and family again. Don't be afraid to be COVID-conscious while visiting; anyone you trust will appreciate your need to stay healthy. Think about the following:
Make sure they're well! If they have a sniffle, cough or fever then avoid their home until they're well again
Check into how they're making sure their home is clean and sanitised for visitors. Communication is a key to safe social distancing with people you know
Greet them with an elbow touch or foot tap – no handshakes or hugs for now! Check out this World Health Organisation gif on alternative greetings
Ensure any items you bring into their home are clean and sanitised where needed, including any mobility equipment
Wash your hands well upon entry, either with soap or sanitiser
Use a glove, tissue or similar, to touch their door handle/s. Better yet, ask them to open any doors for you
Keep your hands off anything unless it's necessary (eg cutlery, glassware and crockery). This includes your face – you could also consider wearing a face mask
When visiting the toilet, wash your hands well afterwards then use toilet tissue to turn off the tap and open the door
Keep at least 1.5m from anyone who is in their home
Wash your hands well upon exit, either with soap or sanitiser
Safe Social Distancing – While going out to eat
Eating is one of life's greatest pleasures – for most of us, anyway. Even if food is merely fuel for you, meeting up with a friend in a restaurant can be a soul-satisfying experience. Consider these tips:
Read our Best Wheelchair Accessible Restaurants article and/or use accessibility-filter friendly apps such as Zomato and TripAdvisor so you can limit unnecessary travel from your home to where you're dining
Before booking the restaurant, which is a must now there are restrictions on customer numbers, call ahead about hygiene. Be confident to quiz them about practices they've put in place to protect customers from possible infection. You might want to refer to these best practice guidelines. Only book if you're satisfied the right precautions have been applied
Read our thoughts above on protecting your health when touching surfaces within the restaurant, including using the restroom
Keep at least 1.5m from anyone else in the restaurant, wear a face mask and don't touch your face
As with anywhere you visit, be sure to wash your hands well upon exit, either with soap or sanitiser
Safe Social Distancing – When doing your shopping
With many stores open again, trying to online shop for everything isn't as crucial as it was before. If feeling up to it, we can now head into the centres to shop for essentials, browse around for deals or to simply people watch. Before heading out, think about this:
What health and safety precautions has the shopping centre or individual store put into place to protect customers?
Stores now have a capacity limit based off floor space and the 1.5m distancing rule, plus many now have a designated entry and exit pathway – be sure to follow these rules. Some stores even have a staff member or security guard by the entrance, who will inform you if you need to wait to enter
Resist touching items and putting them back. Do your best to take hold of only what you require or what you really need to try on
Be mindful of keeping at least 1.5m from others while walking around the store and if you stand in the checkout queue. Also, don't touch your face (or wear a face mask)
Keep washing/sanitising your hands as you shop around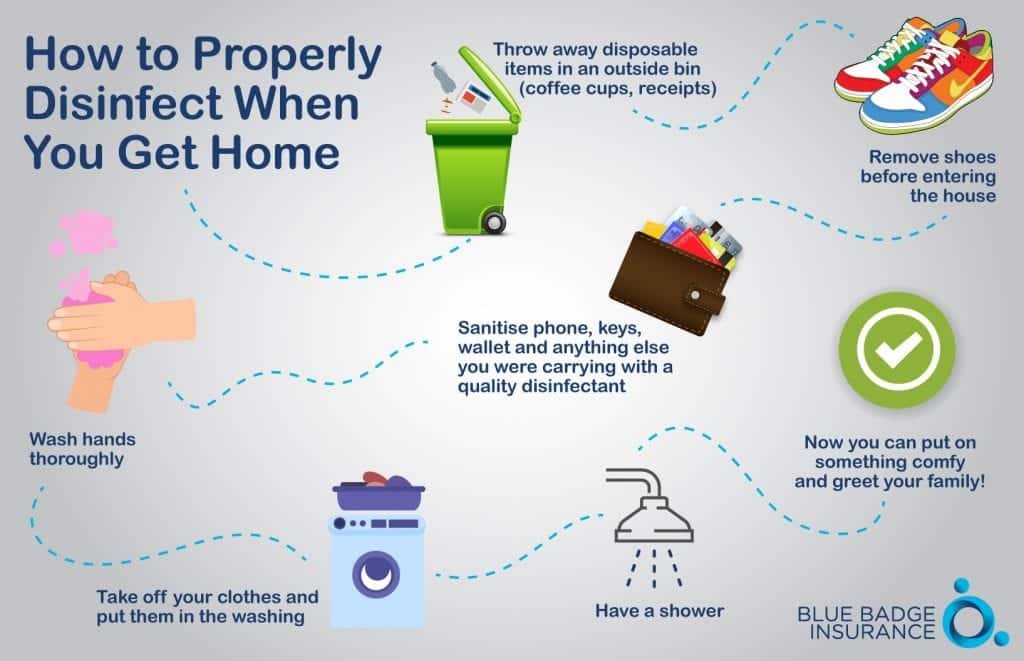 Bringing the outside in during the pandemic
While many of us are keen to keep our home bubble just that for the time being, others are opening their doors to welcome friends, family and a wider range of support workers.
There are several ways you can help yourself stay healthy and happy while allowing the outside in. Consider the tips we outline below.
Safe Social Distancing – After coming home
It doesn't take much to keep the germs at bay after taking some time out of the house. Here are five simple tips:
After parking your car at home, take the time to rub your hands thoroughly with hand sanitiser before entering (don't touch your face until they're clean)
If bringing bags in, consider how you will unpack all the goods while ensuring your home remains well sanitised – there are some great 'what to do after you get home from the shops' tips here
Wash your reusable shopping bags before putting away
Finish off by thoroughly washing your hands (and your face mask if you wore one)
If you're really concerned with how much you came into contact with surfaces and other people during your shop, pop your clothes into the washing machine immediately and have a shower
Safe Social Distancing – When having visitors at your home
Anyone visiting your home should be mindful of your health as well as their own. If you're not sure someone has your best interests at heart, don't welcome them in. And sometimes even those with the best intentions may not follow every step they should to keep COVID-19 away.
Discuss with them the following:
You understand you need to be well before you welcome guests into your home
Ask them if they're well (eg. no sniffles, coughs or fevers). This is a non-negotiable, so don't be shy to ask
Think about the surfaces they will touch during their visit. Make sure these are clean and sanitised
Keep at least 1.5m from your guests
Clean all surfaces they or their possessions have touched as soon as they leave
Protect your must-haves with insurance
Now that you're getting out of the house again (or plan to soon) it will do you well to consider insuring any mobility equipment or wheelchair converted vehicles you own. As independence and mobility insurance specialists, we're experts in this field, just as we are car insurance for anyone with a disability parking permit. Check out our affordable insurance policies here.
Your thoughts on safe social distancing?
Do you have any further thoughts on how to practice safe social distancing now we're allowed to enjoy non-essential travel? We'd love to hear from you. Perhaps you might like to check out the Blue Badge Insurance Facebook page too.