Finding yourself hungrily pestering Google with searches like 'best wheelchair accessible restaurants', 'restaurants wheelchair accessible', 'wheelchair friendly restaurants', and 'restaurants with disabled access'? You're not alone – searches like this are ever-increasing! It's safe to say thousands of Aussies are looking for inclusive and accessible dining places on any given day.
We're all for answering your most pressing queries, so our Blue Badge Insurance blog is sharing some of the top-notch restaurants in each Australian capital city. We've used the extremely helpful wheelchair-friendly search options on Australian Good Food Guide and Best Restaurants of Australia as well as our own research.
And now we're hungry.
But first, here's our list of some of the best restaurants to visit whether you're local or a visitor…
Table of contents
Home to a vibrant accessible food culture
We're seeing more and more Aussie restaurants becoming wheelchair accessible to ensure every diner can satisfy their appetite. Thankfully they're realising the importance of inclusivity and accessibility… and of course the profit that comes with it. We love seeing so many businesses taking the necessary steps to ensure their premises are compliant with the Disability Discrimination Act.
With knives and forks at the ready, let's tuck into the best wheelchair-friendly restaurants in Australia…
Tip: Be sure to use sites like Yelp and Tripadvisor to crosscheck customer reviews before heading out for your next delicious meal.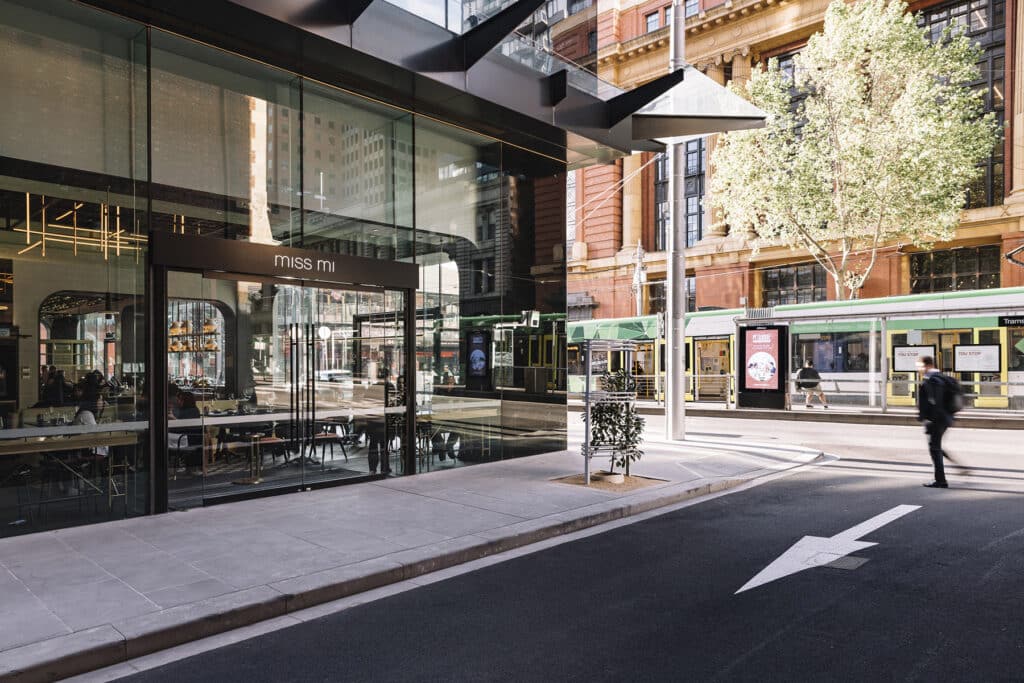 Melbourne (VIC)
Melbourne is a melting pot of cuisines and cultures, not to mention its extensive, distinct cultural heritage. Below are some of the best wheelchair accessible restaurants with ridiculously delicious food.
Miss Mi – You'll experience traditional ingredients, exotic flavours, and enticing aromas from across Asia with Miss Mi.
Top dish: Wagyu beef satay, soy egg, sweet potato, radish, leek, and shellfish.
Address: Corner of Godfrey and Bourke Streets, Melbourne CBD
Roule Galette Flinders Lane – Get a taste of traditional French fare at this restaurant with disabled access on Roule Galette Flinders Lane in Melbourne city. This cosy laneway space is accented by the classic and contemporary French music that flows throughout. Diners can expect a menu boasting a selection of galettes, sweet and savoury crêpes.
Best known for: Truffle salmon galette.
Address: Scott Alley, 241 Flinders Lane, Melbourne CBD
Claypots Barbarossa – From a creative, monthly-changing menu, expect meals like tenderised and grilled local octopus or larger dishes like spaghetti vongole with calamari and squid ink.
Can't miss dish: North African flavoured slow-cooked lamb tagine.
Address: 79 Hardware Lane, Melbourne CBD 
ABC Chicken – Start your meal with seafood pancakes or pork fried dumplings and dipping sauce; then tuck into a crispy fried half chicken with coleslaw and rice.
Winning dish: Crispy golden fried chicken.
Address: 361 Queen Street, Melbourne CBD
The Meating House – A perfectly meaty wheelchair accessible restaurant for when you need to grab a coffee and something substantial to eat.
Best known for: 24 hour slow cooked beef brisket.
Address: Shop G01/121 Exhibition Street, Melbourne CBD
Perth (WA)
Want to spend a night out in Perth indulging in mouth-watering cuisine? Take a look at some of the hottest restaurants in town.
Simple Italian – You'll find your table overflowing with food made with love. This wheelchair accessible restaurant's menu includes signature pizzas, pasta, and desserts that are too good to pass up!
Top choice: Gnocchi sorrentina in a pizza bowl.
Address: 413 Murray Street, Perth CBD
Amano Restaurant – In a picturesque waterside setting, with traditional Italian flavours in finely crafted modern Australian dishes, you're guaranteed a great meal. Wheelchair friendly restaurants like this one offer an unforgettable dining experience.
Winning dish: Bistecca ai ferri.
Address: Pier 1 Barrack St Jetty, Perth CBD
The Stables – Enter the cobblestone courtyard to be transported away from the Perth CBD bustle and into a landscaped oasis. The menu is a nod to comfort food plated with flair – look forward to tucking into pan-fried squid, chorizo, piquillo peppers, and saffron rouille.
Can't miss dish: Chicken and chorizo paella.
Address: 888 Hay Street, Perth CBD
Lamont's Bishops House – With a glass of Lamont's pinot gris, you can tuck into a Black City Angus fillet with confit saffron kipflers and watercress butter, or perhaps a butter-fried whiting with Goddess sauce and a soft herb salad.
Winning dish: Poached White Rocks veal, green olives, charred broccoli, and smoked celeriac puree.
Address: Cnr Spring Street and Mounts Bay Road, Perth CBD
The Lobster Pier – This wheelchair friendly restaurant's lobsters are gently poached in butter and served either with their original butter sauce or a flavourful seasonal one. Jump onto the website and get your mouth watering ASAP.
Must-try: Lobster rolls.
Address: 451 Murray Street, Perth CBD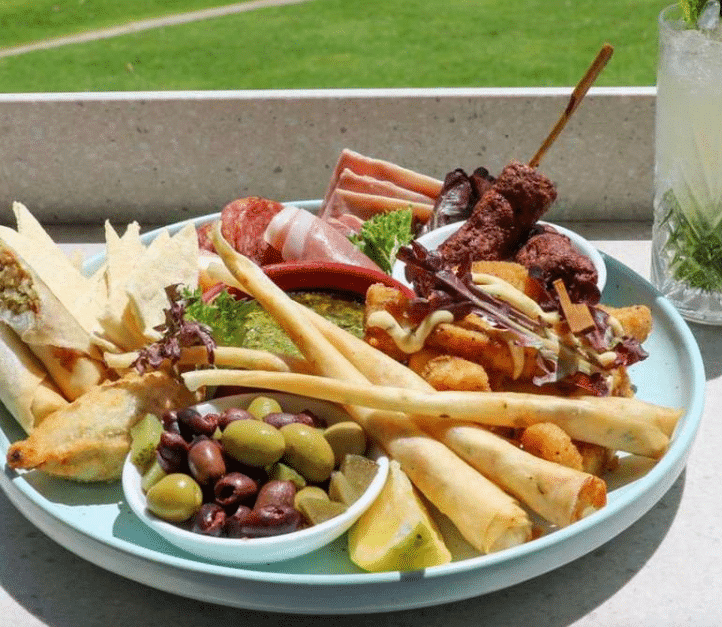 Darwin (NT)
The city's restaurants are well-known for their mouth-watering food, with several getting international recognition. Here are a couple of Darwin's wheelchair friendly restaurants to tickle your taste buds no matter your mood or budget…
Oyster Bar Darwin – Their fresh, seasonal produce ensures the highest quality throughout the year, whether you're enjoying fresh cold oysters and a refreshing beer on a balmy summer night or grilled oysters and a glass of wine on a rainy day.
Winning dish: Salt and pepper squid.
Address: 19 Kitchener Drive, Darwin CBD 
The Jetty Restaurant – With a view of Darwin Harbour, they boast an all-you-can-eat steak and seafood buffet. 
Must-try: Spicy calamari salad.
Address: 39 Stokes Hill Road, Darwin CBD
Wharf One Food & Wine – The Darwin Waterfront's Wharf One Food & Wine offers fun, casual wood grill dining with unbeatable views. Their seasonal menu incorporates fire and smoke to create bold flavours and a menu that's timeless and inspired by local, Australian produce.
Winning dish: Prawn akoya.
Address: 19 Kitchener Drive, Darwin CBD
Snapper Rocks – Inspired by relaxed beach culture in Australia – fun, sun, good food, bbq, crisp ale, and rosé.
Do not pass up: Marinated salt and pepper crocodile.
Address: 7 Kitchener Drive, Darwin CBD
Yogi's Way – If you're in search of a Mod Oz fare with a Nepalese twist head down Westralia Street in Stuart Park to Yogi's Way. It's one of Australia's wheelchair friendly restaurants you'll leave with your mouth still watering.
Winning dish: Royal butter chicken.
Address: Shop 2/9 Westralia Street, Stuart Park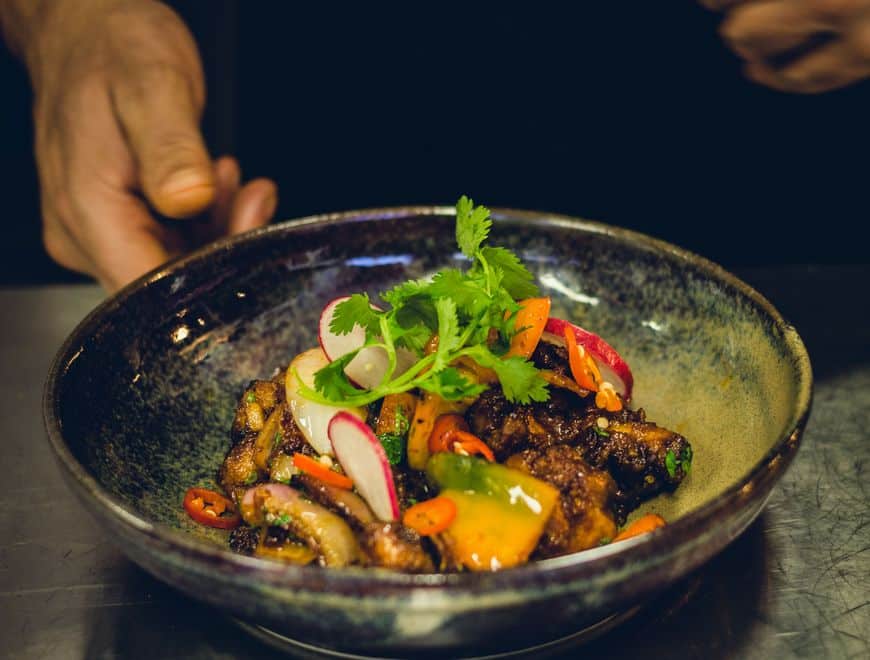 Brisbane (QLD)
Otto Ristorante Brisbane – Inspired by modern Italian cooking, OTTO's food is delicious and unashamedly simple.
Popular dish: Agnolotti alla carbonara.
Address: Sidon Street, South Bank, South Brisbane
King Of The Wings Restaurant & Food Truck – With a restaurant with disabled access on Stafford Road and a mobile food truck, King Of The Wings brings tasty chicken wings to Brisbane locals.
Must try: Bee sting wings.
Address: Shop 1/240 Stafford Road, Brisbane CBD
The Croft House Town Kitchen & Bar – This restaurant with disabled access offers wholesome rustic Australian fare and quality Australian wines from sunrise to sunset.
Winning dish: Croft steak sandwich.
Address: 95 Charlotte Street, Brisbane CBD
Massimo Restaurant and Bar – With ocean-caught seafood and farm-fresh meat, Massimo's menu features fresh, housemade pasta and focaccia.
Don't miss dish: Chicken parmigiana.
Address: Boardwalk Level Riverside Centre, 123 Eagle Street, Brisbane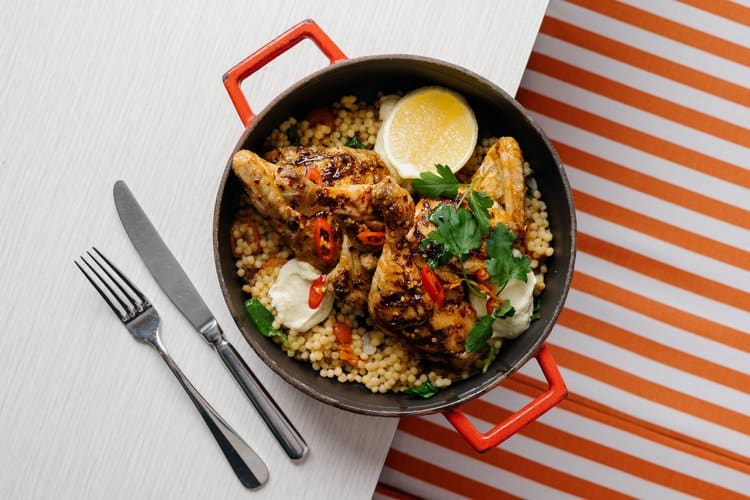 Bacchus – This elegant yet inviting venue is located on the podium level of the Rydges South Bank. It's a sensory feast complete with sparkling chandeliers, rich furnishings, eclectic music, and innovative European fare.
Best known for: Seasonal menus.
Address: Podium Level, Rydges South Bank, Corner of Grey and Glenelg Streets, South Brisbane
Sydney (NSW)
Urban Tadka – Known for its North Indian, tandoori, and Mughlai cuisine, Urban Tadka serves entrées like tandoori smoked prawns, cauliflower purée, and za'atar spice.
Winning dish: Mumbai junglee beef.
Address: 321 Mona Vale Road, Terrey Hills
Salwa's Garden – Salwa's Garden on Oatley Avenue offers Lebanese dining in a 100-year-old cottage restaurant with disabled access that's surrounded by lush greenery.
Don't miss dish: Malfouf.
Address: 32 Oatley Avenue, Oatley
Hyde Hacienda – Choose from a tapas menu plating up crispy pork belly bao, sticky soy cucumber, coriander, and spicy peanuts.
Must-try: Hyde seafood tower.
Address: 61-69 Macquarie Street, Sydney CBD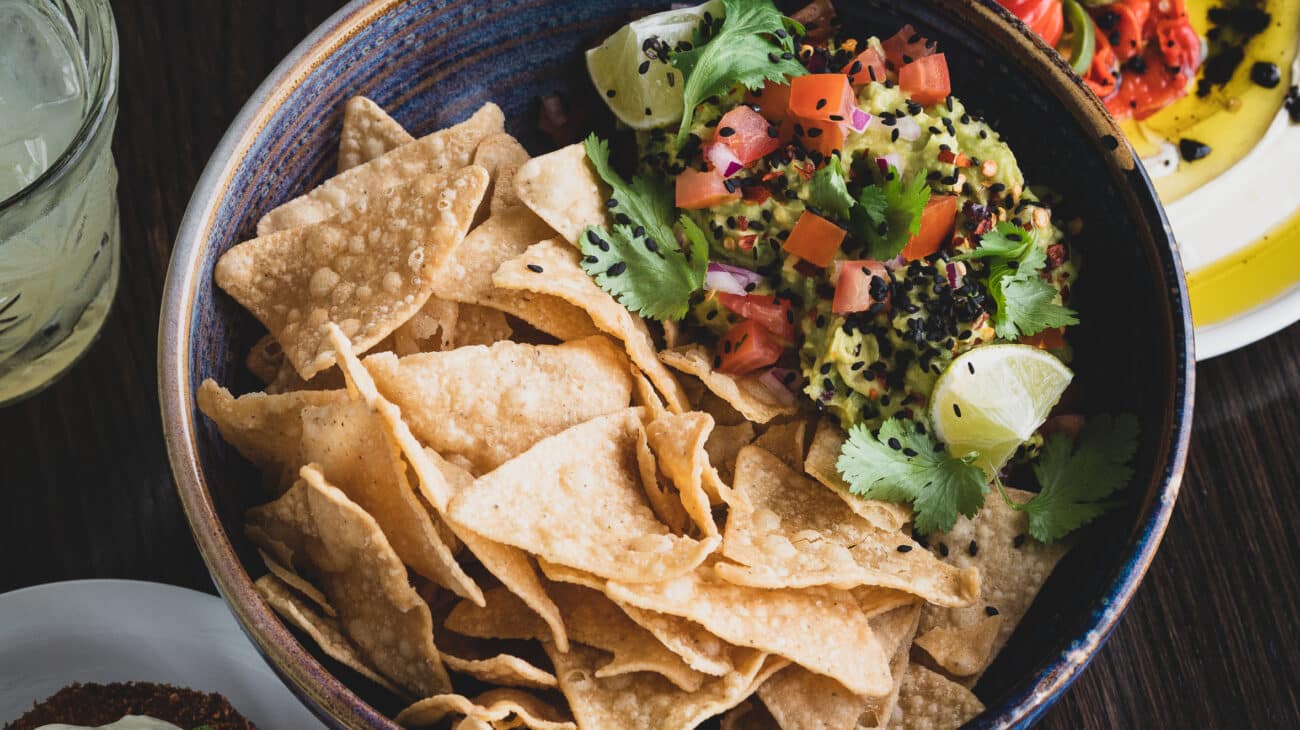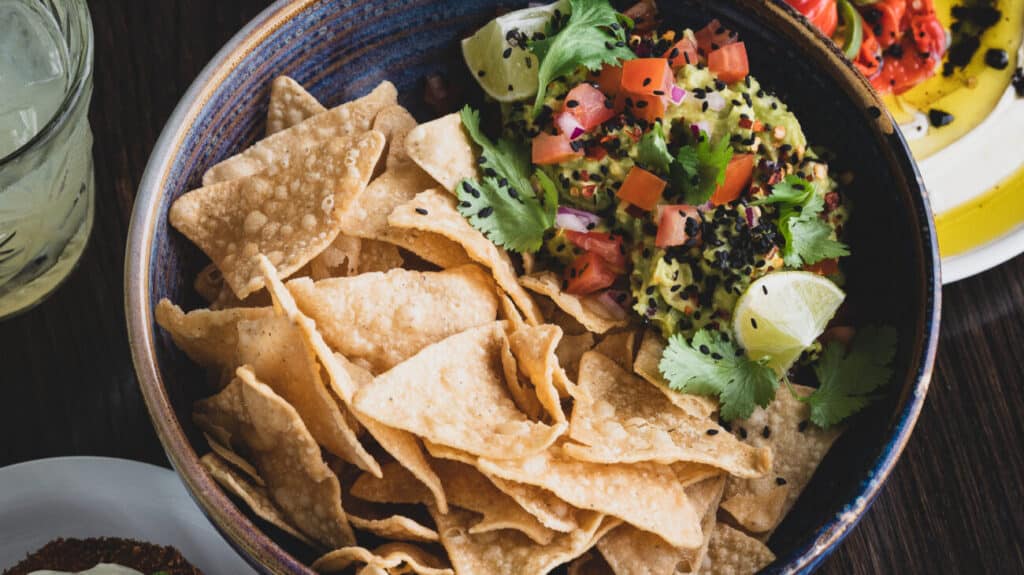 Atelier By Sofitel – Looking for the best of the best wheelchair-accessible restaurants in AU? This elegant restaurant with disabled access in East Sydney fits the bill. Atelier By Sofitel infuses flavours and customs from South France into the overall dining experience.
Winning dish: Pan-seared pink snapper, caper, lemon, beurre noisette, and hollandaise.
Address: Level 3/12 Darling Drive, Sydney CBD
Jardin St James – Inspired by French café culture and cuisine, Jardin St James takes that certain 'je ne sais quoi' and combines it with everything Sydneysiders know and love about their coffee.
Must-try: Teriyaki salmon baguette.
Address: 173 King Street, Sydney
Canberra (ACT)
Cafe Stepping Stone – A community-driven accessible vegetarian kitchen serving refreshed café classics with an emphasis on locally grown produce.
Don't miss dish: Potato masala toastie.
Address: Strathnairn Arts Homestead Gallery, Access from Gullifer Street (90 Stockdill Drive, Holt), Strathnairn
Briscola – Start with an aperitivo to open up the palate, enjoy a local or Italian wine varietal, and finish with a fragrant and herbal digestive. This is one of the most unmissable restaurants with disabled access.
Winning dish: Pappardelle al ragu.
Address: 60 Alinga Street, Canberra
Monster Kitchen & Bar – Interesting feature: their salon and dining rooms tell the story of Australian immigration. With a Jungle Fever rum cocktail in hand and a plate of Tom's famous dumplings, ready yourself for a wonderful dining experience.
Must-try: Butternut squash katsu curry.
Address: 25 Edinburgh Avenue, Canberra CBD
Vincent – This restaurant with wheelchair access boasts a dark, moody, but warm and ambient interior complemented with a menu of great food and specially sourced wines.
Must-try dish: Scallop with black sesame tempura, yuzu kosho, shiso.
Address: 48 Macquarie Street, Barton
Black Fire Restaurant – From tapas plates of pan-tossed scallops, with crispy tuile, leek, and potato purée and Romesco salsa, served on the shell, to seafood paella, there is something on the menu for all tastes.
Don't miss dish: Morcilla tapas.
Address: Unit 45/38 Mort Street, Braddon
Hobart (TAS)
Aura Hobart – Aura's soft industrial restaurant with disabled access is sunlit by day and ignited by city lights at night. It's one of the Apple Isle's favourite best wheelchair accessible restaurants – and there are a few!
Winning dish: Lush Tasmanian oysters.
Address: Level 12/110 Liverpool Street, Hobart CBD
Pearl + Co – Freshly shucked oysters, sashimi, local wild fish ceviche, Tasmanian fish and squid, seafood pasta, and scallop pies are examples of Pearl + Co's fresh offerings.
No-pass dish: Pearl signature oysters.
Address: Victoria Dock, Hobart CBD
Farzi – This restaurant with disabled access is renowned for serving the best coffee in Salamanca, as well as a range of contemporary dishes.
Must-try dish: Saffron and rose kulfi.
Address: 17A Castray Esplanade, Battery Point TAS
The Black Footed Pig – This is one of the only wheelchair friendly restaurants in Australia largely influenced by the wonderful flavours of Catalonia, Andalusia, and the undeniable contribution of the Muslim Mediterranean to Spanish cuisine.
Winning dish: Tasmanian wild caught octopus with sweet potato pave and leche de tigre.
Address: 8 Brooke Street, Hobart CBD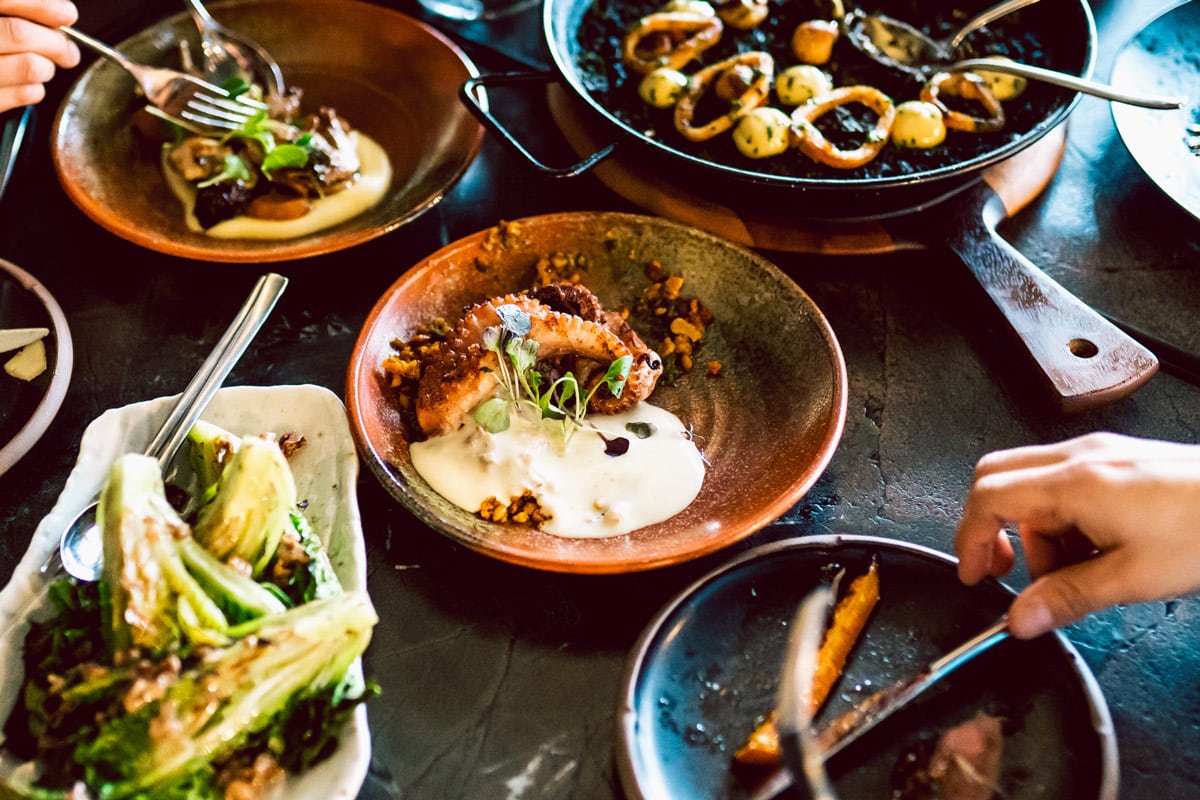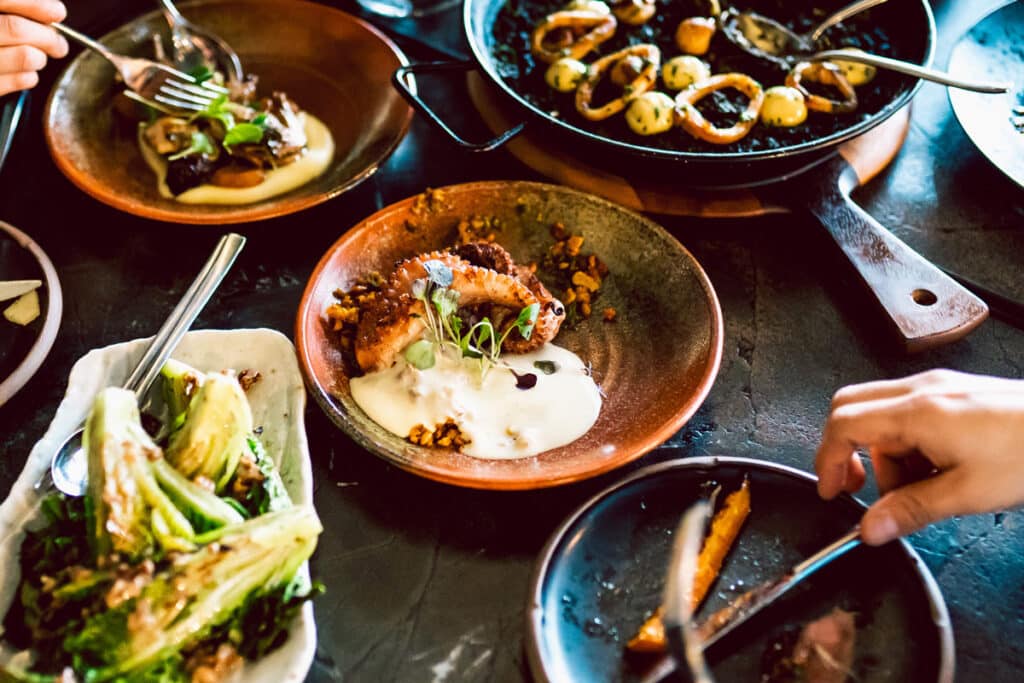 The Glass House – Each share plate tells a story in this glassiest of wheelchair friendly restaurants– from honey apiarists to early-rising fishermen – delivered with Executive Chef Karen's polished twist.
Popular dish: Seared tuna with soba noodles, purple snow peas, wakame, and shiso salad.
Address: Main Deck, Brook Street Pier, Hobart CBD
More on accessible culinary travels
Since you've learned about only some of the best wheelchair accessible restaurants in Australia, why not explore more culinary experiences through travels across the continent? These article will provide a lot of what you need to know about planning your next trip to experience the culinary adventures of your dreams:
Tuck in while we take care of your insurance needs
Are you a total foodie who wants to travel the continent for the hottest dining experiences in the best wheelchair accessible restaurants? Aren't we all. Before heading on your next culinary adventure, think about getting your travel wheelchair insured. Our experienced claims team has been managing claims for wheelchair insurance in Australia since 2014 and we've seen wheelchair damage happen all over the world.
Our insurance can cover you whether you're 1km or 10,000km away from home. Getting a quote is as easy as 1-2-3 so why not take a couple of minutes now.