When it comes to insurance, it is important to constantly assess your needs. As your life circumstances change, so do your insurance needs. When it comes to disability converted cars, this is even more important. Modifications change the value of your disability converted car, and it might not depreciate the way that traditional insurers expect.
Because your vehicle has been modified to you specifically, it is important that you are able to replace it if you had an accident or it was stolen.
Assessing the value of your disability converted car
The first thing to do is assess the value of the converted vehicle. You can find the approximate value of your car (without conversions) from your local dealership. If you have a Toyota, for instance, phone a Toyota dealership. Make sure you have all the details on hand. These include year, model, mileage, and so on.
Another avenue to research an approximate market range for your vehicle are sites such as Redbook and Carsales – they have a wealth of information about car values.
The information you source from any (or all) of these avenues gives you half of the equation, but does not take into consideration any conversions.
So, let's move on to the conversions themselves. Because your vehicle itself will depreciate over time, it is important to understand the value of the disability conversions on your car as standalone items. Disability conversions might even become more expensive over time. Why is this? Because the cost of parts, labour, and so on can increase year on year. Unlike vehicles themselves, these conversions do not always depreciate steadily.
How do you assess the value of the disability conversions on your vehicle? The best way to do this is to have the value of your conversions reviewed by a vehicle converter. This will give you the new replacement value of your conversions. This means that you know how much it would cost to fix or replace if your car was damaged or stolen.
Does the value of my disability converted car stay the same?
With both of these values to hand, you now know the overall value of your disability converted car. Bear in mind that this can change year on year. As mentioned above, the car itself might depreciate each year but the value of the disability conversions could stay the same, or get more expensive.
Of course, there does also come a time where your conversions are worth less than they were when they were installed. Technology and building materials move on, and after many years of good use, the conversions may have lost some of their value.
Read about whether insurance companies discriminate against people with disability?
How does the value of your disability converted car change your insurance premiums?
Insurance premiums are calculated on a variety of factors. Essentially, insurers create a 'risk profile' for you. This risk profile decides how likely you are to claim from insurance, how much your insured item would cost to replace or fix, and how 'risky' it is to insure you. This then decides how much your monthly premium is. This is car insurance companies ask so many questions!
Your vehicle and its value are a couple of these risk factors. Of course, a Ferrari would cost more to insure than a Nissan Micra. There are other considerations too, like where you live, how old you are, whether you've had previous claims, and where the car is parked.
Often, regular insurers will depreciate the value of your conversions at the same rate as your car's value depreciates. This means that you might find yourself losing out financially when you make a claim. Why? Because your conversions have not actually become cheaper to replace, even though your insurance policy says that they have.
For the first 5 years after taking out a policy on a given disability converted vehicle, Blue Badge Insurance offers an agreed-upon replacement value. So even four years after taking out cover, you will be covered for the agreed-upon amount for any conversions that your vehicle needs. Within those first 5 years we generally increase the value of those conversions by 5% year on year.
Rest assured: we understand that conversion costs can range quite dramatically, and we make sure we provide appropriate levels of insurance cover. Whichever insurer you go with, please ensure you're not underinsured.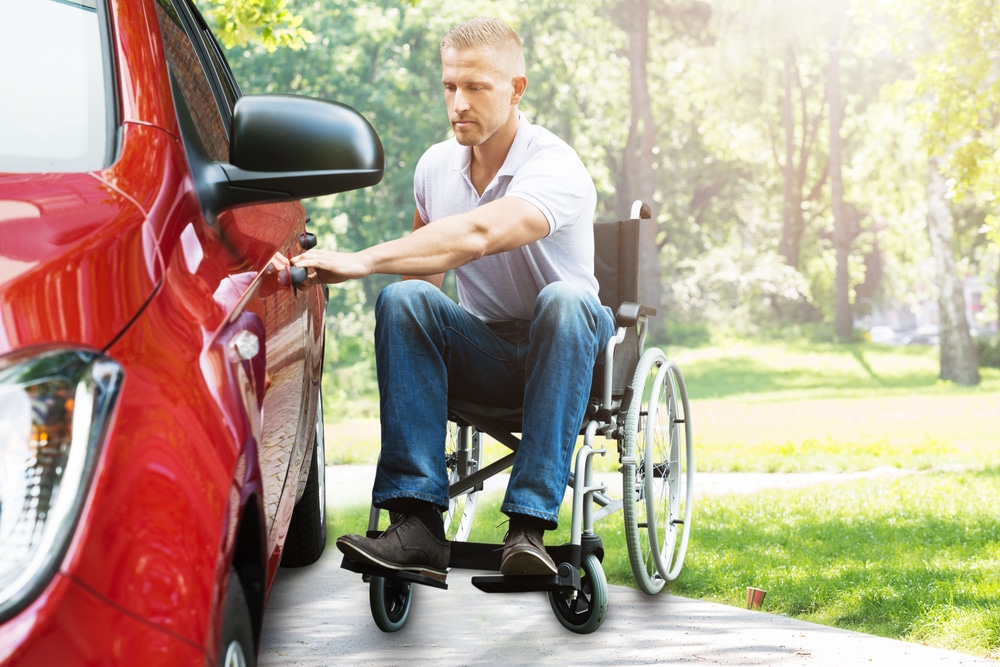 So what does insurance on a disability converted car cost?
It's impossible to say what insurance on a disability converted car will cost without getting a quote. Sometimes, insuring a disability converted car is more expensive than standard vehicle insurance. Why? Well, your car is worth more than a standard vehicle with no conversions.
As disability insurance specialists, Blue Badge Insurance understands that your car is there to support you and we know people with disability parking permits are safer drivers, and we offer up to 25% discounted premiums.
Why you should assess your converted car's value regularly
As the value of your disability converted car depreciates, your insurance premium might drop too. Is your insurer pricing your premium right? It always pays to check – you might save yourself hundreds of dollars by doing so. If you are working with a disability car insurance specialist it should be doing the right thing by you and your converted car.
Another reason to regularly assess not only your car's value, but your insurance pricing, is your circumstances might have changed. Which could mean insurance savings. Premium pricing depends not only on the vehicle and the value of the disability conversions within your car, but also on other factors. For instance, you might see a drop in your monthly premiums if you insured the car five years ago at 20 years old. At 25, with no claims history, you might be considered lower risk.
This is why it is important to phone your insurance provider each year and ask them to re-evaluate your premiums. You might just find your risk profile has changed, and insurance for your disability converted car is now more affordable!
Getting insurance on your disability converted car
Now you know the value of your disability converted car, maybe it's time to shop around for insurance for it? As Australia's first independence and disability insurance specialist, cover from Blue Badge Insurance is tailor-made to suit you.