Are you looking to buy a wheelchair accessible vehicle (WAV) or a car that's been changed to make it easier to load your wheelchair? If so, obviously it's important to know what features for a converted car or WAV to look for when you're buying one. We're here to help empower you.
A vehicle like this will give you a greater level of freedom to go where you want to. But the buying process can be confusing, particularly when needing a balance between budget, practicality, comfort and safety.
In this article, we'll talk about the important things to check out before you make your choice.
Features for a converted car that will suit you
A disability converted car or a wheelchair accessible vehicle is designed to make life simpler for you in getting in and out of a vehicle. Different designs can be suited to different physical requirements – so yours needs to suit you and your lifestyle.
If  you're new to the world of disability-specific vehicles, read our article on the differences between wheelchair accessible vehicles and converted cars. These vehicles make is easier to go to places like the store, the doctor's office, visit friends and family, go on holidays and more. It gives you more freedom and independence in your daily life, which as you know is really important for your happiness and well-being.
When looking to buy a wheelchair accessible vehicle or converted car, there are a few things important things to keep in mind…
Firstly, how will you get into your car?
This is one of the first things to think about when looking to purchase. If it's hard for you to access your car, travelling can become difficult and unenjoyable.
For WAVs there are two main types of entry: rear and side entry. Both can be accessed with the help of a ramp or lift. There are many options available to make accessing a disability converted vehicle easier after selecting the ideal base car.
The key things to consider include:
checking the width of door openings to ensure you can easily get in/out
how far seats can be moved so you can access your seat, and
if the steering wheel can be raised for smoother access
There are plenty of additional car modifications and accessories available, such as portable grab rails, fold-down steps and a programmable swivel seat for the car, to complement the accessibility of a converted vehicle.
It's also important to consider your accessibility when parking and storing the car. Make sure the ramp and all other features will fit in your garage, car port, street side or wherever else you expect to park your car – whether at home or while you're out and about.
Also read these great tips on making transferring from your wheelchair to your car easier.
Features for a converted car – ramps
Ramps are one of the most common disability conversions for cars. They can be installed on either the passenger side or the rear of your car depending on your preferences. Ramps are available in three types:
Portable, as you'll need to position it each time.
Mounted (non-powered), requiring manual opening and closing.
Powered, which automatically opens and closes.
Check out how to choose wheelchair ramps for cars for more info.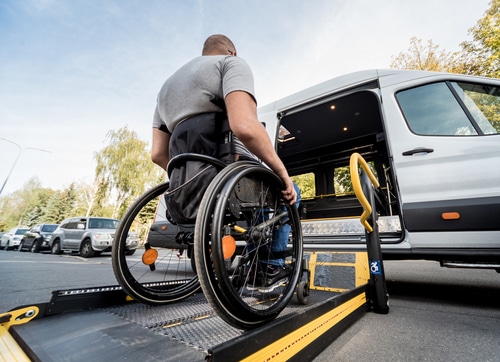 Features for a converted car – keyless entry and proximity keys
Rummaging for keys is a real hassle, and thankfully most newer car models offer both keyless entry and proximity keys. This is one of the simple features to look for when buying a converted car that can be very handy and time saving.
If your car is without keyless entry, there are other options readily available to you, including smartphone control. After all, a phone is often easier to find than car keys when rummaging through one's bag!
Features for a converted car – door automation and openers
Most cars can be fitted with automatic doors and ramps, making it much simpler for wheelchair users to access the car with ease. These can include wheelchair hoists with automatic door closure or rear door straps for reachability.
More on this up next…
Features for a converted car – lifting system
Another feature think about when you a buy wheelchair accessible vehicle or converted car is the lifting system. There are a variety of hoists available to help you safely enter the car or securely store equipment. These include:
Sling lift
Used to help transfer a person in a wheelchair to and from a converted vehicle.
Wheelchair lift
An automatic platform that lifts a person into the car whilst in their wheelchair.
Storage lift
Designed to lift an empty wheelchair so it can be stored internally or externally.
Choosing the right lifting system for you depends on the type of equipment you have, whether you plan to drive or travel as a passenger (or both) and which options can be supported by your vehicle. We recommend discussing this with your vehicle converter and occupational therapist.
Check out our Lifts and Hoists for Converted Vehicles article to learn more.
Features for a converted car – mobility equipment storage
Another feature for a converted car for you to think about is storage. Storing mobility equipment can take up space, but there are clever modifications that you could find or later add to your vehicle, such as:
A tow bar mounted wheelchair and scooter carrier.
A mobility scooter or power wheelchair trailers.
Internal/external storage boxes.
Roof racks or a hoist.
Once again, the best option for you will depend on your equipment and what your car can support. Make sure you discuss these with your converter.
Read more on mobility equipment storage (and transfers).
Features for a converted car – restraints
In wheelchair accessible vehicles, restraints help secure a wheelchair while travelling in the driver's seat or front and rear passenger seats. It's one of the most key elements to look at when you a buy a wheelchair accessible vehicle or converted car for obvious reasons!
There are four main types available:
Four-point restraints: These are like strong straps with hooks that attach to the corners of the wheelchair. They connect to anchor points on the vehicle's floor to keep it from moving around.
Retractable restraints: These are also straps but they automatically roll in and out like a yo-yo. You attach them to the wheelchair and then pull them tight to secure it. They're easy to use and adjust.
Docking systems: These are special mechanisms that lock the wheelchair into place. They usually involve a docking device on the wheelchair and a docking station on the vehicle floor. Once docked, the wheelchair is very secure.
Occupant restraints: These are seatbelts and harnesses for the person in the wheelchair. They make sure the person stays safely seated during the ride, working alongside the wheelchair restraints to keep everything secure.
These restraints are super important for safety when someone is riding in a vehicle in their wheelchair. They make sure the wheelchair stays put and everyone stays safe while on the go.
Other features for a converted car
Here are some other converted car or wheelchair accessible vehicle factors to consider before your decision is made:
Seats
Check how many people can ride in the vehicle. Some have room for the wheelchair user and a few passengers, while others can fit more.
Fuel efficiency
Think about how much petrol or diesel the vehicle uses. Some are better for long trips, while others are better for short drives. What's your lifestyle like?
Maintenance
Consider how easy it is to maintain and repair the vehicle. You'll want something reliable as well as a vehicle supplier or modifier that's renowned for good follow up support. Read our Disability Converted Vehicle & WAV Maintenance article for more.
Budget
Make sure the cost fits your budget. Remember, not just the buying price, but also fuel, insurance, and maintenance costs. Our sibling company PD Insurance has written a great article to help you think this through: Can I Afford It? Here's How to See if a Car is in Your Budget.
Test drive
Always take it for a test drive. See how it feels to drive and if it meets your needs (always work with a driver trained occupational therapist to properly assess your needs).
Accessibility features
Check for other helpful features like easy-to-reach controls, good visibility, and comfortable seats. Be sure to check out our write-up on disability converted car driving controls.
PS: Don't want a WAV yet but still need to get around? Check out our article on 15 WAV hire places as well as our wheelchair hire FAQ.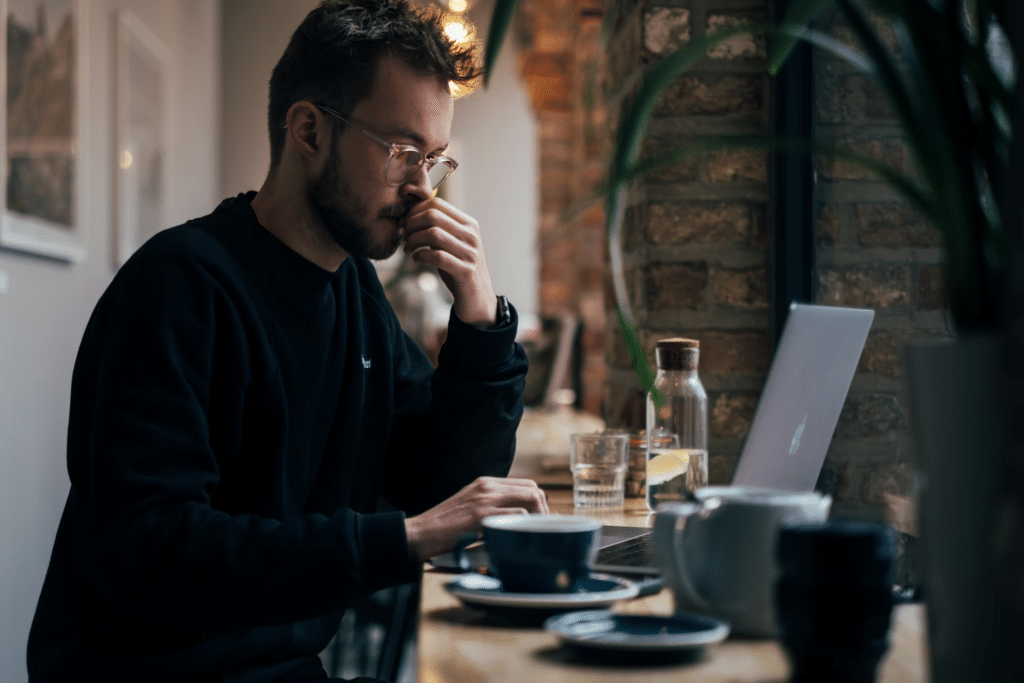 Read more useful tips
Our regularly updated blog contains tons of tips, tricks and other advice about living with disability and the disability landscape. Why not check out just a sample:
Insurance for your WAV or converted car
Now you know a little more about the best converted car features to consider when you buy a wheelchair accessible vehicle. As Australia's first disability and independence insurance specialist, Blue Badge Insurance is here to help you learn about and safeguard your mobility as well as your finances.
We're experts in insuring cars designed for disability and offer up to 25% discounted premiums for disability parking permit holders. Find out about car insurance for wheelchair accessible vehicles and disability converted cars and click below to get a free quote.