We all know the frustration of arriving at a destination and finding all the accessible parking spots are full. Then driving to more easily accessible spots to find several pram parking spots are available. And some seniors parking too. Which begs the question, who can park in seniors parking and pram parking?
Is someone with disabilities entitled to? Should you park in these areas or give up and find a park further away?
In this article we explain the difference between disability, seniors and pram parking. Once you've read it, share the knowledge. You're likely aware that plenty of Australians get it wrong every day!
Who can park in disability parking spaces?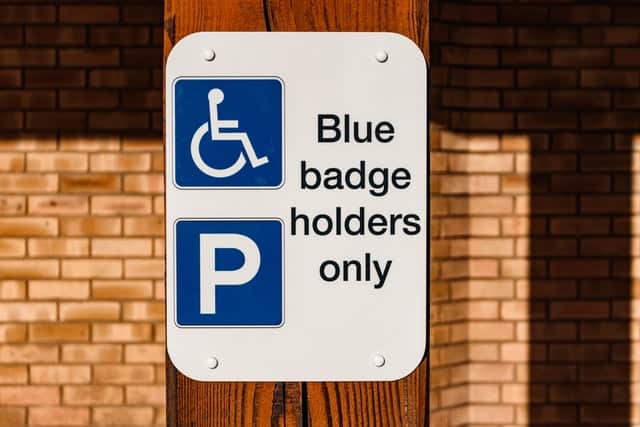 Given you're on a website specialising in mobility insurance, if you're reading about who can park in seniors parking and accessible parking then you're probably well aware of the laws relating to disability parking. However, we'll cover off the fundamentals just in case.
What it means
Australia has a formal Disability Parking Scheme and it's recognised in every state and territory. Unlike many other schemes, the eligibility criteria are nationally consistent.
These parking areas have signage with the blue international symbol of 'people with disability'. Because that's legally who they're meant for. Exclusively.
The aim of these seriously important and necessary accessible parking spaces is to provide easier access to shops and other locations for people who have difficulty with their mobility.
Who can use it
Every car that parks in an accessible parking spot must have a disability parking permit (DPP) displayed. The DPP holder may be a passenger or driver. If the person needing the use of the permit isn't in the car, then the permit can't be used so the car can't be park accessible spaces.
The same applies if the DPP holder is in the car but doesn't intend to leave it.
Permits are allocated by the holder's state or territory roads authority. Contrary to popular belief they are not easy to come by. Wondering how to obtain a permit? Our article here lists the steps to get a disability parking permit.
What's required by law
As mentioned, the DPP holder must be in the car for the legal use of an accessible parking spot. For example, if your daughter uses a wheelchair and you have a parking permit, you can't use it when she's not travelling with you.
Drivers must also display their DPP in a position that is clearly viewable from outside the vehicle and comply with all the relevant state/territory regulations of using the permit (usually written on the back).
If you abuse this and you aren't eligible to park in disability parking, you can – and should – be fined. For Australians with mobility issues, being able to utilise an accessible parking spot can mean the difference between visiting a location and giving up.
Who can park in seniors parking spaces?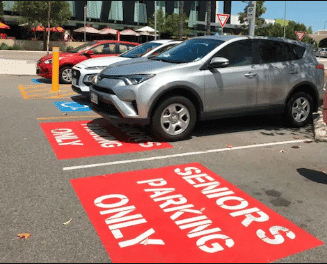 Seniors parking was created with a similar intention to disability parking – to provide easier access to certain high traffic locations for older Australians.
Why? Because they are much more likely to have age related mobility issues. And there are so many of them. In NSW alone, more than 1.2 million persons are aged 65 and over and 49% have a disability. Many more have trouble walking long distances.
It's obvious why seniors parking has become a common occurrence in many parking areas.
What it means
These car spots have signage that clearly states the parking spot is for seniors only. This is often red, to distinguish it from disability parking.
In Australia, a 'senior' is defined as someone aged at least 60 years and over. We say at least because the age to be eligible for a Seniors Card differs between states and territories (between 60 and 65 years of age).
To further confuse things, the age eligibility for the Australian Government's Age Pension has been on the increase recently. According to servicesaustralia.gov.au, "it'll increase by six months every two years until Age Pension age is 67 on 1 July 2023".
That's among other eligibility criteria, of course. Any of which could easily change in the future.
So, who can park in seniors parking isn't as black and white as it may seem.
Who can use it
Unlike disability parking spaces, there is no legal requirement for parking providers to provide seniors parking. Therefore you don't need a permit to use these spaces because they aren't enforceable by law…
They're not restricted spaces, however, they're 'reserved' by business owners as a courtesy to senior customers. They rely on others to respect the signage and park elsewhere. They expect their other patrons to leave the space/s free for the people who really need them.
This means a seniors parking spot is a wonderfully useful backup for DPP holders if a disability parking spot isn't available.
What's required by law
See above – there is no law around who can and can't use seniors parking. However, the operator of the car park can ask someone to move if they feel they're not eligible to use this kind of parking.
Who can park in pram parking spaces?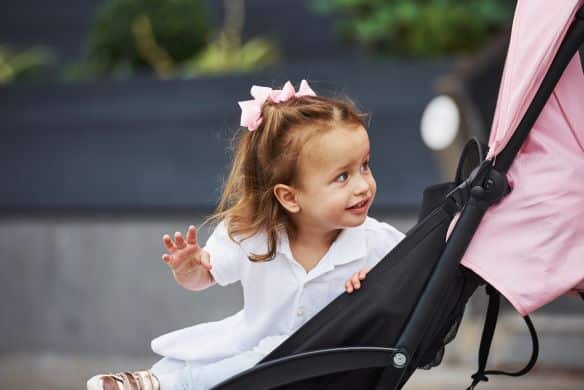 Parents with prams parking is provided by private car park owners to limit the distance young children need to travel with their parents to get to safety (ie. away from cars). These signs are often red also.
What it means
Like the parking symbol shows, parking with prams spots are for people with young children in prams.
Who can use it
As with seniors parking, pram parking is as the image shows: for people with prams and kids. However, unlike parking for DPP holders, there are no laws around who can and can't park here.
This is great news for all manner of people with mobility issues (DPP holders or not) because it means these parking spots are open to them too.
What's required by law
As mentioned, parents with prams parking is not enforced by law. That means technically it's available to anyone. However, the owner of the parking lot may ask non-parents to move and they may even find their local council slapping their wrist.
What to do if confronted by someone wondering who can park in seniors parking
When you can't find accessible parking, you are allowed to park in seniors or pram parking. Who can park in seniors parking? You can if you have a permit for disability parking.
Just like accessible parking spots, these spaces are usually larger and they're close to entrances . This makes them ideal for people with disability. Especially if you use any type of mobility equipment.
While there's no need to display your disability parking permit, you may want to do so to demonstrate why you chose to park there. You could still face other drivers' wrath because they don't think you're entitled to park there.

This is a situation that many people with disability face every day, especially those with an invisible disability.
Here are some tips on what to do if you find yourself in this position:
Choose whether to respond or not. Sometimes the best option is to simply move on
If you do choose to respond, take a calming breath first. You want to get your point across in a measured manner
Take the chance to educate. Armed with the knowledge gained by reading this article, you can inform them of why you deserve to park where you have
If there's no reasoning with the objector, then calmly move on
If you're concerned by their anger, find security or call the police
Remember – you know your rights and you are 100% justified in parking somewhere if you have good reason to.
DPP holders and discounted insurance
Did you know Blue Badge Insurance – the first mobility insurance specialist in Australia – provides disability car insurance with discounted premiums of up 25%? We do this because we know they're safer drivers.
Even better, this insurance also covers family, friends, carers and support workers while they're driving the car with the DPP holder in it. Click below to get a quick quote.