Accessible housing (also known as disability housing) can be a minefield, to say the least. Deciding on a home to rent or buy is hard whether you're living with disability or not. If you are, there are any number of additional requirements you'll want – and need – in a property. Ideally, you'll want to access housing that you can be happy in for the short, mid and long term, right?
You'll have several boxes you want to consider as you narrow your choices. For example, you might need to access housing in neighbourhoods that are close to all the places you visit in any given week. If you use a wheelchair or mobility scooter, you'll need accessible housing in the true sense of the word. There's the usual bedroom/bathroom/living/garaging/outdoor space equation to consider.
And of course, these needs will have to be accommodated within your budget.
Let's take a deeper look into how to ensure you're covering your requirements from the outset.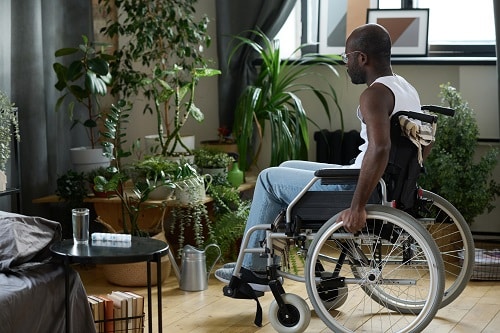 Disability housing: key considerations
Whether you're renting or buying, committing to a property is always a big step. These days we usually start by researching a property online and then going for a viewing.
Always view in person
Our advice is always go see your prospective home in person if you possibly can. If not, send someone else who knows you well. Ideally, you'll see it more than once.
Why is that? First impressions of a house or apartment are often different to those in a second viewing, where you're more likely to look beyond general appearance. It's easy to get caught up in seeing the strengths of a property the first time around. Keep your enthusiasm but use your subsequent viewing/s to consider its weaknesses.
You may even want to have a checklist on hand when you access housing opportunities of different types. Always note down what it does and doesn't have that meets your accessible housing needs. See more on this further down the article.
It's also a good idea to take photos as you move around the property. The online photos often only show the positives.
Recognise supply vs demand
If a property agent or landlord/homeowner is willing to take the time to let you inspect and explore a property over several visits, this is a good indication of their confidence in the property. Though if it's an in-demand property don't take too long! There might be plenty of competition biting at your heels.
During your online research check out the auction rates and days on market (if you're buying) and/or rental vacancy rates (if you're looking to rent). When you're checking out the residence, ask about the market interest in it. Always take the response with a grain of salt but usually it will be close to the truth.
Weigh up your need to consider the property carefully with the need to act quickly to secure it.
If you're planning to rent, remember your initial contact with the property agent or landlord can help to build trust between you. It's helpful to have a good relationship, which encourages them to keep it well maintained for you.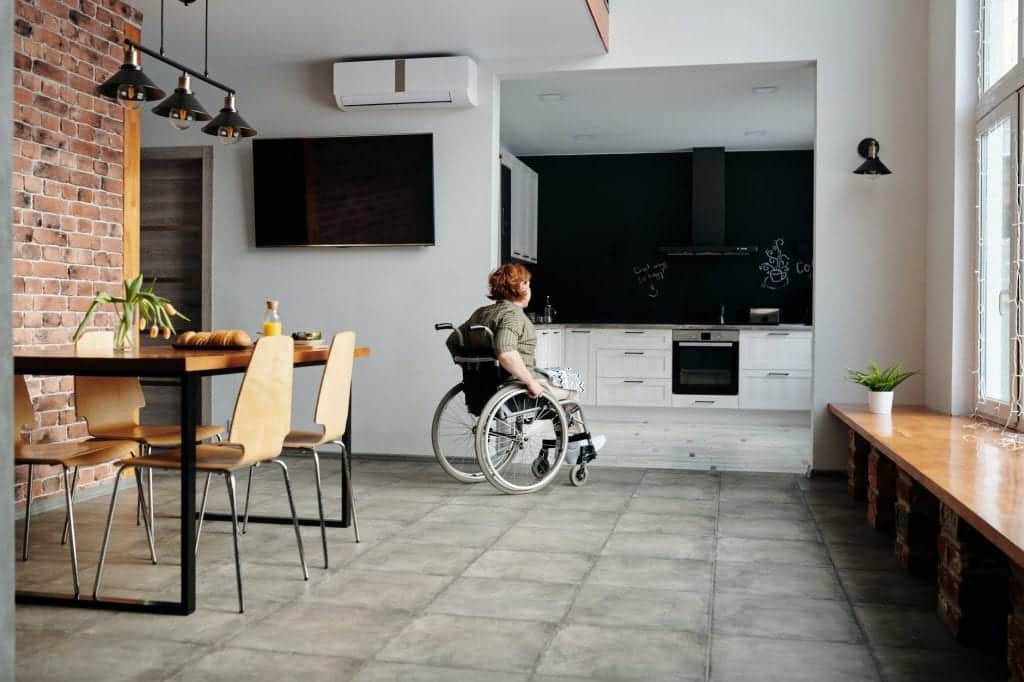 Make a list of your needs
Make a list of your personal requirements and distinguish the must-haves from the nice-to-haves. This involves everything from the number of bedrooms and bathrooms through to access (driveway, garage, ramps, stairs, railings, ground surface and gradients, etc) then on to fixtures and fittings.
Such a list should help you rule out properties that won't work from a functional perspective. This will save you time and stop you from making a decision ruled by your heart rather than your head.
What to ask when it comes to disability housing
If you use mobility equipment or live with invisible disability or another disability that causes chronic pain, thoroughly traversing the property helps test how accessible and user friendly it is. Take your time to explore every nook and cranny, picturing yourself manoeuvring it daily.
For example, is it on the ground floor or is there an elevator? Where are the steps and how many are there? If there's a shared laundry, is it easy to access? Are there railings, ramps and connecting pathways between street access and the home? Is the driveway wide enough to park a WAV and/or exit the car with a wheelchair? What's the parking like for anyone who needs to access your housing, such as friends, family, support workers and other service providers?
If you're planning to make modifications, a list of these will guide you through questions for the seller/agent. Or the questions may be more suited to a specialist like a carpenter, plumber or builder. Perhaps use our helpful ideas on how to create an accessible home to guide your questions.
When to access housing opportunities
It's also a good idea, if you can, to view the property at different times of day. You could try for a quiet time and a peak traffic time, or maybe a weekday compared to a Saturday or Sunday. You'll get to see what the neighbourhood traffic is like and how easy it is to access at different times.
You'll also get a better idea of who your neighbours are and how they like to share the space.
Accessing the community
An accessible home is about the home itself, and its usability. Broaden that perspective and consider the home's accessibility to the community outside it. It needs to cater to your health and social needs too.
When making your list of needs, location is a top consideration. For example, does the property tick what you need on this list:
Is it an accessible location (the streets leading into your property, the street itself and the driveway)?
Can you easily access the street by foot or wheelchair/mobility scooter and manoeuvre down it?
Is there a nearby hospital or ambulance station?
Are your routine appointments at a nearby location (therapists, doctors, support worker etc)?
Can you do your grocery shopping close by?
Is there a pharmacy in the vicinity?
Do friends and family live nearby?
If you need access to a library or educational facility, is it close enough?
Knowing what you want before you start viewing properties will save you energy and time and help keep you focussed.
Do you already have your accommodation and are just looking for somewhere accessible to holiday at? Read about these disability friendly travel and pet friendly accessible accommodation spots around Australia.
Specialist disability accommodation via NDIS funding
In some cases, the NDIS provides funding toward Specialist Disability Accommodation (SDA). This is designed to cover the cost of accommodation for NDIS participants with high support needs.
To apply for disability housing funding, complete and submit the Home and Living Supports Request Form. This lets the NDIA know about your needs so it can assess your eligibility. Once your form is received, the NDIA contacts you about the next steps to access housing. A team member will let you know if they need more information, what the outcome is and which process to follow with getting NDIS housing support.
If you're already working with a local area coordinator, then discuss your accessible housing goal with them so they can guide you through the best steps. If you have the funding for one, a support coordinator will also be able to assist you. Read about how to find a good NDIS support coordinator.
These are the types of accommodation costs the NDIS provides funding toward:
Support to explore available types of housing options
Modifications toward an accessible home
Specialised accommodation for people living with complex needs
Check out another helpful resource – a free webinar on disability accommodation and the NDIS.
Accessible housing listings
Once you've established your budget and you know what needs you want your new home to fulfil then you can start researching properties. When you have a shortlist, set up meetings to view them or turn up to the open home inspections.
Being able to access housing for in-person viewings takes a lot of time and scheduling. Take time to research and narrow down properties so you only visit those that work with your needs. Several online resources beyond Domain.com.au and Realestate.com.au provide rental and sale listings, or support toward finding the right accommodation.
Don't be too picky with your online research choices; you don't really know what they're like until you're in them. Having said that, remember online photographs may not show what accommodation really looks like. You or someone you trust should always see the place in person before making a commitment.
Here are some resources for finding accessible property:
If you're looking to build your own disability housing, you might be interested in finding out about universal design in housing.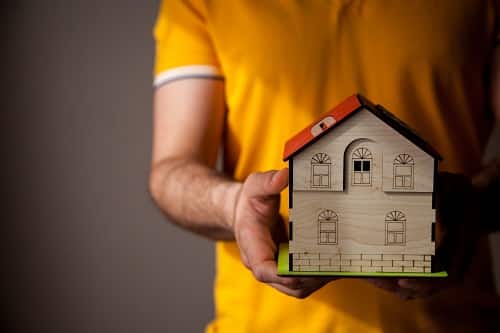 The statistics
Australian Government recently released Australia's Disability Strategy 2021-2031 Outcomes Framework: First Annual Report. This is a lengthy look into whether its strategy is working to make life better for people with disability across seven outcome areas. One outcome is to provide accessible housing and communities to people living with disability, so they can access housing that supports their quality of life.
Here are some of the NDIS housing statistics from that report:
Although the majority of NDIS participants are happy with their homes, the amount of time they have to wait to access housing is alarmingly long. Furthermore, the fact that housing stress disproportionally affects households that include a person living with disability shows financial exclusion and a lack of support are still a very real issue. The changes to income support have also been inadequate.
Here are more article you may be interested in:
Disability housing and your mobility equipment
Always tell your insurer when you move, whether that's to accessible housing or not, so your WAV, converted car and/or mobility equipment can continue to be properly insured.
Why is that? Because if you've moved, then where you park will also. Changing your living circumstances is an important milestone that your insurer needs to know about. It may increase your premium, but there's also a real chance that you can make a saving and pay less.
Either way, if you have wheelchair insurance, or mobility scooter insurance or disability car insurance you must update your details when you access housing elsewhere, so your insurance is effective.