In 2022 NSW ran an electric scooter trial on some of its footpaths, something that could've been done with the intent of making life easier for people with disability. Much like mobility aids such as wheelchairs and mobility scooters, these could provide more transport options. Unfortunately the trial didn't have this focus, nor did it include the electric skateboard – a mobility aid that can be extremely useful when getting around with physical disabilities.
Thankfully, through the combined efforts of a local resident and an impassioned MP, this has changed. NSW laws have been amended to allow electric skateboards to drive in the same public spaces as electric wheelchairs and mobility scooters.
Blue Badge shares the story of how this was achieved: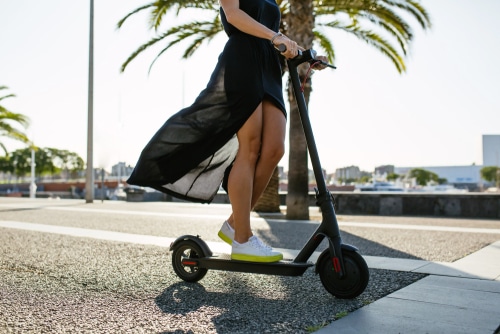 NSW electric scooter trial not disability focussed
Electric skateboards and scooters can be liberating for people with physical disabilities. Sometimes they can be more flexible, manoeuvrable and manageable to get around on footpaths and roads than bigger mobility aids.
Yet, disability wasn't the main focus during the NSW electric scooter trial. Instead, it was a shared scooter trial that appears to be aimed at providing safe alternative transport for the general public. It had no focus on disability inclusivity, which is a shame. Only designated hired scooters rather than personal scooters were able to be used and only on designated shared paths.
The rules around riding/driving on public paths needs to incorporate more physical disability mobility aids. Especially as technology advances. It's also important for disability to be front and centre when laws are made.
This was Steve Lyons' sentiment when he contacted Port Macquarie MP Leslie Williams. He request that electric skateboards be included in the NSW electric scooter trial. Here's what followed next.
Electric skateboard a NSW recognised mobility aid
After listening to Steve Lyons' story, Port Macquarie MP Leslie Williams decided on a disability-first approach. Rather than having the electric skateboard included in the NSW electric scooter trial, she recommended a change to the law that would class the electric skateboard together with mobility aids.
"These changes will allow a person living with a disability that affects their mobility to use an e-skateboard on public roads and footpaths, just as electric wheelchairs and mobility scooters are permitted now."
– Minister for Infrastructure, Cities and Active Transport, Rob Stokes
Ms Williams raised the issue with the Minister for Infrastructure, Cities and Active Transport, Rob Stokes. Thankfully they were both able to put their efforts behind, seeing this inclusive change become a reality.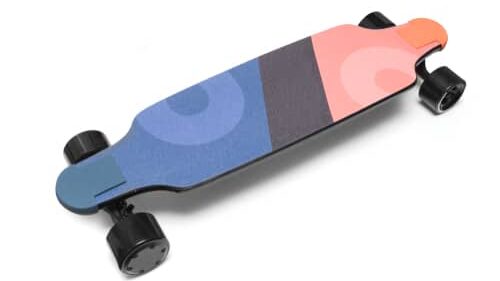 Inclusivity on NSW footpaths
The reform to allow electric skateboards to be used as mobility aids came into effect on Friday 24 February 2023. This was made possible by changing three transport regulations.
In no particular order, here they are:
NSW Road Rules 2014
Road Transport (Driver Licencing) Regulation 2017
Road Transport (Vehicle Registration) Regulation 2017
The proviso is riders will need to travel with a medical certificate that says they're able to use their electric skateboard as a mobility aid.
Of course, many of the same safety concerns applying to electric wheelchairs and mobility scooters apply to electric skateboards. Visibility when crossing roads and from reversing cars could still be a danger. Helping prevent mobility scooter accidents with a 10km/h speed limit for scooters also applies to electric skateboards.
Steve Lyon carving out new paths for inclusivity
Not only would Steve Lyon – who was born without legs and only the use of one arm – then be able to move around freely, but now also legally. Before this reform Steve spent half a year campaigning for the legal use of the electric skateboard as a mobility aid.
"It is thanks to the passionate advocacy of Steve Lyons who raised his concerns with me at a meeting last year there will now be more choice for people who need it."
– Port Macquarie MP Leslie Williams
The electric skateboard gives Steve the most freedom of mobility. He tells ABC News the electric skateboard gives him freedom to "park anywhere I want where there's a reasonable parking space and I can go and do what I need to do… I can go from one end of the CBD to another without any problems."
Speaking of parking, read more on accessible parking spaces. Also explore our guide to inclusive playgrounds and wheelchair accessible parks in Australia.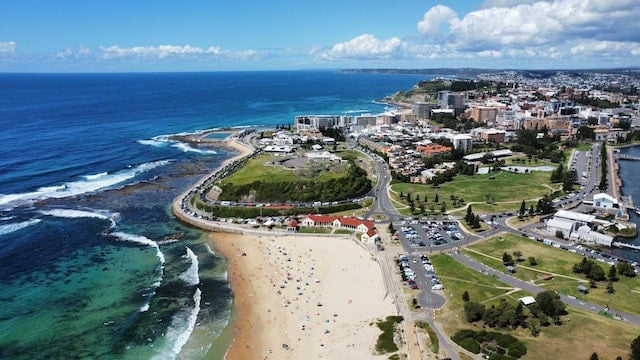 NDIS funded electric skateboard
Steve Lyon has in the past trialled prosthetic legs. However, it's the skateboard that gives him real freedom of mobility and independence. For many decades he relied on a regular manual skateboard and in more recent years on the electric skateboard.
He's had to use the electric skateboard under the cloud of potentially being stopped for illegal use. This is ironic because he bought the electric skateboard via NDIS funding.
"It seemed silly that a device critical to people's freedom of mobility and paid for by the NDIS was illegal to use in NSW. That's why I raised it with the Minister and now welcome the changes."
– Port Macquarie MP Leslie Williams
Thanks to the dedication of the Port Macquarie MP and the Minister for Infrastructure, Cities and Active Transport, this mismatch of laws and access was able to be ironed out. As technology advances we'll likely see more of these advancements needing to be made.
It's thanks to people like Steve Lyon who speak out and to those in positions of power who take the necessary actions this can happen.
Protecting freedom of mobility
Freedom of mobility is every person's right. Once you have your mobility aids, you know the value they have to you so protect them well. One way you can do this is with mobility equipment insurance.
Find out about wheelchair insurance and mobility scooter insurance to repair or replace your valuable modes of transport. Getting a Blue Badge insurance policy can help you pay for repairs or replacements to these items. Also explore getting as much as 25% less on your disability car insurance premiums. 
Contact us today on 1300 304 802 or click below to get a quote.