Being able to get around town is pretty high up on the list of things that give you independence. Being able to transfer from your wheelchair to the driver's or passenger's seat without assistance makes it that much easier. A swivel seat for the car allows many people with limited mobility to enter and exit their car solo. Is it time you installed one?

These work by mounting a car seat to a turning base, so it can swivel around towards the car door. To enter the car you move from your chair onto the swivel seat that's facing you and turn it back around to face the front. Then you're set for your journey. This system reduces the need for additional movement from chair to seat that can be uncomfortable or difficult. Or, potentially impossible otherwise.
Some swivel seat systems will even shift the seat out of the car door and lower it towards the ground. This helps with cars that are higher up. Curious about various transferring options? Here are some ways to make transferring from your wheelchair to your car easier.

The swivel seat is designed to help you move into and out of your car with less strain and movement. Getting a new vehicle may help with this too. If that's something you're considering it might be worth you understanding the difference between wheelchair accessible vehicles and converted cars.

When you're driving solo you'll also need to consider how to get your wheelchair in and out of the car without assistance. If you're using a swivel seat then mounted wheelchair hoists like this and this are something you should be looking into.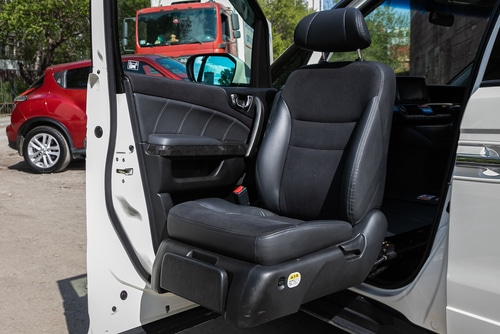 Swivel seats and associated mobility aids
We cover a range of different swivel seat related options below to help you understand your choices. We know you want to make the best decision for your individual circumstances the first time around.
Also know that a swivel seat system won't necessarily fit in every car and the range of movement can be limited in some vehicles, especially on the driver's side. Be sure to do your research on what will work with yours in particular as well as your unique mobility needs.
Importantly, you should use a professional to fit any equipment that requires dismantling your car in any way. Car safety it of the utmost importance and it's worth the spend to have someone who knows exactly what they're doing install your specialised equipment.
Swivel seat system explained
A swivel seat base is the core piece of equipment that replaces the connection on your car seat, allowing it to rotate towards the door. As you can with wheelchairs, you can choose to go with a manual version or an electric version. Or, you can choose a combination of the two.
Lowered swivel seat system
This attachment will allow your car seat to extend out of the car door as well as swivel. This system will allow you to transfer from your car seat to your wheelchair and back into the car more easily. Just note that it won't work with all cars as it requires quite a lot of space.
Swivel seat pillow
Swivel seat pillows are portable items that sit on top of your original car seat. They're a much lower cost option ($20 to $70) than a system. The latter will cost at least a few hundred dollars plus installation fees. As with any mobility aid, what works for one person won't necessarily work for everyone. However, you could always trial or buy a few different options and return the ones you find aren't comfortable or suited to you.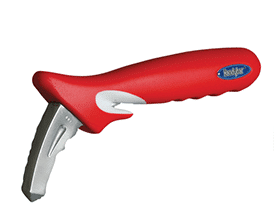 Grab handles
These nifty accessories clip onto your door, giving you a firm handle to assist you in transitioning into and out of your car. It might be a worthwhile addition alongside one of the tools listed above. A grab handle is easily portable so can also be a useful investment if you're often moving between different cars or when, for instance, you're taking an Uber. They're developed to not do any damage to a car door and they cost under $100, making them quite affordable.
Transfer plates
A transfer plate fills the gap between the car seat and the wheelchair, allowing for a much more comfortable transition. The plate can be installed on either the driver's or passenger's side and folds neatly out of the way. You can choose between a manual and an electric option with this, too. Note there will be a weight limit with whichever decision you make.
Again, remember that many of the items above can be hired. This is perfect for properly trialling whether a piece of equipment works for you before you purchase it.
Doing so is something we would strongly suggest, just as we suggest having a good conversation with the swivel seat supplier and/or a disability converted vehicle manufacturer. They've the industry experience and product understanding to help guide you towards choosing the most suitable equipment for you.
Whatever you decide, we know your independence is important to you. As Australia's first mobility and independence insurance specialist, we truly understand the vehicle needs of people living with disability.
Our car insurance for wheelchair accessible vehicles and disability converted cars not only covers vehicle repair/replacement, but assistive technology within it. And as a disability parking permit holder, you're eligible for up to 25% off your disability car insurance premium with Blue Badge.

Click here for more information about how we can help you take the insurance off your list of worries.