Not only can life be better with dogs but, for many people who live with disabilities, Assistance Dogs are a medical necessity. International Assistance Dog Week is a week-long celebration in honour of the great work these dogs do. For those who don't have a whole week to celebrate, there's Assistance Dog Day too.
In this article, Blue Badge Insurance outlines when to celebrate these two special occasions. We also explore ways you might celebrate and we answer common Assistance Dog questions.
Celebrating 300 years with Assistance Dogs
Not only are dogs the first animals that humans domesticated but they've also been Assistance Dogs for a long time.
It's thought that early Assistance Dogs helped wounded soldiers in times of war during the 1700s and we know they were first trained as Guide Dogs in the 1750s. From then on they've become an integral part of many more peoples' lives who live with disabilities.
Do you know what this means? It means International Assistance Dog Week 2023 is a celebration of roughly 300 years of having Assistance Dogs make human lives better!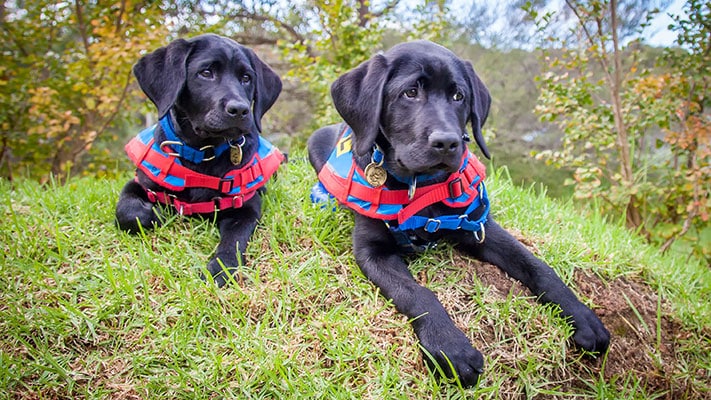 When is International Assistance Dog Week 2023?
International Assistance Dog Week starts on the first Sunday of August each year. That means International Assistance Dog Week 2023 runs from Sunday 6 August to Saturday 12 August.
This week is an incredibly important celebration on the calendar. It marks a time to recognise not only these highly trained dogs and their work but many others too.
The dogs that grow up and become Assistance Dogs have to go through years of training. That means this week is also a time to celebrate those who breed, raise, feed and train them. For every Assistance Dog out there, there's a whole community behind making them ready and able to support their person.
Assistance Dog Day
If you can't celebrate the whole week or perhaps you simply want to focus your celebrations on one day, then look out for 4 August. This lesser known celebration is just a day long and is backed by the same ideals as International Assistance Dog Week 2023.
In other words it's all about celebrating the furry heroes that accompany humans in making many daily tasks more accessible.
Who started International Assistance Dog Week?
Like most great ideas, International Assistance Dog Week was launched by someone with firsthand experience. Marcie Davis, who lives with paraplegia, knows firsthand the benefit of having an Assistance Dog by her side.
International Assistance Dog Week was made possible through her efforts but that's not all. She's also the author of Working Like Dogs: The Service Dog Guidebook. Add to the list, she's the founder of Working Like Dogs. This is an online resource packed with information about Assistance Dogs that includes a weekly podcast.
What is the purpose of Assistance Dogs?
What is the purpose of Assistance Dogs, you ask? These highly trained and skilled dogs can help with the following:
Physical help for people with physical disabilities
Guide people with vision impairment
Signal and communicate for people with hearing impairment
Sound alerts if they see warning signs for medical conditions like seizures and epilepsy
Autism Assistance Dogs provide emotional and social support for people with autism
Read more on how different types of Assistance Dogs help their humans to celebrate Assistance Dog Day.
How to celebrate
If you're wondering about ways to celebrate International Assistance Dog Week there are plenty, from spreading the word via social media and making more people aware to launching your own fundraiser.
Keep in mind the costs to raise and train an Assistance Dog can be up to $60,000. Assistance Dogs Australia (ADA) covers these costs and provides each dog for free (!) to the person who needs them.
However little or big – make a donation to ADA and you could make all the difference in someone's life. That's why Blue Badge is a proud sponsor of ADA and donates a portion of each premium towards the raising and training of these heroic pups.
Want to build awareness for Assistance Dog Day or Week? Share any of these articles on your social media pages, or send them to friends and family:
Just by sharing even one of these articles you could make a difference. The more people who know what it takes to prepare these dogs for duty, the more support we can muster as a society.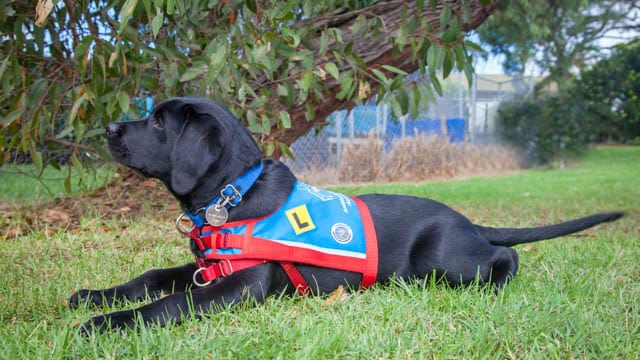 Let's give Assistance Dogs a soft landing
Another apt way to celebrate International Assistance Dog Week (or Assistance Dog Day) in 2023 is by purchasing Assistance Dogs insurance for your dog. Or even for someone else who has one. Another option is getting pet insurance for companion animals and therapy animals.
We can help with that. Our Blue Badge Insurance plans can help to cover a wide range of vet bills from surgery and prescription medication to hospitalisation and more.
Find out if you're eligible for up to 25% off Assistance Dogs insurance and 15% on pet insurance. Just click below to start your quote today.