It's no secret Assistance Dogs are highly trained experts at what they do, but have you ever wondered what Assistance Dog training actually involves? Training an Assistance Dog is an expensive, highly involved process with many moving parts. This article by Assistance Dogs Australia explains…
It takes two years and costs more than $50,000 to take an adorable Labrador puppy from birth all the way to Assistance Dog graduation ceremony. They leave this special occasion as an accredited Assistance Dog that has full Public Access Rights and is ready to change the life of a person living with physical disability, PTSD or autism.
Here' i what it takes to get to that point.
Training an Assistance Dog: In the beginning
Future Assistance Dogs spend their first eight weeks 'in the nest'. By that we mean being cared for, along with mum, in the home of one of Assistance Dogs Australia's (ADA) wonderful volunteer brood guardians.
Even at this tender age, the puppies are constantly learning. Many have even begun to master the 'sit' command by the time they're two months old! Read more about what an Assistance Dog puppy volunteer does (maybe you'll be inspired to become one).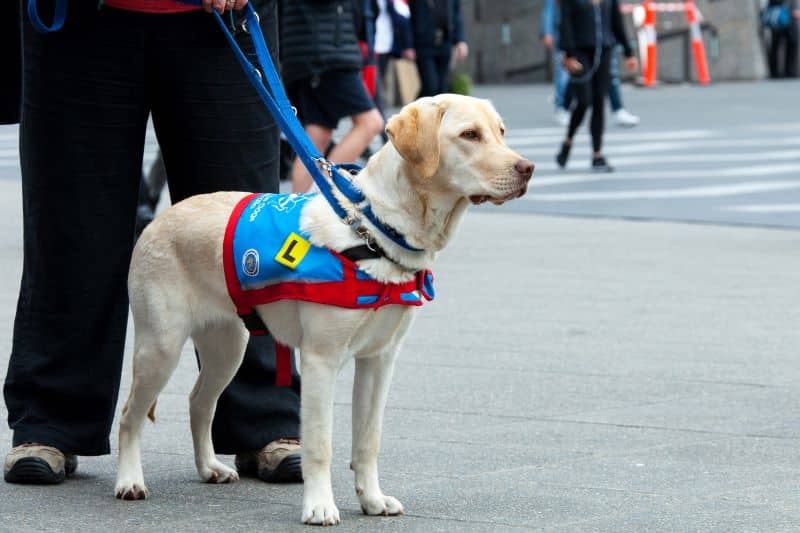 Initial Assistance Dog training
At eight weeks, each pup goes to live with a Puppy Educator. These dedicated and selfless volunteers love and care for their Assistance Dog-in-training in their own home for around 12 months.
During this time, they are rarely apart, with the puppy accompanying his or her educator almost everywhere. That could be a trip to the supermarket, a day at the office, or a journey on public transport.
Puppy Educators also take their young charges to regular training sessions and 'field trips' with Assistance Dogs Australia's own instructors.
Puppy Education is a vitally important part of ensuring future Assistance Dogs grow up to be well socialised, comfortable and calm in a variety of different situations and environments. This training helps them get to a place where they can pass the dog PAT test. Once completed, this enables them to be recognised as official service animals.
Advanced Assistance Dog training
Between 14 and 18 months of age, dogs leave their Puppy Educators and begin their Advanced Assistance Dog Training. Most will complete this training in-house at ADA's National Training School in Sydney. However, dogs in other states may live with a volunteer Puppy BnBer while attending daily training with ADA staff.
During Advanced Training, ADA's qualified instructors build on each dog's basic skills, gradually adding more complex commands that they will need to help their future teammate with everyday life.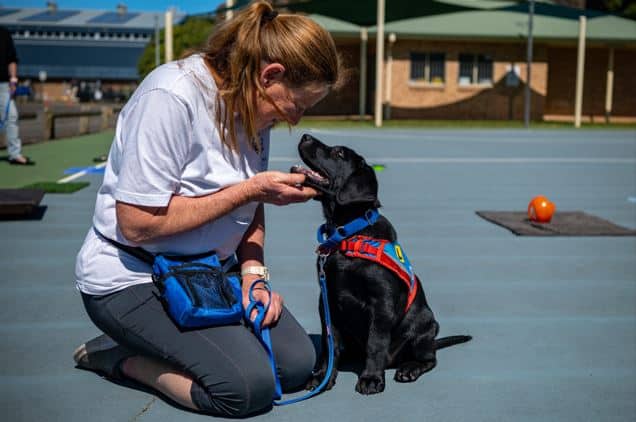 Different skills needed for different reasons
Assistance Dogs learn a wide range of skills over their time in training. The specific skillset taught to each depends on what their human partner-to-be needs support with.
Clients that use wheelchairs, for example, may need their Assistance Dog to pick up dropped items, open and close doors, turn on the lights, or push the button at pedestrian crossings.
For a client living with PTSD, however, the dog might be trained to recognise and respond to signs of anxiety or panic, or to position himself between the client and other people to create a feeling of safety and protection in public.
Each dog in Advanced Training spends several hours every day learning new skills. The rest of the day is spent walking, playing and exploring new surroundings to practise their abilities.
Assistance Dog training understands playtime importance
Don't worry: it's not a case of all work and no play when training an Assistance Dog! Dogs in Advanced Training enjoy plenty of downtime on weekends, when they swap the National Training School for the hustle and bustle of family life in the home of a volunteer.
Throughout Advanced Training, ADA instructors continually observe and assess each dog to determine what type of Assistance Dog role and client they will be best suited to. Each dog's training is tailored to their personality, learning style, and ultimately the type of person they'll be matched with.
Find out whether fully trained Guide, Service and Assistance Dogs can go on planes.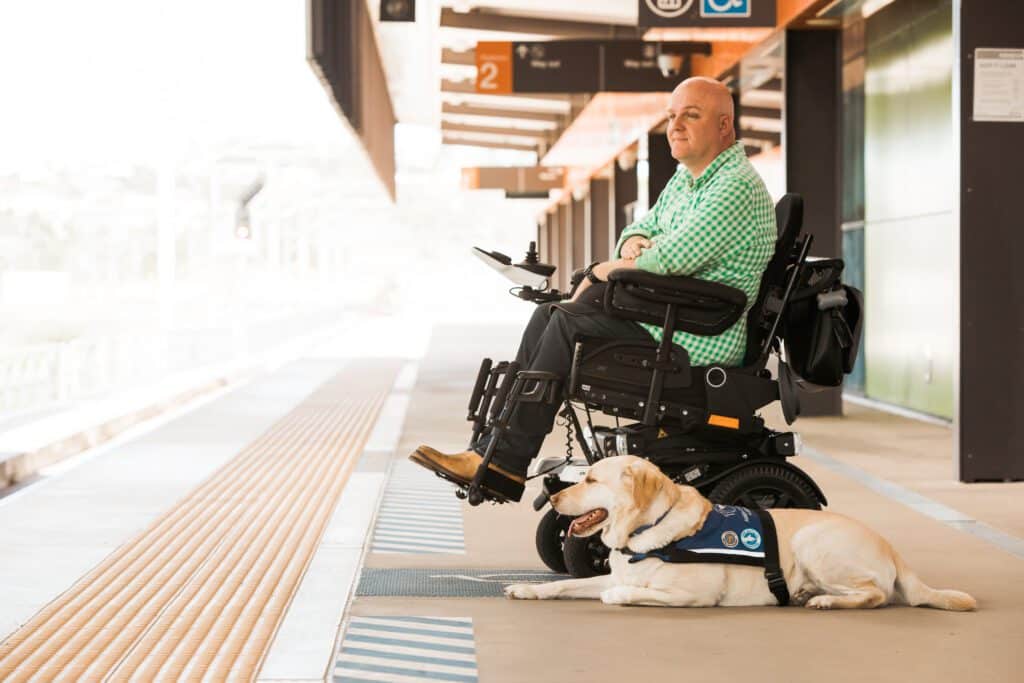 Training an Assistance Dog may take another path
Trainers also watch for signs suggesting a dog is not suited to life as a working Assistance Dog after all. Sometimes training an Assistance Dog means releasing them without graduating due to behavioural or health issues. These dogs may have a career change and become Therapy Dogs or Facility Dogs instead. Or, they may be rehomed as a treasured pet.
For more information about Assistance Dogs Australia, including becoming a volunteer Puppy Educator, visit www.assistancedogs.org.au or call 1800 688 364.
Blue Badge Insurance also has a range of articles about these dogs, including this one – Assistance Dogs: How They Help. Plus, we offer Assistance Dogs Insurance, at 25% off the standard premium.