Ever since dogs were domesticated they've helped humans survive. Nowadays, Assistance Dogs (or, Service Dogs) take on this role with highly specialised training, formally supporting people living with disabilities. Psychiatric, Physical Disability and Autism Assistance Dogs are all in this category, as are Guide Dogs.
Confused as to which does what? In this article Blue Badge will help discern between them by outlining the different types of Assistance Dogs.
We look at what they do and how they're trained and tested. We also look at what public access rights these dogs have and how you can get one of your own. Find out more here.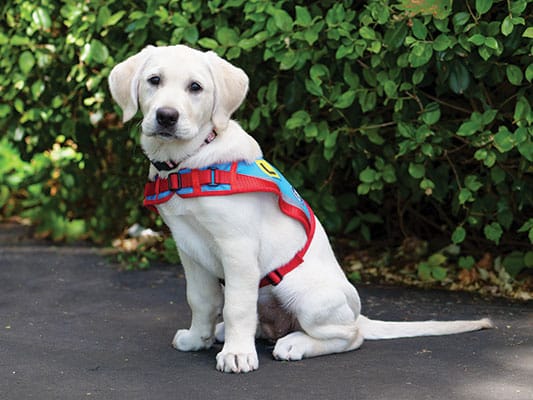 What is an Assistance Dog?
Assistance Dogs are also known as Service Dogs. They're highly skilled dogs that are carefully bred, raised and undergo years of intensive training. Once trained in a particular role, these dogs help their humans live more independently.
Service or Assistance Dogs help humans by being their eyes, ears, hands and more. Their paws and noses can act as the hands needed to step in to press a button or open a door. Their mouths can lift and hand back items dropped onto the floor. They strengthen our social and cognitive abilities by providing us with the 'don't worry, I'm by your side' support we need. They can give a specific bark to alert others if their human requires help.
These dogs help fulfil crucial tasks that enable their humans to function better. Every day, every minute, Assistance Dogs across the world are supporting people with disabilities to overcome physical, emotional and psychological barriers by fulfilling daily tasks.
They're highly trained canines that are giving people the ability to work through daily situations more independently. Read more about what dog personality makes for a good Assistance Dog.
5 types of Assistance or Service Dogs
Some breeds are considered the best for training and service due to their characteristics. Individual dogs also need the right predisposition and body type for specific roles.
For example, a Physical Disability Assistance Dog may need to have a stronger build so they can work with someone using a wheelchair to help pick up things, open doors and press buttons. On the other hand an Autism Assistance Dog may be smaller built and less muscular.
Here are five key types of Assistance or Service Dogs:
Physical Disability Assistance Dogs
Guide Dogs
Hearing Dogs
Psychiatric or Post Traumatic Stress Disorder (PTSD) Service Dogs
Autism Assistance Dogs
To better understand these specialised roles, let's take a look at how each of these Assistance Dog types helps their human in their daily life. We'll also be looking at Education Support Dogs even though these dogs aren't always accredited (more on this process further on).
1. Physical Disability Assistance Dogs
Assistance Dogs can be trained to assist people with physical disabilities. Like for example, paraplegia, quadriplegia, cerebral palsy, spina bifida, multiple sclerosis and more.
If you use a wheelchair your Assistance Dog can be trained to do tasks like opening and closing drawers and doors. Or retrieving shopping for you in the store. Or moving washing in and out of the washing machine.
In addition to the ways they help at home and out, they also make their humans (handlers) more visible as someone who might require specialised attention at times. This makes their handler safer in public spaces.
Sometimes these dogs are also called Physical Disability Service dogs. They're trained to provide specialised skills that match specific physical needs of the individual they'll work with. Our Assistance Dogs in Australia page shows a longer list of tasks they can do.
Watch this video that shows an Assistance Dogs Australia trained and accredited Labrador Retriever helping their human SJ through daily activities:
2. Guide Dogs for vision impairment
Guide Dogs are some of the most well-known types of Service Dogs. These canine companions are trained to guide those with blindness or visual impairment so they can navigate their surroundings.
To do this, they're trained to manoeuvre around busy public spaces with a focus on safety. They can help their human get from A to B without being distracted by sights and sounds.
Guide, Hearing and Assistance Dogs appear to be treated differently when it comes to NDIS funding – read this.
3. Hearing Dogs
Hearing Dogs act as a person's ears when they're deaf or hard of hearing. These dogs function as trained communicators interpreting and translating cues between their human and other people or communication technology.
There are many sounds they can be trained to alert a person to such as a ringing alarm, phone, doorbell, pedestrian crossing signal or someone trying to get your attention. Dogs are generally known for having a far superior sense of hearing and this makes them perfect for this role.
4. Psychiatric Assistance Dogs help with PTSD
A Psychiatric Assistance Dog, also known as PTSD Dog, supports people with post traumatic stress disorder.
A Psychiatric Assistance Dog is specially trained to recognise stress and anxiety signals. They can help offset anxiety attacks, often by providing tactile support and/or pressure by moving their body onto their humans in some way. In general, their support keeps their humans calmer, more confident and less stressed.
Anyone may have an experience that results in post traumatic stress disorder, but some professions are more likely to have this outcome. For example, police and firefighters are common roles that often cause people to experience anxiety attacks and other overwhelming feelings from trauma.
Read about what PTSD is and why it happens then enjoy this real-life PTSD Assistance Dog story.
5. Autism Assistance Dogs
Like PTSD Service Dogs, Autism Assistance Dogs provide people with autism with a similar type of support. These dogs help their people remain calmer and more centred in a wide range of situations.
When it comes to children with autism, these rigorously trained dogs can empower them with the confidence to grow and develop. For example, they help them follow the routines and structure they need to learn new skills. This includes cognitive, social and verbal skills development.
As a result, they can help children with autism function better at home and in public. That means a child who may not cope otherwise can engage with social groups and develop communication skills.

Autism is a neurodevelopmental disability that used to be called Asperger's syndrome. Explore more about how dogs can help with Autism and why autism in girls might be harder to diagnose.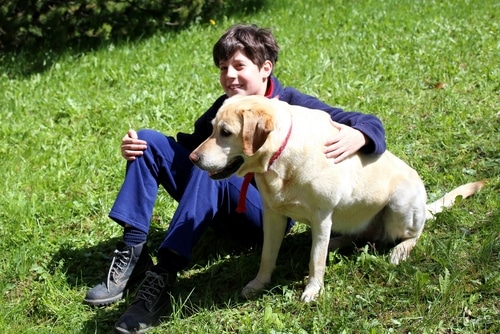 Education Support Dogs
Unlike most Service Dogs, Education Support Dogs are not always accredited with Public Access Rights. Although they can be really important to the children they support, these dogs don't always fulfil the accreditation criteria but can still be highly trained and skilled.
They can provide learners with the support and confidence needed to attend school and therapy, participate and learn. Educational Support Dogs are known to reduce instances of bullying and help children better participate in cognitive engagement activities.
Children get to develop their ability to communicate confidently with the support of an Educational Support Dog. This helps offset stress while increasing self-esteem and reducing anti-social behaviours.
These dogs help humans fulfil their greatest potential and live better lives. We need them and they won't ever judge us for that – in fact, they love us for it.
Training and accrediting an Assistance Dog
Our partner, Assistance Dogs Australia (ADA) spends around two years training each puppy to become a fully fledged Assistance Dog. They select each puppy for the most suitable physical and temperamental characteristics.
Then they train them in lots of different environments to skill them up. The total cost of training, housing, feeding and socialising puppies to become expert assistance dogs comes to roughly costs $40,000 per dog. ADA takes on this responsibility and doesn't charge the client anything for an Assistance Dog. What a community service.
Many puppies (regardless of breed and training) don't make the test even after doing all the necessary training. That's how specialised these roles are. Read more about how much work is involved with Assistance Dog training.
Taking the Public Access Test
At the end of their two years of training, the dogs must complete rigorous testing. They're put in busy public spaces (like supermarkets) and need to complete set tasks without being distracted. That means no getting distracted by passers-by, children coming to say hello, food or other dogs.
This tests a dog's skill to keep focused on their work no matter what distractions are out there. Most dogs would become completely distracted if you put a juicy steak next to them, but Assistance Dogs need to be ready to keep their people safe and sound.
Once a dog passes this test they're allowed in almost any public space, from restaurants to aeroplanes and more. Read about the graduation ceremony hosted by Assistance Dogs Australia to welcome in newly accredited dogs. Also be sure to find out what's involved in the Public Access Test, or dog PAT test.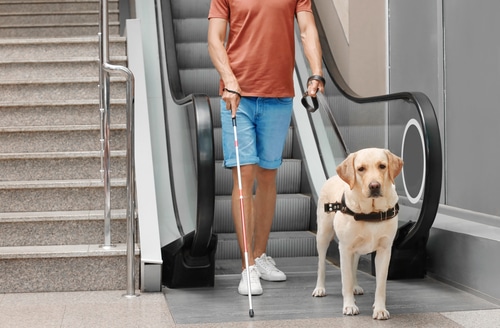 Why do Assistance Dogs have public access rights?
After completing the Public Access Test a dog becomes an accredited Assistance or Service Dog. However, they still need to redo the test each year to make sure they keep their skills honed and stay licenced. The Public Access Test gives an accredited Assistance Dog public access rights.
Public access rights are protected by federal law. This means an accredited dog with its up-to-date licence is legally allowed in public spaces where pets and therapy animals aren't. These Assistance or Service Dogs are allowed to go on public transport, in supermarkets, workplaces and more.
That's because they have to undergo such comprehensive training before they can be accredited. And of course, because they're essential to their human to function well. With this in mind, read why you shouldn't pet an Assistance Dog.
Getting your Assistant Dog in Australia
Once a Service Dog is accredited by a recognised organisation like Assistance Dogs Australia, it's ready to be matched with a client. Sadly the demand for these dogs is greater than the number of dogs that can currently be trained.
Unfortunately, there's a long waiting list of people in Australia in need of a Guide Dog, Psychiatric, Physical Disability or Autism Assistance Dog. That's why Assistance Dogs Australia is expanding its training facilities. But it relies entirely on the goodness of donations to run these facilities and train and accredit each dog.
Find out when International Assistance Dog Week happens and ways to celebrate.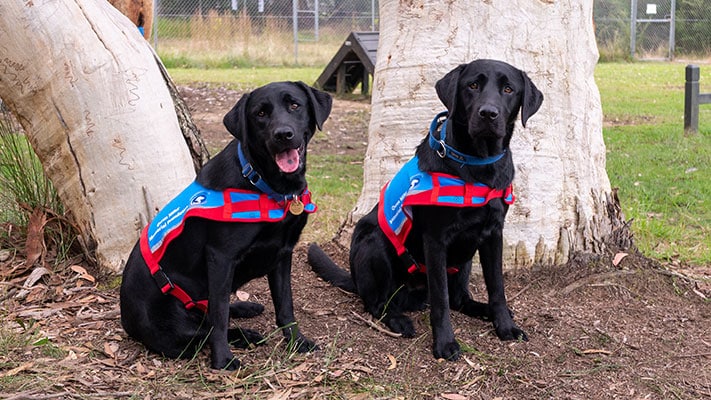 Blue Badge customers are making a difference
Blue Badge Insurance donates a percent of every premium to training up these dogs through our sponsorship with Assistance Dogs Australia. If you're a Blue Badge Insurance customer that means you're contributing too.

Find out more about our Physical Disability Program partnership here and if you'd like to donate to Assistance Dogs Australia, you donate here.
Assistance Dogs insurance with Blue Badge
Although these amazing canine companions seem invincible in their duties, they can become sick or get injured. Any dog can. Like doctor's bills, vet bills are sometimes costly (plus vet bills aren't subsidised so can be higher).
That means just one unexpected visit that requires X-rays, surgery, hospitalisation, medication and more may range from the hundreds to the thousands of dollars.
Thankfully, Blue Badge Insurance offers insurance for all kinds of Service Dogs. Whether you have a Guide, Hearing, Psychiatric, Physical Disability or Autism Assistance Dog make sure you get it affordable health insurance with us.
Your dog makes the world of difference to daily functioning. If they need medical care imagine the good feeling of providing that without worrying about footing the costs alone? Find out about getting Assistance Dogs Insurance or pet insurance today.
Click below to start your quote.