Ever since the first dogs were domesticated, they've helped to make human lives better. Assistance Dogs take this relationship even further, significantly improving the lives of their human partners. These highly trained canines give people the ability to work through daily situations they'd be unable to tackle otherwise.
When we can't see, they can act as our eyes. When we can't hear, they can act as our ears. Sometimes they strengthen our social and cognitive abilities by providing us with the 'don't worry, I'm by your side' support we need. Another valuable way they help is by completing physical tasks for people with physical disabilities.
Their paws and noses can act as the hands needed to step in to press a button or open a door, their mouths can lift and hand back items dropped onto the floor, and they can give a specific bark to alert others if their human requires help. Assistance Dogs are more than just our best friends, they're also part of who we are.
In this article Blue Badge looks at the different types of assistance dogs and ways in which they help the people who need them.
What is an Assistance Dog?
When asking 'what is an Assistance Dog?', who better to ask than our charity partner, Assistance Dogs Australia (ADA)? We spoke to Richard Lord who, having long held the position of CEO at ADA, has just recently taken on the role of National Project Director for ADA's planned National Training Centre in Western Sydney. Richard is also president of Assistance Dogs International.
Richard tells us about how Assistance Dogs (ADs) help fulfil crucial tasks that enable their humans to function better. Every day, every minute, Assistance Dogs across the world are supporting people with disabilities to overcome physical, emotional and psychological barriers by fulfilling daily tasks.
There are lots of different ways these dogs help humans; we've listed five of them below.
But first, watch this video from ADA that tells the heart-warming story of SJ and Cozie the black Labrador Retriever.

1. Physical disability
Assistance Dogs can be trained to assist people with physical disabilities. Like for example, paraplegia, quadriplegia, cerebral palsy, spina bifida, multiple sclerosis and more. For example, if you use a wheelchair your Assistance Dog can be trained to do tasks like opening and closing drawers and doors. Or retrieving shopping for you in the store. Or moving washing in and out of the washing machine.
Sometimes these dogs are also called physical disability service dogs. They're trained to provide specialised skills that match specific physical needs of the individual they'll work with. Our Assistance Dogs in Australia page shows a longer list of tasks they can do.
In addition to the ways they help at home and out, they also make their humans more visible as someone who requires special attention at times. This makes them safer in public spaces.
2. Vision and hearing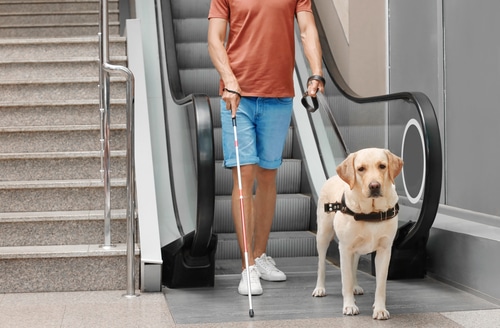 These perky pups are well-known for their ability to guide people who are vision impaired. To do this, they're trained to navigate busy public spaces. They can help their human get from A to B without being distracted by sights and sounds. Dogs trained to help people with vision impairment are usually called Guide Dogs and they are a type of Assistance Dog.
If they help people who are hearing impaired they're called hearing dogs. Hearing dogs function as a trained communicator. They can interpret and translate cues between their human and others.
3. Post Traumatic Stress Disorder (PTSD)
Assistance Dogs also support people with post traumatic stress disorder. These dogs are sometimes referred to as PTSD Assistance Dogs or psychiatric Assistance Dogs.
They're specially trained to recognize stress and anxiety signals. Because of this they can help offset anxiety attacks, often by providing tactile support and/or pressure by moving their body onto their humans in some way.
In general, their support keeps their humans calmer, more confident and stress free.
4. Autism spectrum
ADs can provide people with autism with a similar type of support, helping them remain calmer and more centred in a wide range of situations.
When it comes to children with autism, these rigorously trained dogs can empower them with the confidence to grow and develop. For example, they help them follow the routines and structure they need to learn new skills. This includes cognitive, social and verbal skills development.
As a result, ADs can help children with autism function better at home and in public. That means a child who may not cope otherwise, can engage with social groups and develop communication skills.

Autism is a neurodevelopmental disability that used to be called Asperger's syndrome. Read more on why autism in girls might be harder to diagnose.
5. Education Support Dogs
These dogs don't always meet the accreditation criteria to be an Assistance Dog but some do. They can provide learners with the support and confidence needed to attend school and therapy, participate and learn. Educational Support Dogs are known to reduce instances of bullying and help children better participate in cognitive engagement activities.
Children get to develop their ability to communicate confidently with the support of an Educational Support Dog. This helps offset stress while increasing self-esteem and reducing anti-social behaviours.
In short, Assistance Dogs help humans fulfil their greatest potential and live better lives. We need them and they won't ever judge us for that – in fact, they love us for it.
Training and accrediting an Assistance Dog
Training Assistance Dogs takes a great deal of time and effort, and must fulfil the criteria set out by Assistance Dogs International. First, puppies are selected for specific physical and temperamental characteristics. Secondly, they enter into years of training in different environments. And thirdly, they have to undergo the required tests to become an accredited Assistance Dog.
Training
Assistance Dogs Australia (ADA) spends up to two years training each of its assistance dogs. This means hundreds of hours of training, housing, feeding and socialising puppies to become expert assistance dogs. The whole process costs $40, 000 for each dog, then they're provided at no charge to the people who need them.
Accreditation
At the end of their two years of training, the dogs must complete rigorous testing. They're put in busy public spaces (like supermarkets) and need to complete set tasks without being distracted. That means no getting distracted by passers-by, children coming to say hello, food or other dogs.
A match made in heaven
After successfully completing these tests, ADs are matched up with people. But there's a lot of need for them and a long waiting list. Training takes time and costs a lot so the demand is hard to keep up with. Want to help provide an Assistance Dog to more Australians in need? You can donate here.
Assistance Dogs have public access rights
Unlike any other animals from therapy animals to pets, ADs have public access rights. They must redo their test every year to keep their licence then always have it with them to prove they're accredited to accompany their human in public spaces.
Public access rights are protected by federal law and allow accredited ADs in public spaces. For example, supermarkets, public transport and workplaces. That's because they have to undergo such comprehensive training before they can be accredited. And of course because they're essential to their human to function well.
Read tips for keeping your AD safe in public spaces with our article on COVID-19 and Assistance Dogs. Often members of the public try to pet dogs while they're working, but read why you shouldn't pet an Assistance Dog.
Blue Badge members are making a difference
Did you know Blue Badge Insurance donates a percent of every premium to the Assistance Dogs cause through our sponsorship with Assistance Dogs Australia. This means that as a Blue Badge Insurance member, you're contributing too. Find out more about the Physical Disability Program partnership here.
Assistance Dog insurance
We know that ADs – just like any companion animal – sometimes get ill or have accidents, so we now offer pet insurance for assistance dogs. We understand an AD makes the world of difference to daily functioning so they need quick, quality medical care to get back on their paws.
Nobody wants to question if they can afford to take their sick or injured dog to the vet. With one of our three pet insurance plans you won't need to, plus we're currently offering 25% off assistance dogs insurance.
Have a pet rather than an AD partner? Any animal can change our lives for the better, so why not protect them? Find out about our 15% discounted pet insurance for disability parking permit holders.